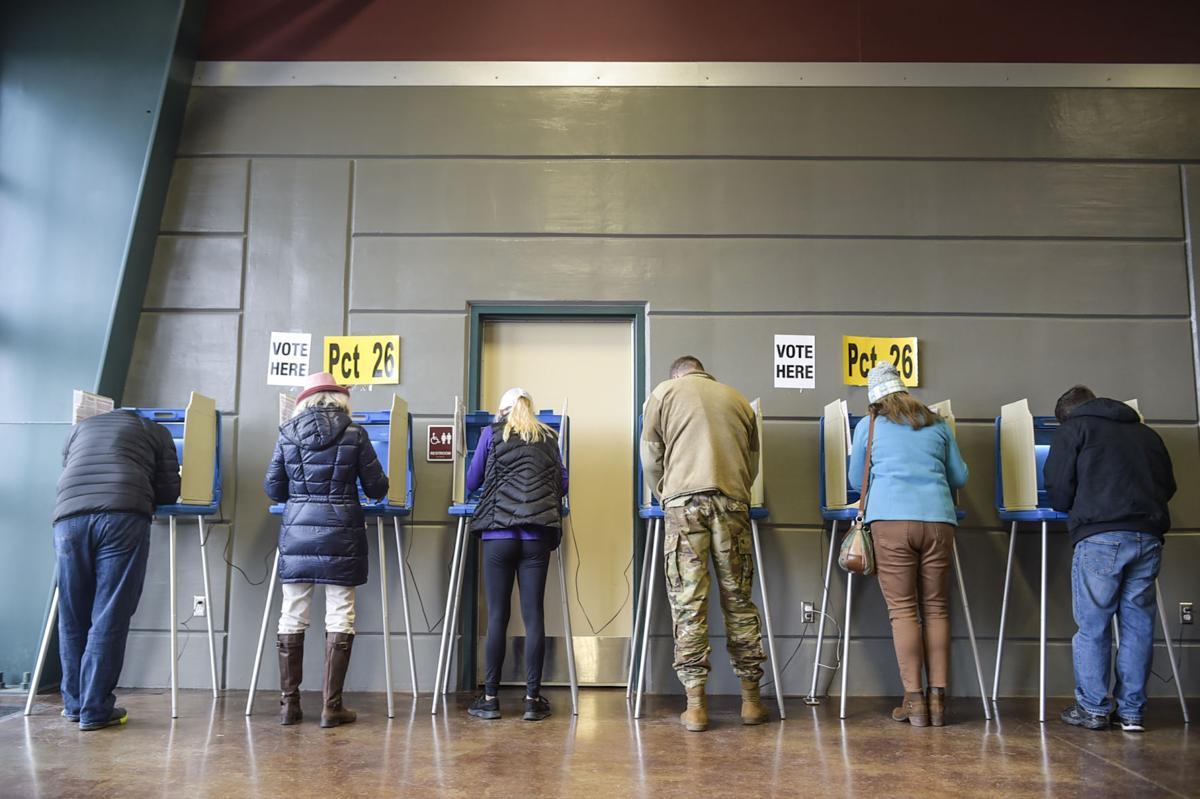 Two of Montana's larger cities took divergent paths in deciding whether some local elections should be partisan contests.
Those races include the three county commission seats, a combined sheriff and coroner office, clerk and recorder, county treasurer, county superintendent of public schools, county attorney and clerk of court.
"I think the main difference here in Gallatin versus Lewis and Clark County comes down to the cues that were available to voters," Parker said Wednesday. "What the (Gallatin County) Democrats did is they had a pretty good effort to disseminate information about why this is a bad idea."
Parker opposed removing party affiliation from races because he said studies show the best predictor of a person's behavior in office is their party.
"If that's true, and evidence says it is, why would we take away the single piece of information that will help people make choices about how governance decisions should be made?" Parker said.
Alexander Street, associate professor of political science at Carroll College in Helena, agreed.
"The research that has been done suggests, especially for these local elections where voters tend not to be getting that much information, that switching it to nonpartisan is a way to make voters even less informed," Street said Wednesday.
In Lewis and Clark County, Commissioner Susan Good Geise has long called for nonpartisan county elections and was, as best as anyone can tell, the only local voice who weighed in on the issue before the vote, though she said the farthest she went was to take an ad out in a small weekly paper.
"We didn't do any big ad campaign. I personally paid for an ad in the Blackfoot Valley Dispatch, but it clearly said 'Paid for by Susan Good Geise,'" she said Wednesday. "It's a picture of a print I have of an elephant and a donkey and they're being jockeyed by monkeys and the audience is all monkeys, too. And it said, 'If you've had enough of this partisan circus, vote nonpartisan.' That's pretty much the only money that was spent, out of my own pocket, $60."
You have free articles remaining.
Good Geise, who said Wednesday she was thrilled with the outcome in Lewis and Clark County, got her fill of the partisanship on the county commission following the drawn-out, partisan-driven process that she said was the reason a seat on the commission went unfilled for months before she was appointed in 2013.
Good Geise also said that party labels don't mean what they used it.
"It is unclear to me what a Republican is these days," Good Geise said. " … Anyone can say they are Republican and they might be a traditional Republican like I consider myself to be, or you can be a nouveau Republican who is a Trumper." She added she thinks Democrats will soon find themselves facing the same problem.
She also argued there's very little that is partisan-driven about the work a county commission does.
"We don't make a ton of policy. We can maybe give something a flavor but were not ideological. The only letters that should be after anybody's name in thees jobs, these offices, is L and C for Lewis and Clark County, because that's who we serve," Good Geise said.
When asked if she had concerns about the removal of the party affiliation reducing information available to voters about candidates, Good Geise said it's incumbent on voters to inform themselves.
"I really believe that we have become in some ways intellectually lazy in that if we want to define somebody by a label, Republican or Democrats. Not all Republicans support the president, and not all Democrats are tax-and-spend liberals," Good Geise said.
"That is a bumper-sticker mentality and tweet mentality and we get the government we deserve. If people are just going to rely on that thinking, I think they should ask themselves if they're being a responsible voter," she said. "If they get off their duff and do that, while that is an unfortunate statement about the electorate, I hope this will spur people to look a bit deeper into the candidates they are going to support."
Two Republicans on the Gallatin County commission also supported making their seats nonpartisan. Commissioner Don Seifert told the Bozeman Daily Chronicle he was disappointed in the results there.
Both Street and Parker said a dislike of political parties dates back to the founding of the country, when the framers envisioned a system that didn't rely on them.
"There is a long, strong, anti-partisan sentiment in the United States that goes all the way back to the founding and was heightened in the Progressive Era," Parker said. "To some extent it might even be heightened right now in these polarized times."
The two political scientists pointed out the historical practice in the U.S. of holding elections for offices that seem more more administrative.
"My position is simple. If it's a largely administrative role, then it shouldn't be elected. But if you're going to have an election, it should be partisan," Parker said.
Going forward, Parker said Lewis and Clark and Gallatin counties, because of their general similarities, will make interesting test cases for how partisanship or the lack of it in local elections makes a difference, including possible lower turnout if voters feel less informed and are less inclined to cast a ballot.
"We've set up a natural experiment where we have two very similar counties and what will be interesting to watch is how does the behavior change moving forward," Parker said.