A bill that would allow a school employee with a concealed weapons permit to carry a concealed firearm at school moved forward in a Montana House committee Friday.
The House Judiciary Committee took executive action, voting 10-9 to move forward House Bill 385, dubbed the Montana School Safety Act. All Democrats on the committee voted against the bill, joined by Rep. Lola Sheldon-Galloway, R-Great Falls, who said her constituents urged her to vote against it.
The decision is best left up to local school districts, she said, pointing to statute already in place that says trustees can give people "advance permission to possess, carry, or store a weapon in a school building."
"It's a local choice and it should be a local choice," she said. "My school is 20 minutes away from any deputy, and I hope they have a plan."
It now moves to the full House for consideration.
The bill is sponsored by Rep. Seth Berglee, R-Joliet. At a hearing earlier this month, parents and educators argued guns on campus could lead to tragedies.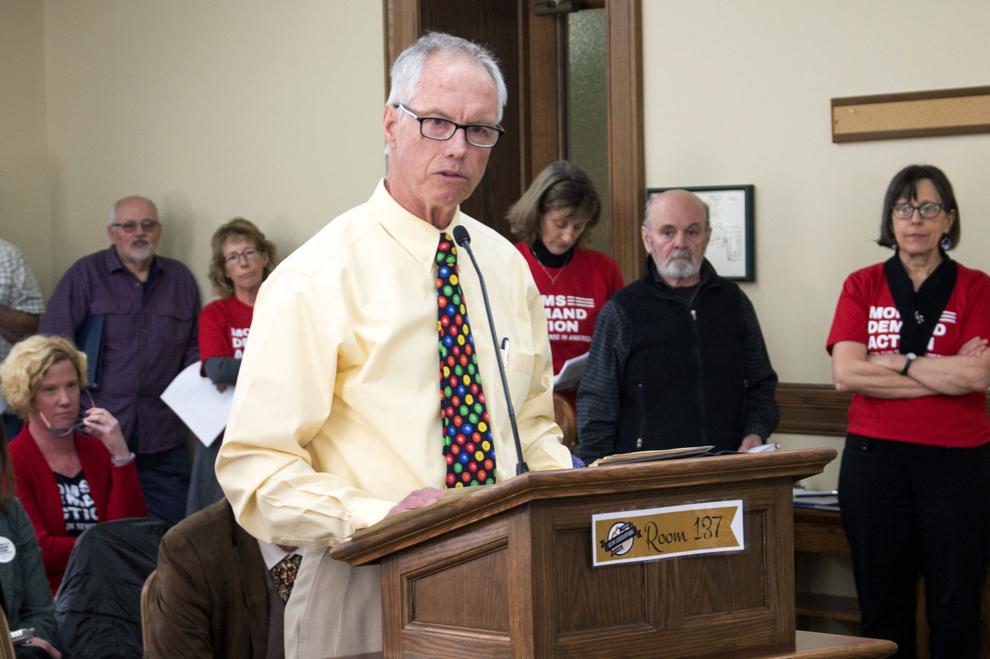 "It's too easy to make a mistake when it comes to guns in schools. ... It only takes one mistake," said John Moffatt, who was shot in 1986 when a student opened fire at Fergus High School in Lewistown, where Moffatt was the vice principal. A substitute teacher was killed.
Berglee brought amendments to the bill Friday, which he said would "alleviate some of the concerns" he's heard. One restates the statute that Sheldon-Galloway referenced, allowing a person to carry after petitioning the school board.
The amendment didn't alleviate Democrats' concerns.
Rep. Virginia Court, D-Billings, asked if a school district would be able to say it did not want guns in schools, should this bill pass.
"It's on the individual wishing to carry, so this doesn't allow a school district to opt out as such," Berglee said.
Rep. Ellie Hill Smith, D-Missoula, said the bill will likely be vetoed by Democratic Gov. Steve Bullock should it make it to his desk. On Thursday, Bullock vetoed two gun bills — one to allow concealed carry on federal property, the other to allow concealed carry without a permit.
"What is really offensive to me about this bill (HB 385) is because I have a 12-year-old boy and an 8-year-old boy and a 3-year-old boy," Hill Smith said, beginning to cry. "And this political theater, which is what this bill is, because we know it's not going anywhere, it scared them.
"When the teachers are afraid of our legislation, they came in here and said they did not want this bill, our school board said they did not want this bill. It's reckless and it's irresponsible for us as legislators to put political theater out on a stage that had our kids back home afraid."
At a Missoula County Public Schools board meeting Feb. 14, Superintendent Mark Thane spoke against the bill, pointing to the Gun-Free School Zones Act of 1990 and district policy.
"I feel very strongly that we should advocate this bill be killed," Thane said.
Berglee said he did not understand the notion that a school employee having a firearm in a school would be scarier than a school resource officer. Opponents argue the danger lies in if the firearm would be mishandled, or ended up in a student's hands.
"If you want to play it strictly by numbers, it's more dangerous to not have a gun in a school to prevent a mass shooting than to have a concealed," Berglee said.
Rep. Barry Usher, R-Billings, said this bill is necessary in Montana, due to the state's rural schools.
"The cops can't get there quick enough and people are going to die one day," he said.
He argued that a "gun-free zone" sign at a school "says they are killing zones," and that they don't deter gun violence at schools, or other areas.
The Associated Press contributed to this report.