BOZEMAN — Greg Gianforte misled investigators into his assault on a reporter by blaming his victim and claiming the incident was the fault of the liberal media, according to documents from the investigation.
"He's trying to create a story right now," Gianforte told a deputy of his victim, Ben Jacobs of the Guardian.
Audio of Gianforte's interview with a Gallatin County Sheriff's Office sergeant was released along with a slew of other documents requested by the Chronicle after Gianforte was cited for assaulting Jacobs on May 24.
The Chronicle requested the documents in June. After Gianforte, Jacobs and Gallatin County Attorney Marty Lambert did not object to the release, Gallatin County District Court Judge Holly Brown ruled this week that the documents could be released. The Chronicle received its copies Friday afternoon.
The audio of the interview with Gianforte comes from a recording made by Sgt. Scott Secor outside of Gianforte's Discovery Drive headquarters shortly after the 5:07 p.m. call Jacobs made to 911, a minute after he posted on Twitter, "Greg Gianforte just body slammed me and broke my glasses."
Once at the scene, Secor initially spoke with Jacobs. "This is the weirdest day," Jacobs told Secor. Jacobs then briefly relayed what happened.
Jacobs, who was in town from Washington, D.C., covering Montana's special election for the Guardian, said he approached Gianforte to ask the candidate a question about health care. Gianforte told Jacobs to talk to his communications person, Jacobs said, before Gianforte "body slammed" him and broke his glasses.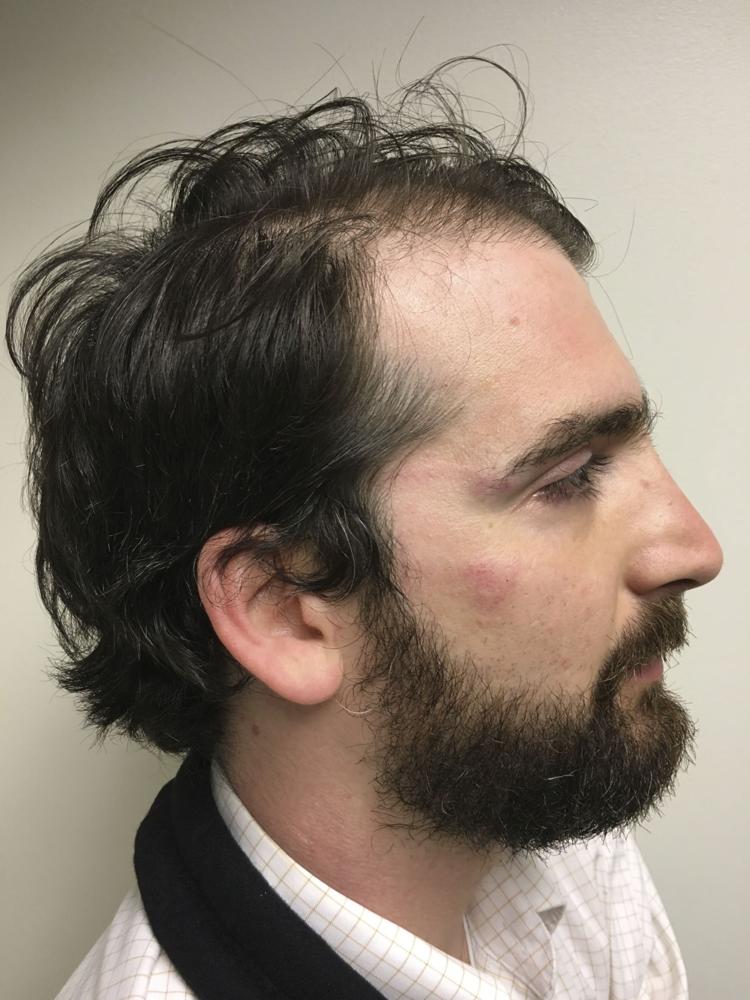 "What do you mean body slammed you?" Secor asked.
"He picked me up," Jacobs said, pausing.
"And he slammed you on the ground?" Secor asked.
Jacobs then went on to play audio that he had recorded of the incident.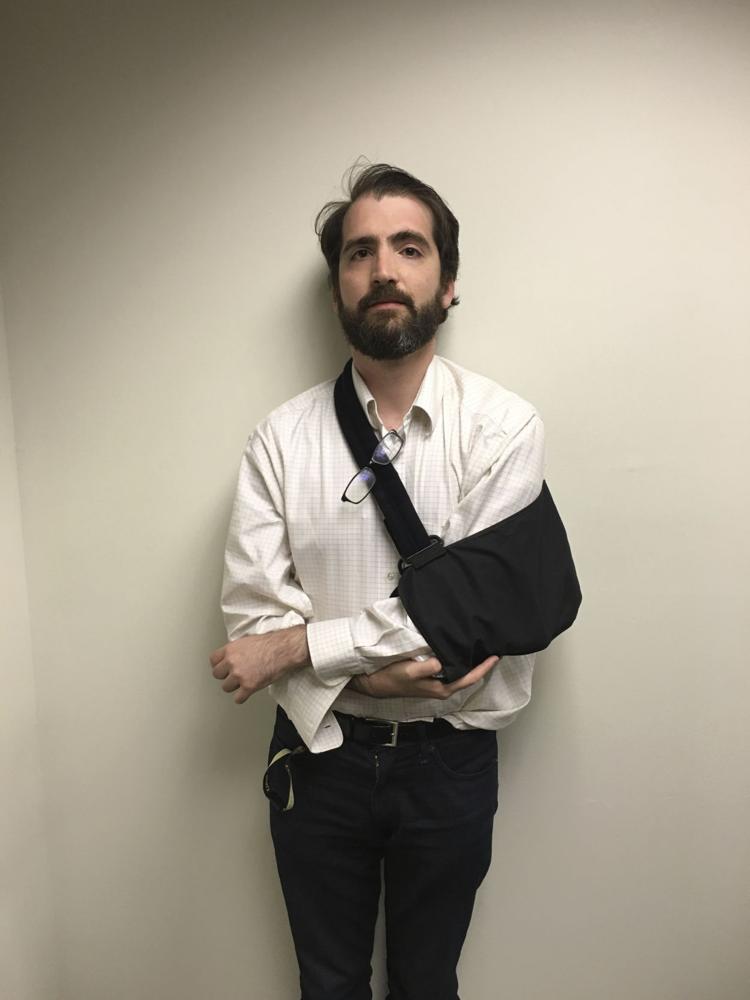 "My elbow's hurting like the dickens," Jacobs said. "This is not normal."
Jacobs went on to get medical attention and was interviewed again after being discharged from Bozeman Health Deaconess Hospital later that evening.
Secor was then approached by Jason Thielman, Republican Sen. Steve Daines' chief of staff, who asked the deputy if he would like to speak to Gianforte.
Secor then spoke with Gianforte, who was sitting in the passenger seat of a Jeep in the parking lot in front of his campaign headquarters.
"So tell me what happened," Secor said.
In the approximately four-minute conversation, Gianforte, however, said that it was Jacobs who grabbed his wrist after he tried snagging Jacobs' recorder.
Gianforte told the sergeant that he was preparing for an interview with a crew from Fox News when "this man broke into a private room in the back and stuck a microphone in my face and started asking me obnoxious questions."
Gianforte said he tried to explain to him that he was in the middle of an interview, but that Jacobs kept "waving" the microphone in his face.
"I said, 'We really need to answer these questions,'" Gianforte said. "He persisted."
After Jacobs "stuck the microphone in my face again," Gianforte said that's when the struggle ensued.
"I probably shouldn't do it, but I reached down for his phone," Gianforte said. "He grabbed my wrist. ... He spun and we ended up on the floor. So he pulled me down on top of him," Gianforte said.
When asked who was in the room when the incident occurred, Gianforte said it was himself, the crew from Fox News, and the "obnoxious journalist from the Guardian."
"We work with the press as much as we can," Gianforte said. "Honestly, the liberal media, they're trying to make a story."
In addition to Jacobs and Gianforte, a team of investigators from the Gallatin County Sheriff's Office interviewed eight other witnesses. Multiple witnesses said that Gianforte was the aggressor and reported seeing him punch Jacobs.
Alicia Acuna, a reporter with Fox News, told a detective that she saw Gianforte slam Jacobs to the ground, jump on top of him and start punching him. Keith Railey, also with Fox News, said that Gianforte "grabbed (Jacobs) by the neck and body slammed him down to the ground" before throwing two punches.
"I've never seen anything in my years of covering politics," Faith Mangan of Fox News said. "That blew my mind."
Two of Gianforte's employees told investigators that tensions had been brewing between Gianforte and reporters from the Guardian in the weeks leading up to the assault.
Joshua Elle, who had been Gianforte's driver for about three weeks at the time, said Gianforte had felt that the Guardian's reporting wasn't accurate.
"They'd write stuff about like Russian investments and all this weird stuff that is just a total exaggeration," Elle told detectives.
Kerri Lin Seekins-Crowe, of Billings, who was Gianforte's scheduler, said the campaign had been having multiple problems with the Guardian due to "duplicitous and very aggressive" behavior. She said they generally would ask reporters to wait their turn and that they hadn't been honest in some of the things they had done.
"Seekins-Crowe also said they have been aggressive in coming in and asking questions and demanding answers," a report read.
Medical records from Bozeman Health Deaconess Hospital said that Jacobs' left elbow was injured and bruised, but not fractured or dislocated. He was given a sling and an ice pack. Photos also showed a bruise on his cheek and a cut on his forehead.
In reports, Secor said he contacted the sheriff's office patrol commander, Capt. Jake Wagner, to say he believed there was probable cause to charge Gianforte with assault.
However, due to the number of statements and the "significant public interest the case would garner," they asked for help from the detective division, which did follow-up interviews with the Fox News crew and Jacobs. Gianforte denied a request for another interview. Eight sheriff's office deputies and detectives assisted in the investigation.
After all the interviews, Gianforte was cited for misdemeanor assault, and his citation was issued to his attorney, a report said.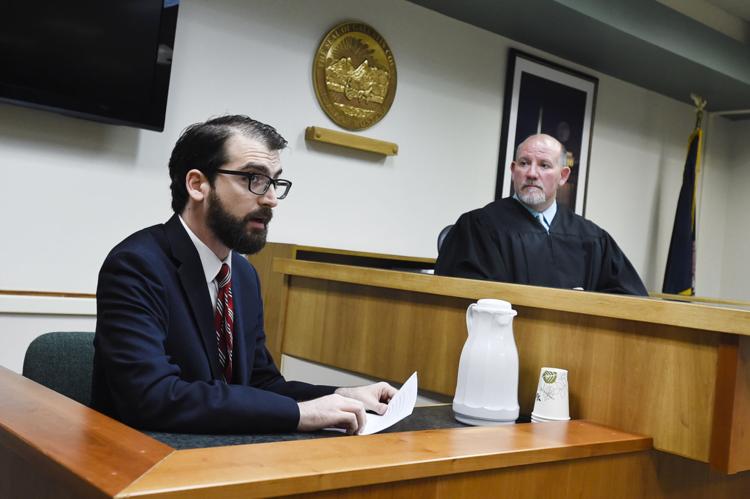 Shane Scanlon issued a statement shortly after the assault, outlining the same story Gianforte had told investigators, saying Jacobs had acted "aggressively" and was "asking badgering questions."
"Greg then attempted to grab the phone that was pushed in his face. Jacobs grabbed Greg's wrist, and spun away from Greg, pushing them both to the ground. It's unfortunate that this aggressive behavior from a liberal journalist created this scene at our campaign volunteer BBQ," Scanlon wrote in the statement.
The next month, Gianforte pleaded guilty to the charge and received a six-month deferred sentence. He was also ordered to perform 40 hours of community service, complete 20 hours of anger management and pay a $385 fine.
Gianforte spokesman Travis Hall insisted the documents contained "nothing new."
"No one was misled, and anyone who says otherwise is mistaken. Greg took responsibility for his actions and is focused on serving the people of Montana," Hall said in an emailed statement.
Gallatin County Attorney Marty Lambert said he was aware of Gianforte's comments to investigators but did not consider additional charges such as obstruction of justice because authorities were focused on the assault allegation.
"When the police are investigating a case, suspects of crimes will say misleading things, and apparently that's exactly what happened here on the part of both Mr. Gianforte and his campaign," Lambert said.
"It is not a crime per se to lie to the cops," added Lambert, a Republican. "The main thing here is he was charged with assaulting Ben Jacobs and pled guilty to that."
The assault happened too late in the campaign to affect the outcome of the election to replace Ryan Zinke, who resigned to become President Donald Trump's Interior Department secretary.
Gianforte is up for re-election next year and has filed to run. Six Democrats have lined up to challenge him.
The congressman unsuccessfully fought a judge's order for him to be booked by law enforcement and photographed like other defendants. In October, Gallatin County District Judge Holly Brown ordered the release of Gianforte's mug shot, which is sure to be used as fodder by Democrats in the run-up to the election.