Montana's congressional delegation will attend Democrat Joe Biden's inauguration Wednesday. But, at least two of the lawmakers won't be attending President Donald Trump's morning departure ceremony.
Both Sens. Jon Tester and Steve Daines, as well Rep. Matt Rosendale, say they'll attend Biden's swearing-in as the 46th President of the United States.
Tester is Montana's only statewide-elected Democrat and has attended every presidential inauguration since taking office in 2006. He said the peaceful transfer of power is a hallmark of democracy.
"Once President Biden is sworn in, Congress must immediately begin working with the new administration — and holding them accountable — to make sure that we quickly get this pandemic under control so we can reopen our economy and get Montanans back to work," Tester said in statement.
Rosendale earlier told Fox News that it is important to attend the inauguration. A Daines spokesperson said the Republican senator would attend, as he had for the inauguration of Trump in 2017 and Obama in 2013, the year Daines was elected to U.S. House.
Wednesday morning, Donald Trump will hold a departure ceremony at Andrews Air Force Base, where he will be flown to his post-presidential home in Florida. Trump isn't attending Biden's inauguration.
Tester's staff said the senator won't be attending the Trump farewell ceremony and wasn't invited. Rosendale also won't be attending.
"Rep. Rosendale will not be attending the president's farewell ceremony because of logistics," the congressman's spokesman, Harry Fones, said in an email.
Daines left the question about his attendance at Trump's farewell unanswered.
The president played an outsized influence on the Montana politics over the last four years. Trump nominated former Montana U.S. Rep. Ryan Zinke secretary of Interior in 2017, making Zinke the only Cabinet member from the state. Trump flew to Montana four times on Air Force One in 2018 to campaign for then U.S. Rep. Greg Gianforte and Rosendale, who was attempting to unseat Tester.
Trump's focus on the 2018 Senate race seemed to be fueled by a soap-opera-quality feud over Tester scuttling the nomination of White House physician Rear Adm. Ronny Jackson to lead the Department of Veteran's Affairs. Tester is the ranking Democrat on the Veteran's Affairs Committee.
"Jon Tester led the Democratic mob in the effort to destroy a great man," Trump told a Missoula crowd weeks ahead of the 2018 election.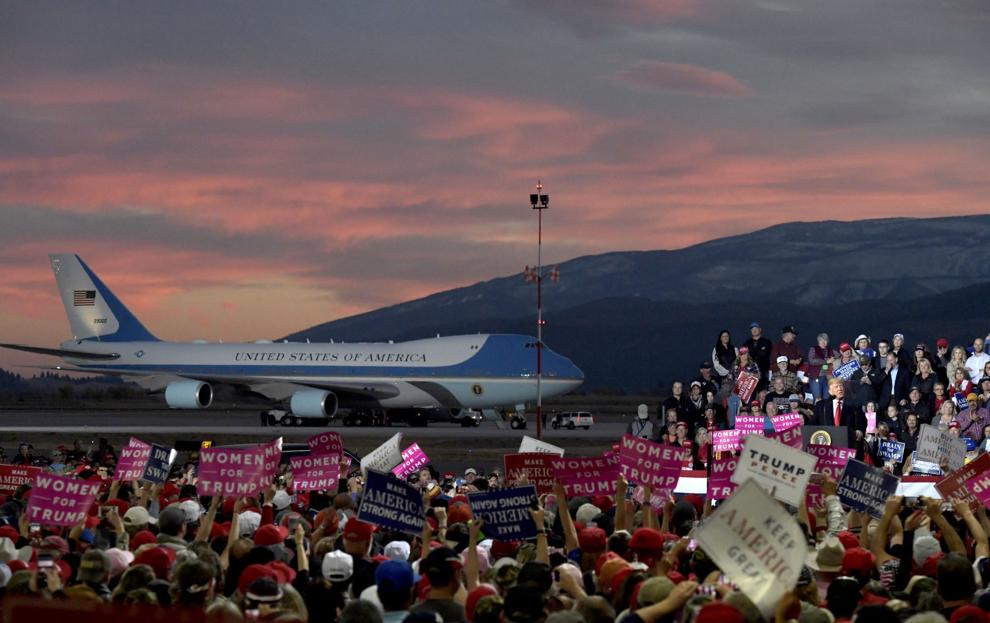 Tester had raised several questions about Jackson's credibility, including details about a drunken car wreck and allegations that Jackson improperly prescribed drugs to White House staff.
On one of those 2018 Montana stops, Trump commented that his fate and Daines' were tied together, as both men faced reelection in 2020. Trump won 57% of the Montana vote. In the last 30 years, only George W. Bush has done better in the state.
The departing president is credited with pulling every Montana Republican in statewide race across the finish line with him.
Already, Montana's congressional delegation is poised to be in disagreement with Biden on fossil fuels. On Monday, Daines and Tester voiced support for Keystone XL Pipeline, the proposed plumbing for Canadian tar sands oil eventually bound for the Gulf of Mexico.
Word leaked over the weekend that Biden planned to cancel the Keystone permit on his first day in office.
Tuesday, Rosendale joined the senators asking Biden to reconsider rejecting Keystone, which the representative said was good the economy.
Trump had pushed to authorize the now 13-year-old Keystone project, but his efforts were thwarted by poor government permitting work, which didn't hold up to lawsuits.