Over the last month is when Dr. Bradley Holbrook, who cares for pregnant women and delivers babies at Community Medical Center in Missoula, has seen the "worst, scariest outcomes" for pregnant Montana women who contract COVID-19.
"We've had more overall women (test positive for COVID-19) and also seen more adverse outcomes as far as stillbirths and early deliveries," Holbrook, a maternal-fetal medicine specialist, said in an interview last week. "There have been cases in which mom was extremely sick and we had to do an emergency cesarean to deliver the fetus right away."
Hospitals in Montana don't universally have systems to collect information on how many pregnant women contract COVID-19 or the outcomes for their pregnancies and babies. That means the state also doesn't have detailed data. But the doctors who work with pregnant women say they're observing more women contracting COVID-19 and those who are symptomatic are sicker than earlier in the pandemic.
"In the last month, we're at least a dozen if not more pregnant women that have been diagnosed, both in and out of the hospital," Holbrook said. At least a few times a week a woman will call to say she can't come in for a prenatal appointment because she's just tested positive with COVID-19. Doctors will reschedule her and set up testing if necessary to make sure her pregnancy is progressing safely.
An at-risk population
Being pregnant makes women susceptible to severe outcomes from the coronavirus. It's a major physiological stress on a woman's body, especially the labor and delivery process, Holbrook said.
While people generally have extra lung capacity to tap into when exercising or sick, that reserve is significantly decreased in pregnant women.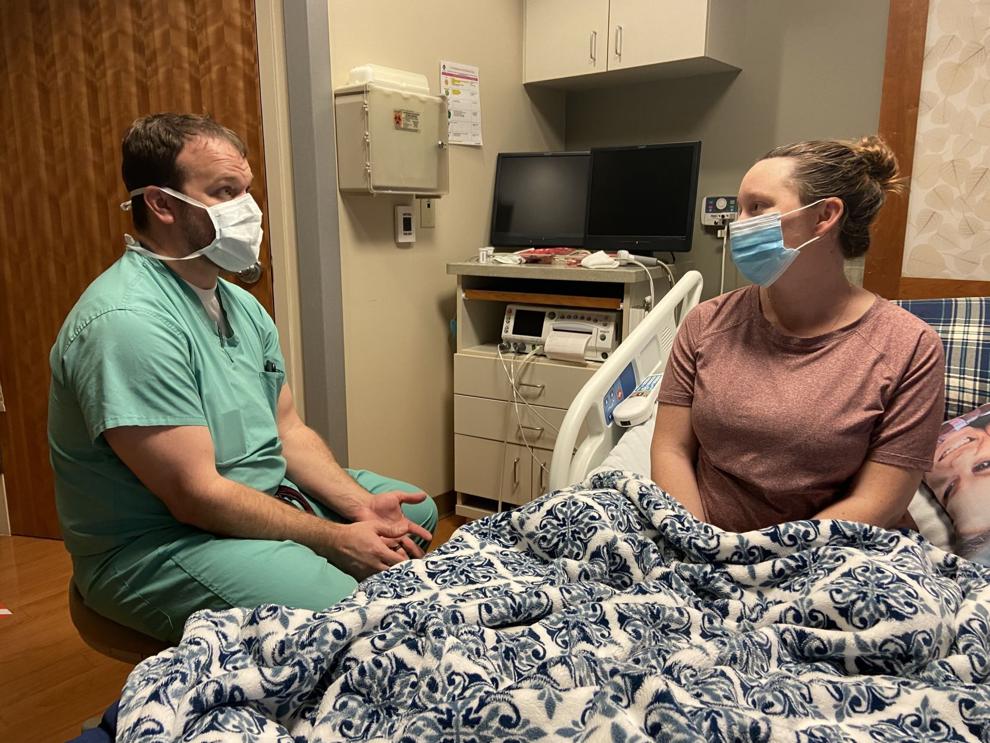 "Women need to take in more oxygen when they're pregnant than when they're not pregnant because they're already using more and because of the baby pushing up on their lungs," Holbrook said. "Growing a baby takes a lot of oxygen, a lot of nutrients, a lot of energy. And if COVID makes a pregnant woman sick, she's more likely not to have the ability to meet those increased needs because of her pregnancy."
In western Montana, Holbrook said he was aware of two stillbirths in the last month related to COVID-19 in women who were acutely ill. There was another woman in the region, who was not admitted at Community, who died after delivery.
Hospitalization data was available for 100,658 cases and showed 22,329 women were hospitalized. 
The delta variant
The number of women testing positive nationally hit a peak last winter and sharply declined once vaccines became available earlier this year, according to CDC data. But by late summer, cases started to rise again, though not to the level of the previous spike. August, however, saw the highest number of COVID-19 deaths reported for pregnant women since the start of the pandemic, with 22 women dying according to the CDC.
"Early in the pandemic, we saw a fair number and we had a number of women coming in sick, a number getting hospitalized for some time, post-partum in the ICU and other early deliveries," Holbrook said. "It got better in late spring and early summer after people got vaccinated."
Then the delta variant arrived in Montana, its more infectious strain seemingly intent on sickening just as many people as the worst surge last winter while working with a smaller pool of susceptible population due to the availability of vaccines.
"When delta hit is when we really had the worst of the pandemic here," Holbrook said. "(It's) when we've been hit the hardest in my opinion based on what we've seen."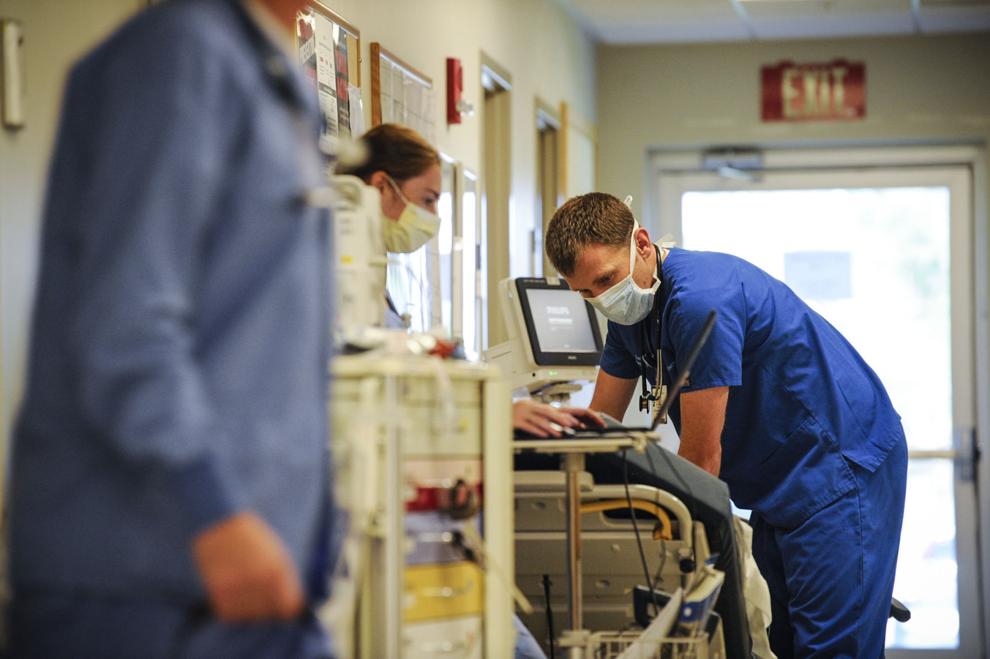 Community has four negative pressure rooms as part of its labor and delivery suite. The spaces have lower air pressure than outside the room, which keeps contaminated air from flowing to the rest of the hospital and potentially infecting others. Air from the room is expelled outside the facility.
"Those were used intermittently early on," Holbrook said. "One delta hit hard is when those rooms were often full or near full a lot of the time."
Megan Condra, the director of marketing and community relations at Community, said there have been cases of women needing emergency cesarean sections because they're so sick and babies born as early as 28 weeks. Those infants spend significant time in the neonatal intensive care unit while their mothers face long recoveries of their own.
In Kalispell, Dr. Thomas deHoop, who practices general obstetrics and gynecology with Logan Health and Kalispell OB/GYN, said in a late September interview he's seen more COVID-positive cases in this phase of the pandemic.
Dr. Courtney Paterson, a pediatric hospitalist at Logan Health, said there have been eight pregnant women who have tested positive at the time of delivery since the start of this year, but the total number of positive pregnant women is likely higher since the doctors who deliver babies don't see woman who test positive earlier in their pregnancy and miss appointments while quarantining.
The number of patients who have called to cancel appointments until they've quarantined has gone up, Paterson said.
Outcomes for moms and babies
Full-term babies born to mothers who test positive for COVID-19 seem to do well, Holbrook said, though there's not great data in that area. Generally moms who test positive don't transfer the virus to their babies during delivery, though it can rarely happen after. Through the pandemic guidance has adapted to allow positive mothers to be in the same room with and breast-feed their babies, as long as they wear masks and wash their hands before feedings.
Things are worse for babies born early because of COVID-19 complications. A mother getting sick and not getting enough oxygen can rapidly become serious for the fetus.
The CDC's Surveillance for Emerging Threats to Mothers and Babies Network (SET-NET) tracks information from 28 jurisdictions. That data, from women who had a positive COVID-19 test during the 2020 calendar year, found of of 27,221 births to women who had contracted the virus, nearly 3,000 were delivered preterm. About a third of women had cesarean deliveries. And out of 29,025 births, there were 266 pregnancy losses.
Safe and effective vaccines
The CDC began recommending the vaccine for pregnant women Aug. 11. The same day it released data from a review of nearly 2,500 pregnant women who were vaccinated before the 20th week of their pregnancy showing no increased risk of miscarriage. Earlier data has shown no safety concerns for women vaccinated late in their pregnancy. There is also no known risk to fertility from COVID-19 vaccines.
The updated CDC advice helps illustrate one of the hurdles doctors face when talking with pregnant woman about getting vaccinated, in addition to false information circulated on social media. While the medical guidelines evolve as the science and studies backing it up accumulate, those changes can be a lot of women to process.
"What patients perceive as confusion really is just the gathering of more information," deHoop said. "You can understand why patients would be hesitant when you start to recommend something knowing you don't have as long of a time that it's been studied. We have to understand where they're coming from, why we're concerned."
Pregnant women already manage an avalanche of information about what they should and shouldn't put in their bodies, from deli meats to unpasteurized products to everyday drugs they'd never given a second thought to before.
"Women in general are very hesitant to do anything, to take any medication during pregnancy, and rightfully so," Holbrook said.
The pandemic has additional and complex layers for pregnant women to consider.
While it might feel like the nearly two years the virus has gripped the world is an eternity, played out on the the normal timeline for medical studies it's just a blip on the radar. That's even more true for pregnancy, which lasts about 40 weeks.
"When we counsel patients on conditions, we like to have years or decades of information about how the body's going to respond to it and how the pregnancy is going to be affected by it," Holbrook said.
Still, scientists and doctors have complied an ever-increasing volume of analysis about the virus and its effect on pregnant women, as well as information about the safety and efficacy of vaccines.
Early on, Holbrook said, doctors pointed to science showing vaccines were safe, and now they can point to data from actual women. More than 2.7 billion have been vaccinated across the globe. In the U.S., more than 200,000 pregnant women have been vaccinated.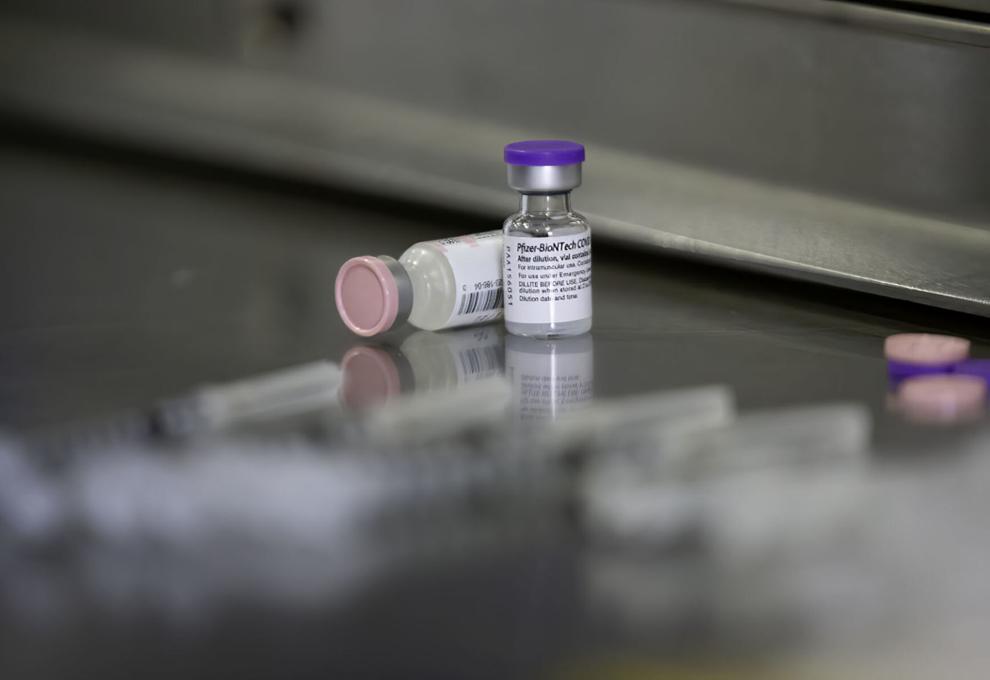 When it comes to vaccines, deHoop said listening is the mot successful strategy when working with a woman hesitant to be immunized.
"What works best is first off to empathize with patients, to say 'I understand why you might be hesitant,'" deHoop said. Confrontational approaches are not likely to sway anyone.
DeHoop said he hears concerns about how the vaccine will affect both the woman and the fetus, and the false information about infertility has kept a number of patients from being vaccinated.
Even with more and more data, Holbrook said it's still difficult to help some patients understand the vaccine is safe.
"It's really tough. A lot of time the women come in, just people in general come in, with preconceived notions and decide they want it or don't want it," Holbrook said. "That's the first thing to overcome is their preconceived notions about the vaccine."
Another tactic Holbrook uses is sharing with patients what others locally have experienced.
"Here in Montana, we have more of a local flair and a little bit more sometimes healthy, sometimes unhealthy, distrust of the government," Holbrook said. Telling patients that it's not just women in bigger cities but also those in Missoula and surrounding communities that are getting very sick and delivering early has helped sway people, he said.
Vaccines have also shown to have benefits from newborns. If a woman is either infected with COVID-19 or immunized before or during pregnancy, her immune system starts making antibodies, Holbrook said. Those are found in the placenta and in a baby's body after birth. They circulate for about six months before breaking down and help protect babies. The protection can also pass through breast milk.
While majority of adverse outcomes are among those who aren't vaccinated, Holbrook said doctors are careful not to treat those patients any differently.
"We don't want to shame them at all for not having gotten the vaccine," Holbrook said.
Holbrook frames the decision not around either getting the vaccine or not getting the vaccine, but instead getting the vaccine or getting COVID.
"COVID is more harmful than the vaccine at any point in pregnancy, at any point post-partum, for both you and the baby," Holbrook said.