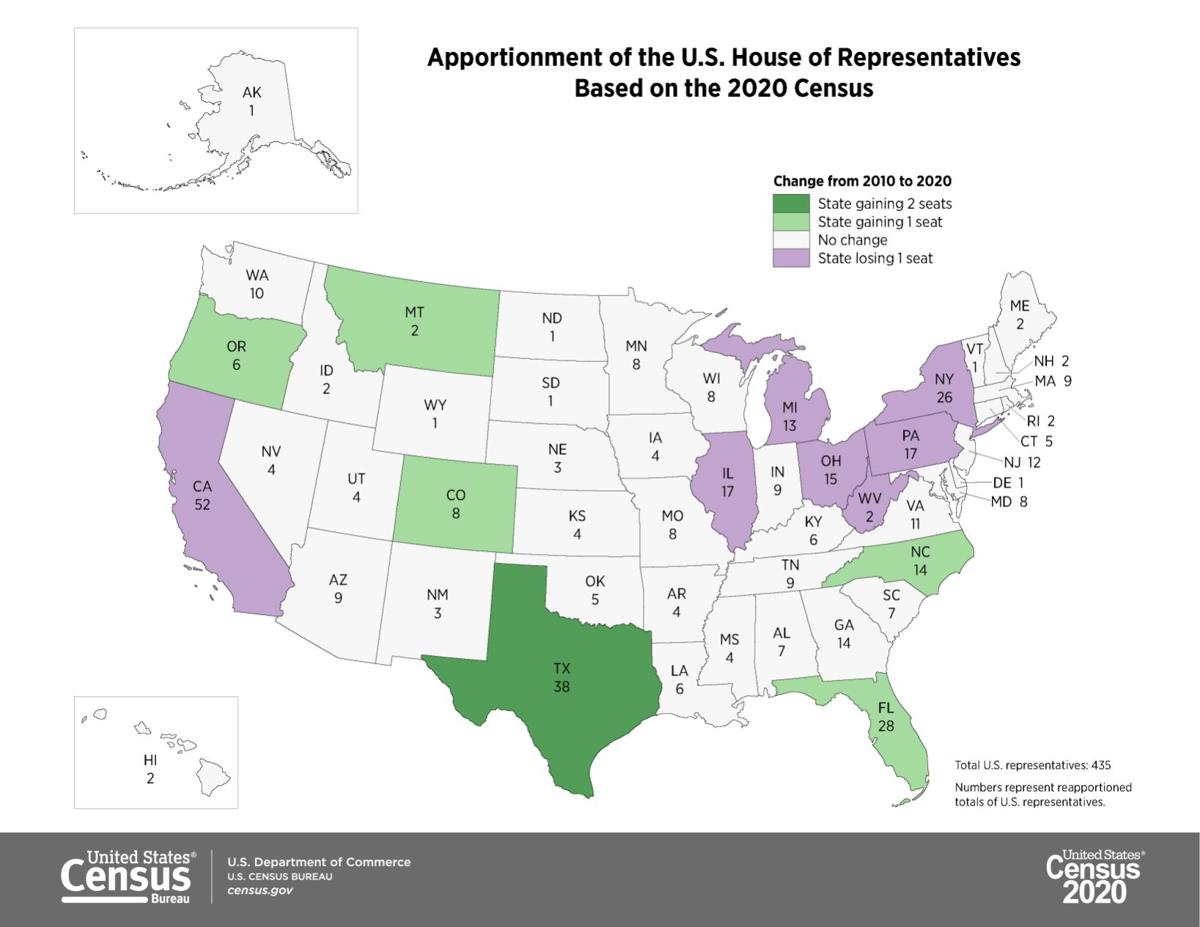 Montana will receive a second U.S. House seat, becoming the first state once relegated to at-large status to regain a second representative.
The U.S. Census Bureau announced state-level population data Monday, showing Montana with just enough to growth to shed its at-large status. The state's population grew 9.6% over the past decade to cross the million mark for the first time at 1,084,225.
"Shoot, we're good. We were shooting for 1,080,000. We got 4,000 more," said Joe Lamson, a Montana Districting and Apportionment Committee member. "That's what the last projections were. So, that's encouraging."
Monday's announcement is an "early look" at population data, enough to signal the number of congressional offices in the 2022 ballot for each state. Only six states gained House seats with Montana being the least populated. Colorado, Florida, North Carolina and Oregon each picked up one seat, while Texas picked up two.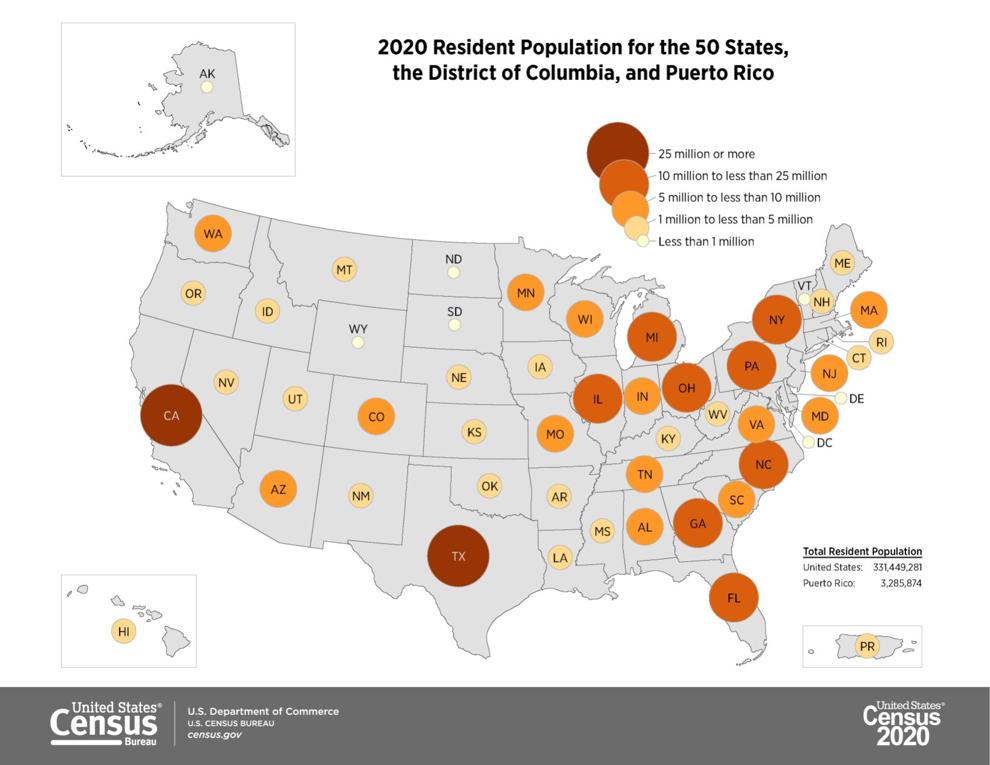 The kind of detailed data necessary for drawing balanced districts won't be available until August at the earliest. The nation's 435 House seats are divided up according to population in the decennial Census. Montana last had two House seats in 1992. Since 1997, Republicans have controlled the state's only House seat. When there were last two districts, Democrats held the seat in the western part of the state.
The last living representative to serve in a two-district Montana is Pat Williams, a Democrat who went to defeat Ron Marlenee, the state's other U.S. Representative, in the 1992 race for the state's at-large House seat.
Montana lost a lot when it became an at-large state, Williams said. Two lawmakers means twice as many committee spots, which is a big deal for Montana. Williams said Monday he never thought Montana would regain a congressional seat. Now that it has, he hopes the line is drawn north to south recognizing the political preferences of the east and the western regions of the state.
"Drawing from the northern border to the southern border again will give western Montana the opportunity to continue to be moderately liberal in its politics and give Eastern Montana the same opportunity to follow its natural course, which has been to be moderately conservative in its politics," Williams said. "There's no political shenanigans in that. There's history to fall back on. And I think it would be the easy and best way to do it. I hope they give consideration to that. I don't know where they draw it north to south, but it's better than drawing it all the way across the middle."
Montana had fallen just short of a second district in the previous Census and was on the bubble for regaining a House seat in this count, according to Election Data Services, a political consulting firm that earlier reported "the state of Montana's hold on going back to two seats is still very tenuous. The new 2020 data shows the state able to gain the second seat by only 4,714 people."
Once the most underrepresented at-large district in Congress, Montana now has the least populated districts in the House with 542,704 in each.
"I am glad to see Montana will have another seat at the table after decades of under-representation in Congress. Now it is up to the Montana Redistricting Commission to ensure that the new congressional districts are drawn to fairly represent our communities," Rep. Sue Vinton, Republican state House majority leader from Lockwood, said in a prepared response. "Montanans don't want to see this exciting opportunity turn into partisan gerrymandering. Our state and country will benefit from having another frontier-state voice in the U.S. House of Representatives."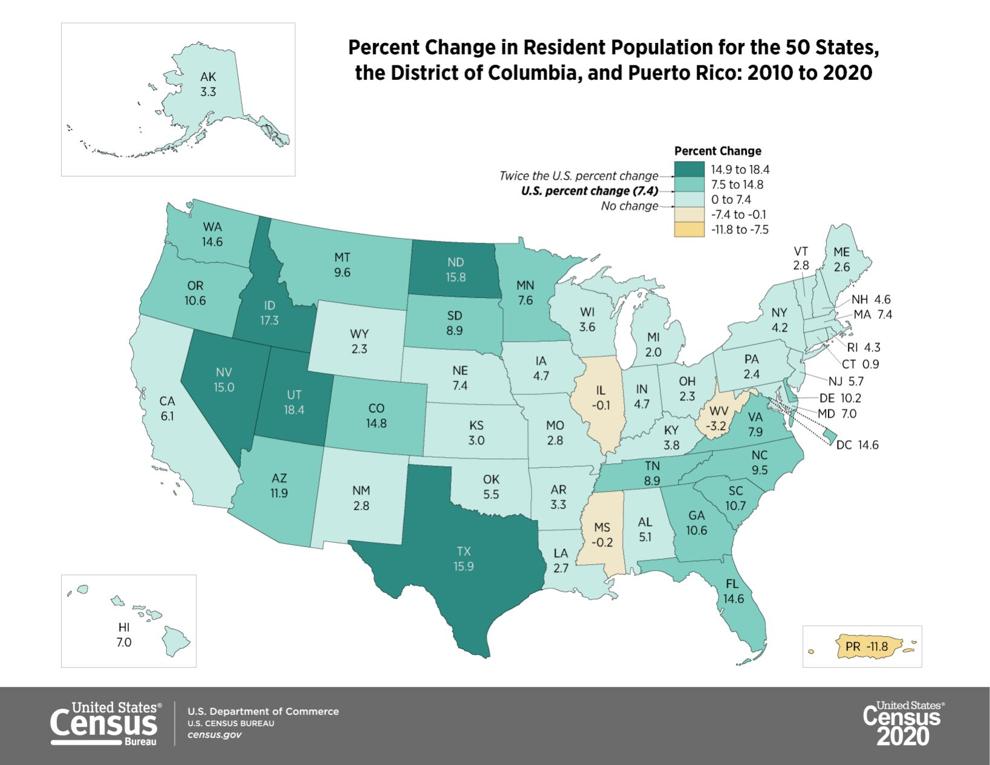 Montana's Districting and Apportionment Committee is comprised of two Democrats and two Republicans appointed by Legislative leadership, plus a fifth member usually selected by the Montana Supreme Court. Republicans have long suggested they haven't done as well as expected in legislative districts redrawn in past Census cycles, particularly after the 2000 Census. They have gained legislative seats in every election cycle since 2006 and now hold an historic number of seats.
Unlike the configuration of the two U.S. House seats, which will be on the ballot in 2022, Legislative districts will be drawn up and submitted to the 2023 Legislature before appearing on the ballot in 2024.
Democrats have long held out hope for the return of a western U.S. House district. Before Montana lost its second seat in the 1990 Census, the western House District was reliably a Democratic seat, buoyed by a much more populated Silver Bow County and a Missoula community with a strong union presence and a healthy liberal arts university.
"Another seat in Congress gives Montana another seat at the table where decisions are made. We must ensure that the competition for this new office is free, fair, and unobstructed by irresponsible attacks on our democracy," said Sandy Luckey, Montana Democratic Party CEO, in a prepared statement. "To make sure this office truly reflects the will of all Montanans we must redouble our efforts to protect all eligible Montanans' right to access the ballot box."  
University students in particular have been impacted by the legislative decision to not allow student ID cards alone to qualify as adequate identification for voting. Same-day registration was also eliminated by the Republican majority. Permits to carry a concealed weapon now qualify as sufficient ID to vote without having to show additional information.
There were some surprises in the Census results. For months, analysts speculated that Montana's gain of a second seat would be Rhode Island's loss. After the 2010 Census, Rhode Island was the least populated state with two seats. The thinking was that Montana would have to leapfrog Rhode Island to get another seat.
The Washington Post just a week ago laid out the scenario in which Rhode Island, identified as the fictional state "Bluetah" lost a seat to a fictional Montana state, "Yelloware" that had just narrowly missed a second seat in 2010.
Montana didn't surpass Rhode Island in population, despite growing at a 9.6% pace. Montana still trailed Rhode Island in population by about 13,154 people, but closed the gap, which a decade ago was 63,152.
Wyoming remains the least populated state at 576,851, an increase of 2.3% over a decade. Among Montana's neighbors, Idaho lead with the biggest growth spurt of 17.3% and a population of more than 1.8 million. North Dakota's population surged 15.8% in the decade of the Bakken oil boom to a population of 779,094.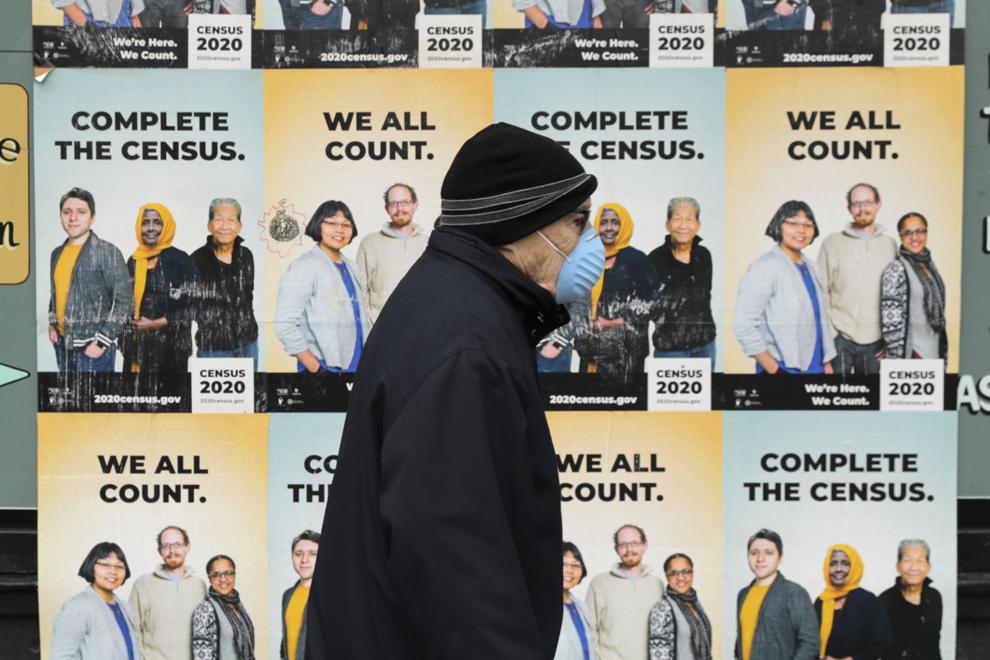 The 2020 U.S. Census was a bumpy ride for Census-takers. In 2020, the population count was interrupted by COVID-19. The U.S. Census Bureau suspended the count from March through May because of the pandemic. When the count began again, the cutoff date was uncertain, eventually wrapping up in October.
On reservations like Fort Peck, severely sickened by COVID-19, bans on travel prevented enumerators from going door to door until the final days of the count. The numbers the enumerators planned for never materialized. There were half as many Census workers knocking on doors in Montana than expected.