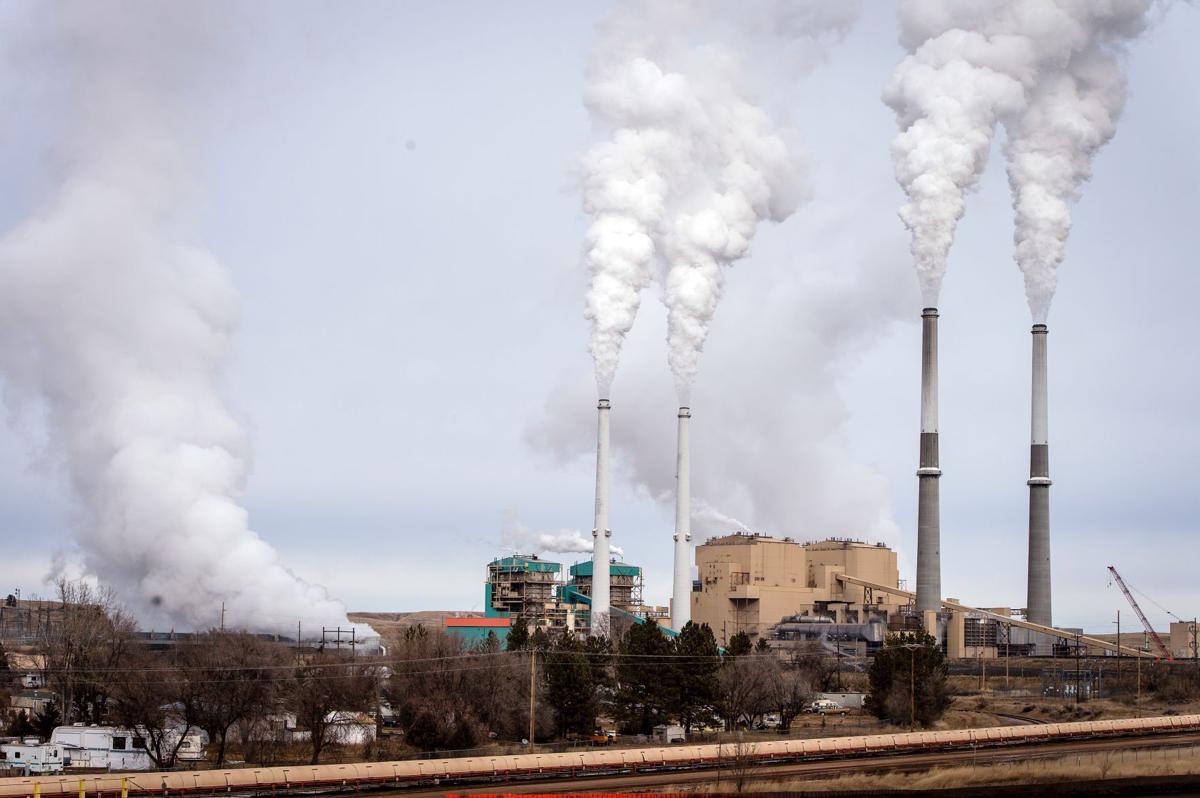 Republican legislators are taking another run at bailing out Colstrip Power Plant, capping some costs, but still obligating NorthWestern Energy customers to a 30-year repayment plan of the utility's $407 million Colstrip investment.
The new legislation, SB 331, which was introduced Wednesday, comes after Billings Sen. Tom Richmond announced that he'll abandon his previous attempt to save at least a portion of the four-unit coal-fired power plant. The earlier proposal allowed NorthWestern Energy to buy a larger share of the troubled Colstrip Power Plant and then pass all future costs onto its customers. SB 331 does the same.
The power plant is owned by Pennsylvania-based Talen Energy, South Dakota-headquartered NorthWestern and four regulated utilities based in either Oregon and Washington. Concerned about climate change, both states are pressing their utilities to pull the plug on coal power. NorthWestern indicates it has a chance pick up a bigger Colstrip share for the token price of $1.
The new bill, sponsored by Richmond, would prevent NorthWestern from billing its customers for more than $40 million in operating costs accumulated over five consecutive years.
Richmond's plan still binds customers to a 30-year Colstrip payment plan, in order to guarantee NorthWestern a full return of the $407 million it's already paid for 30 percent ownership of Colstrip Unit 4. Those payments would continue even after Colstrip shut down, which is unusual. Typically, customers cannot be charged for a power plant that doesn't supply them energy. Richmond's bill would change that.
One thing SB 331 doesn't do, is stop NorthWestern Energy from shutting down its share of Colstrip early. Quite the opposite. The bill recognizes that NorthWestern will most likely stop using Colstrip Unit 4 long before the unit's "end of useful life," which is 2042.
In a video released Wednesday morning by Senate Republicans, Richmond said he'd taken the lessons from his previous Colstrip proposal, Senate Bill 278, and added them to his latest attempt.
"I'm excited about it because it continues to pursue the purchase of additional base load power for the regulated utility," Richmond said in the video. "I think it will help restrain cost increases of our utility and our cost of electricity. It retains the costs of remediation and decommissioning with the parties that incurred that liability to start with. It does not pass liability onto the ratepayers to any extent more than they were already on the hook for reclamation costs before."
A long-term obligation
Among groups opposed to Richmond's first Colstrip bill, there are still concerns about passing Colstrip costs onto future NorthWestern customers, some of whom will never receive its power.
There are millions of dollars in environmental costs associated with Colstrip that are going to be hard to collect from the Oregon and Washington utilities once they put Colstrip in their rear-view mirror, said Anne Hedges of the Montana Environmental Information Center. NorthWestern's customers risk being stuck with those costs if the monopoly utility is the last one to exit. Initial cleanup costs for Colstrip's coal ash ponds are estimated to be $400 to $700 million, depending which cleanup plan Montana's Department of Environmental Quality selects.
"Remediation costs will increase for NorthWestern Energy customers, and once other owners are gone those costs for water treatment, and to eliminate their huge volumes of contaminated water, will fall to those owners who remain," Hedges cautioned. "Those who are out will not be obligated to pay. That means NorthWestern Energy customers will get stuck paying for huge remediation costs even if they aren't prudently incurred. This will dramatically increase our costs for remediation and general operation and maintenance at the plant. The $40 million is just the start of what customers will be forced to pay over and above what they otherwise would."
The Montana Consumer Counsel, the office created by the state constitution to defend the interests of the customers of monopoly utilities, has been outspoken about the potential customer harm NorthWestern's $1 deal might do. The counsel typically advocates for the lowest cost power available, discouraging utilities like NorthWestern from making business decisions that drive up customer bills.
Already, Colstrip power is some of the most expensive for which NorthWestern customers pay. Last spring the counsel identified Colstrip power as costing customers more than $70 a megawatt, more than three times the free market price at the time. The customer price and the generation price were significantly different. NorthWestern CEO Bob Rowe recently identified the cost of generating the power to be $21 a megawatt.
The place for discussing whether more Colstrip power is beneficial for consumers is before the Public Service Commission, said Jason Brown, Montana Consumer Counsel attorney. There, NorthWestern's $1 Colstrip bargain would be compared for affordability against other potential power sources, like natural gas plants and renewable energy. Richmond's legislation bypasses that process and hard-wires the Colstrip terms into Montana law. It denies the Public Service Commission its power to object or even change the terms to secure an affordable deal for NorthWestern customers.
"They should make the case, if this is the least-cost option, and make that case to their regulators," Brown said. "And if it is the least-cost option, I don't think they're going to get push-back from consumers," on affordability, at least not the Consumer Counsel, Brown said.
There's risk under current conditions of a utility not being able to recover its costs if customers can be charged only for a power plant that's actually supplying them electricity. It's a risk that naturally discourages companies from making bad investments for which they might not be able to recover costs. If the Legislature eliminates that risk, it will be a win for NorthWestern, Brown said, not customers.
Richmond's latest bill does clear up concerns previously voiced by Brown and others. The Consumer Counsel had criticized SB 278 for not limiting how big an additional Colstrip share NorthWestern could purchase. The new legislation caps the amount at 150 megawatts, which would boost the utility's ownership of Colstrip Unit 4 from its current 30 percent to roughly 50 percent. The new legislation caps operating costs at $40 million over a consecutive five-year period after share sale. However, NorthWestern's costs of eventually shutting Colstrip down and remediating the site are not part of the $40 million cap. NorthWestern would also have to acquire its new Colstrip shares no later than December's end 2021.
Things have changed dramatically at Colstrip since NorthWestern bought in a decade ago. At that point, the power plant's other utility owners agreed about the life of the power plant. Like NorthWestern, they expected Colstrip to run into the 2040s. Those projections have changed.
Colstrip's two oldest units are scheduled for closure no later than 2022 to settle an air pollution lawsuit. Units 3 and 4 are on track to burn on, though two owners from Washington state, Puget Sound Energy and Avista Corp., have agreed to be financially ready by 2027 to shutter the units. Owner PacifiCorp is legally obligated to stop selling coal power to its Oregon customers by 2030. Last year, PacifiCorp identified several of its coal-fired power plants as uneconomical. Its Colstrip interest was barely in the black. Portland General Electric has until 2035 to cut the coal cord. Talen Energy, which operates the power plant, is not a regulated monopoly and has no captive customers. It has struggled on the free market, where natural gas and renewable energy are priced more cheaply than coal.