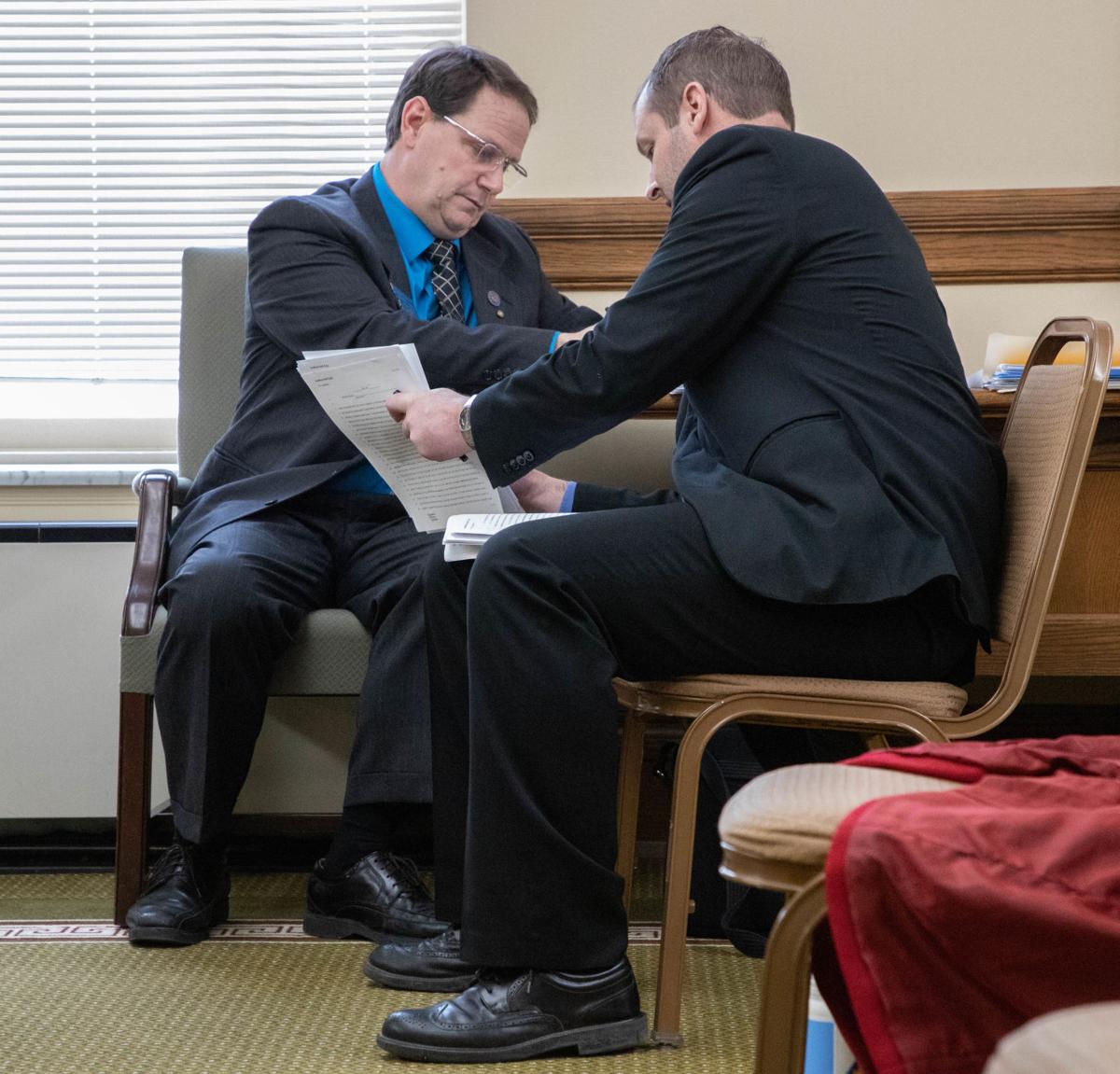 A state House committee began its two-day marijuana marathon Tuesday, hearing two of the three proposals on how to implement recreational marijuana legalization.
House Bill 670 focuses heavily on shifting the tax revenues from recreational marijuana into two areas. Two-thirds of the tax revenue would go to state employee pensions. The other third would go into a trust fund account, the interest of which would pay for the "economic and social costs" of marijuana cultivation, processing and use. As the account's interest climbs, lawmakers can appropriate more and more of it toward those mitigation costs.
Big Sky Lede is a dive into the stories about how government and politics drive the direction of Montana. This podcast is from the reporters o…
Supporters of the bill, from Rep. Derek Skees, R-Kalispell, say it proposes a legal cannabis system that holds closer to the initiative 57% of voters passed last year than the 144-page implementation proposal from Rep. Mike Hopkins, R-Missoula.
Hopkins' bill would thrust recreational and medical marijuana into a different system. It proposes flipping the opt-out provision by requiring counties to opt-in to allow recreational marijuana business. It also bans outdoor grow operations and breaks the vertical integration model out into horizontal integration, meaning a business can simply be a grower, extractor or retailer, rather than all three. The House Business and Labor Committee has already held a half-day working session on Hopkins' bill, which is backed by the governor's office.
Barbie Turner, who owns Alternative ReLeaf in northwest Montana, said she favors Skees' bill, which moves medical providers to the Department of Revenue with recreational marijuana, but keeps the program structure intact. Turner said her business in Lincoln County has been one of the top 10 job producers over the last five years because of the regulations the Legislature has crafted in recent sessions.
Other providers also raised concerns.
"It seems silly to start from scratch and, frankly, very difficult," Antonette Lininger, CEO of Sacred Sun Farms Inc., near Bozeman, told the committee. "We can switch departments but we don't need to start over."
Skees said Tuesday his iteration of marijuana implementation intends to keep government small.
"The whole point of this bill is not to grow government with this new revenue," Skees told the committee.
Skees' 95-page bill, cultivated in collaboration with Rep. Matt Regier, R-Kalispell, pushes retail sales back two months from January 2022 to March 2022 and raises the medical tax from 4% to 5%, while lowering the recreational marijuana tax rate to 15%. It also loosens up advertising restrictions and maintains home grows, a measure the governor-backed bill reinstated in more recent drafts. It also requires marijuana businesses to come into the Montana market in a low tier, essentially requiring businesses to start small and scale up instead of entering the market as a major player.
Restoring funding to conservation efforts as the ballot initiative set out appears to be off the table. Rep. Andrea Olsen, D-Missoula, asked three separate times why Skees' bill didn't fund conservation efforts or if some funding could be re-appropriated in that direction. Skees shut the idea down, as did Regier, who compared a ballot initiative allocating funding to a family paying for a trip to Disneyland before paying the bills.
Before legalization had even passed, Skees had filed a placeholder bill to repeal marijuana legalization if it passed. After the ballot initiative won handily, Skees told the Missoulian he wouldn't pursue overturning "the will of Montana," in reference to legalization. 
The committee also heard Tuesday a separate proposal from Rep. Brad Tschida, R-Missoula, another deviation from the governor-backed marijuana bill. Tschida told the House Business and Labor Committee he hopes provisions in his proposal would be added to a larger implementation bill, nodding to the suite of legislation to fully enact legalization.
Tschida's bill would impose the 20% tax on wholesale transactions rather than retail sales. This, Tschida said, would align more closely with the alcohol system and the revenue department would have to oversee fewer entities. Additionally, Tschida said be suspects black market marijuana dealers will try to get into the recreational system through the wholesale exchanges, so that's where he wants the state to cast its oversight. 
No one spoke in support of Tschida's proposal Tuesday, and  he did concede during the hearing that the legislation was rushed to committee to beat an upcoming transmittal deadline.
J.D. "Pepper" Petersen, president of the Montana Cannabis Guild and one of the architects of the Initiative 190 to legalize marijuana, called the wholesale component of Tschida's bill "destructive." He pointed to Oregon, where that state's emphasis on wholesaling led prices to hit the floor.
"Let's not kill the golden goose by creating an opportunity for someone to come in and become a wholesale grower and completely collapse the price of marijuana," Petersen said. "What this does is push all the small operators out."
Tschida said boxing out the Walmarts of the marijuana industry may be a foregone conclusion.
"That's always a possibility," he said. "You can't prevent every possible outcome, it's not practical."
The committee did not vote on either proposal Tuesday, but are braced for HB 701 from Hopkins. That version includes putting less than $2 million in expected revenues toward state parks, trails and nongame wildlife funding, but has still drawn the ire of conservation groups, who have urged lawmakers to restore the $18 funding for public access easements.
Frank Szollosi, executive director of the Montana Wildlife Federation, said in an emailed statement Tuesday that both Skees' and Hopkins' bills are "dead on arrival" for excluding the public access funding.
"If lawmakers want to successfully rewrite the ballot initiative this session they need to take more direction from voters on where those revenues go," Szollosi said in the email.
The House Business and Labor Committee gets underway at 8 a.m. Wednesday.