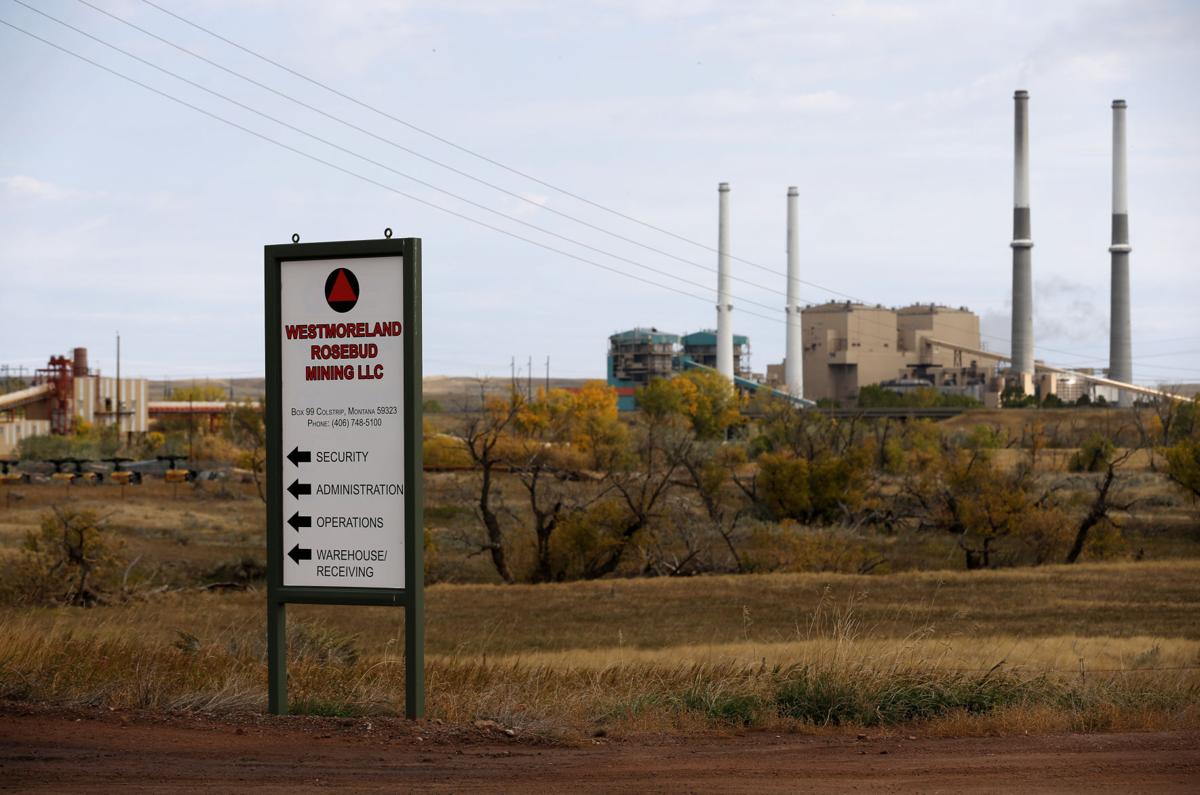 Coal was back on the menu at the Montana Legislature where Republicans voted to make it easier for Colstrip Power Plant to cut ties with neighboring Rosebud Mine, or alter its coal supply.
The mine and power plant are a short walk from each other, but have been miles apart on coal pricing in recent years. A pivot by Colstrip Power Plant owners to a different coal mine would likely be the end of Rosebud, which sells nearly all of its coal to Colstrip.
"It allows the plant at Colstrip to buy coal from different sources, and that allows the plant to be run for a cheaper price," said Sen. Steve Fitzpatrick, Republican from Great Falls. "Right now, they have to get all the coal from the mine at the mouth. What this bill will allow them to do is get coal from other facilities they can bring it on in a train, they can bring it in somewhere else."
The mine employs more than 300 people, according to owner Westmoreland Mining LLC. Westmoreland didn't return a Wednesday afternoon phone call from Lee Montana Newspapers.
Lawmakers said the bill enabled a switch to coal from a different mine. But the bill's language refers to "altering fuel," and refined coal is tied to a handsome federal tax credit of more than $7.31 a ton.
The details allowing Colstrip Power Plant owners to alter their fuel source without rigorous environmental permitting were baked into House Bill 648, an everything-bagel of a bill that addressed several issues related to the Colstrip Power Plant. The bill passed both chambers of the Legislature with the Republican majority driving passage.
Specifically, the bill states that a state certificate relative to burning fuel at the plant won't need to be amended "if a change is made at the facility to alter fuel sources necessary to maintain operations at the facility, if the certificate holder obtains necessary air and water quality permits."
One possibility would be the power plant buying coal from another mine, an issue that was ripe in the 2019 Legislature as the power plant was in contract negotiations with Westmoreland. Plant operator Talen Energy had asked Montana's Department of Environmental Quality to approve coal from a different mine. Talen also sought a state permit for a coal unloading facility.
But the plant owners also signed a six-year contract with Westmoreland in late 2019 that locked the owners into a supply agreement through 2025. Every owner signed the agreement except Talen, which signed a separate contract.
In Washington proceedings just months ago, Puget Sound Energy officials stated that although it and other Colstrip owners looked into buying coal from another mine, most likely in Wyoming, the economics didn't make sense. The idea was discarded. 
There is another possibility for how the bill could be used by power plant owners, which is refined coal, that is say coal that's dried or chemically treated to temper its air pollution.
Refined coal comes with lucrative federal tax credits. Companies earn the credits for lowering nitrogen oxides by 20%, or mercury and sulfur dioxide by 40%. In 2018, Montana's U.S. Sen. Steve Daines and fellow Republican Gov. Greg Gianforte, then a U.S. Representative, worked to extend the life of the refined coal tax credit at the request of Colstrip stakeholders.
The tax credit originated in 2004 as part of the American Jobs Creation Act. The incentive has created a statistical anomaly in the United States, where coal use is declining, but refined coal burning has increased as a percentage of what's being burned, according to the federal Energy Information Administration.
The refined-coal company, Tinuum Group of Colorado, installed equipment at Colstrip for refined coal and advertised employment opportunities at the plant to run the refined coal system. There was also permitting work done with Montana's Department of Environmental Quality in 2018 to allow refined coal at the power plant.
But refined coal at Colstrip didn't take off. In fact, regulators in Washington suspected that burning refined coal might have been what caused the mercury air toxics emissions to increase starting in February 2018. The pollution levels eventually resulted in the shutdown of Units 3 and 4 at the end of June 2018 when the units failed to pass MATS testing for the second quarter of the year. The units ran only for testing form 77 days and didn't receive a clean bill of health until September of that year. 
Both the Reuters investigation and a study by Resources for the Future concluded that refined coal projects weren't bringing marginal coal into emissions compliance, though 20% of coal burned at American power plants was refined.
The tax credits amounted to $1 billion a year, according to Reuters.
There are coal pricing challenges ahead for Colstrip. The current contract between the utility owners of the power plant and Westmoreland require that a minimum 4.25 million tons of coal be purchased every year. If the tons drop below that number, the price of the coal increases. Limited details of the contract are provided in a redacted copy on file with the Washington Utility and Transportation Commission.
Not long ago, Colstrip Units 3 and 4 burned about 8 million tons of coal a year, but that number slid to 5 million tons in 2020 as maintenance and months of low generation at Unit 4 reduced demand. That information comes from reports submitted by co-owner and plant operator Talen Energy to the EIA.