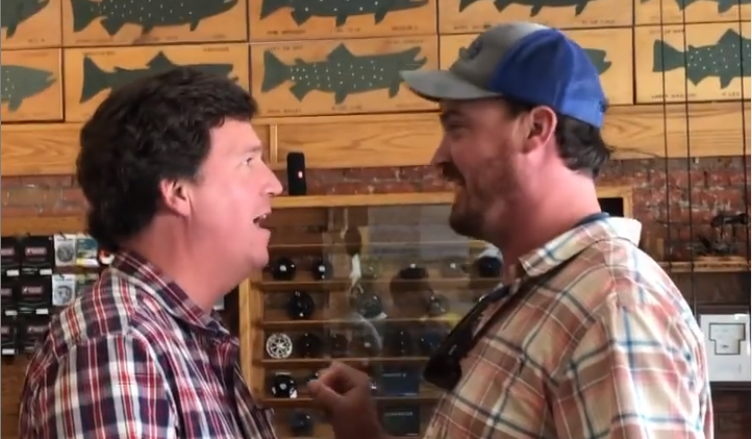 A Montana man is receiving a huge amount of attention on social media after a video of him accosting Fox News host Tucker Carlson in a Livingston fly-fishing shop went viral over the weekend.
Dan Bailey posted the 31-second video to his Instagram account Friday. It shows him standing close to Carlson and calling the television personality "the worst human being known to mankind." In his social media post, Bailey also accuses Carlson of spreading misinformation about vaccines, saying he is responsible for causing more deaths from COVID-19. 
The incident occurred at Dan Bailey's Outdoor Co., a storied fly-fishing shop whose founder coincidentally shares a name with Carlson's critic. 
Carlson hosts the popular news entertainment show "Tucker Carlson Tonight" on Fox News. In a statement provided to the Montana State News Bureau, the network accused Bailey of "ambushing" the entertainer.
"No public figure should be accosted regardless of their political persuasion or beliefs simply due to the intolerance of another point of view," the statement said.
Carlson says little in response to Bailey in the video, responding "I appreciate that" and saying "I'm not going to debate" before the video cuts off. It only shows a portion of the exchange.
On his program, Carlson has advanced skepticism of the COVID-19 vaccine, even as other Fox News personalities have recently encouraged watchers to be vaccinated.
The store's management confirmed that the altercation took place Friday, in a statement posted to its Facebook page the following day.
"This person has no affiliation with our business, other than he shares the same name as our founder, who passed away in 1982," the statement reads. "To be clear, we treat every customer equally and respectfully. Our staff was professional and cordial to Mr. Carlson, as we are with all of our customers."
The video has been widely shared on social media. Bailey's original Instagram post had received more than 275,000 views by Monday morning. A version posted Saturday on Twitter by the Lincoln Project, an anti-Trump political action committee, had amassed 3.8 million views. Other versions on Twitter had also surpassed the 1-million-view mark.