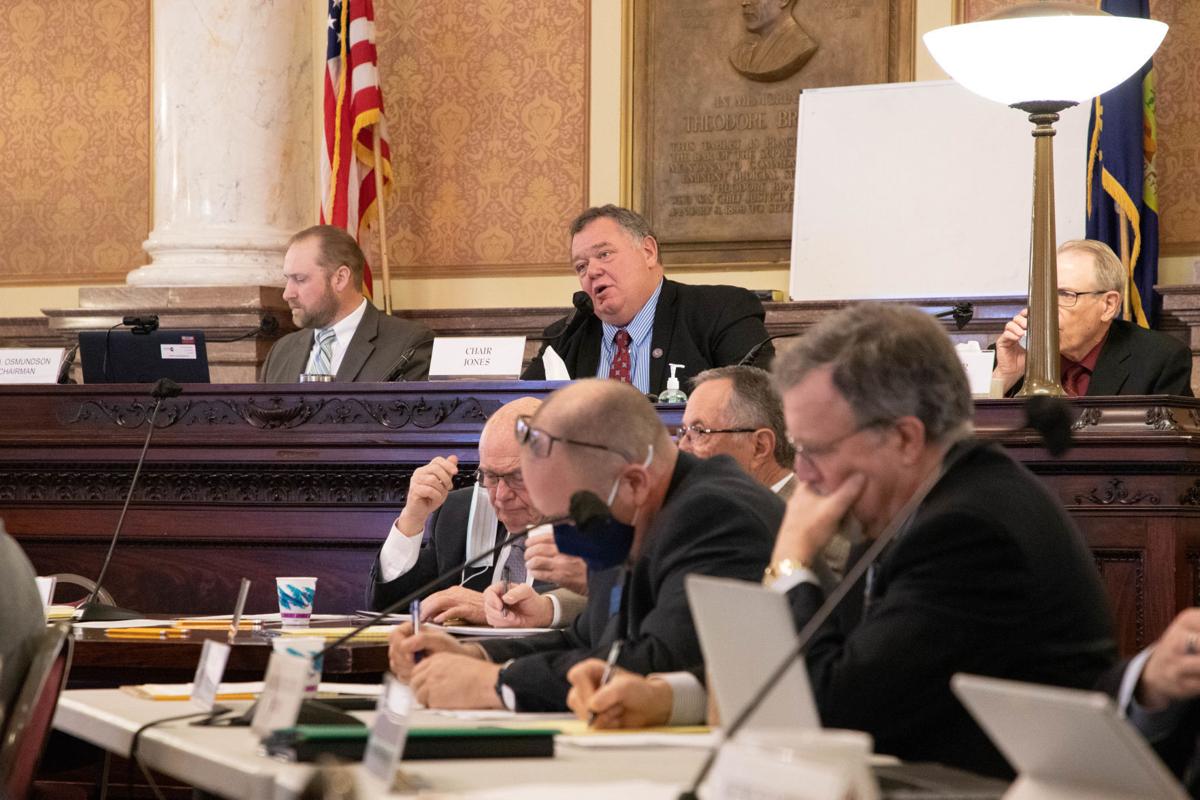 Over the next week, legislators will aim to draw the rough plans for how the state will spend billions in federal coronavirus aid coming to Montana, though many of the rules about how they money can be used don't exist yet.
It's also not clear exactly how much of the estimated $2.7 billion headed to the state from the federal American Rescue Plan Act will be available for the Legislature to appropriate versus money that goes directly to local and tribal governments, specific programs or other designated recipients.
A draft document shows that there's about $120 million for capital infrastructure projects. Another $630 million could be available for the state Department of Public Health and Human Services and the corrections system. And there's about $400 million for education including both the K-12 and higher education system. 
In total, an estimated $910 million could be heading to the Legislature to divvy up, and $298 million coming to local governments.
But even as lawmakers begin to try to spend all that money, many major pieces of the pie are up in the air. For example, the draft document lists "unknown" for how much funding will be directed toward many major programs, such as the Children's Health Insurance Program (CHIP), the state Women, Infants, and Children program (WIC) and other major parts of the state's Medicaid program.
Last week lawmakers decided to not hold Saturday sessions to save those legislative days to allow for flexibility to meet into mid-May. The move is in part to stretch out the calendar while awaiting federal rules on how the money can be spent.
"It is going to take some effort to get this all aligned," said Rep. Llew Jones, a Republican from Conrad who chairs the House Appropriations Committee. "It's going to take a few tries and we won't get it perfect the first time."
Monday was met with plenty of questions from lawmakers about limitations to their authority to allocate the hundreds of millions of dollars.
A budget subcommittee on infrastructure and local government was one of multiple committees meeting to prepare to draft spending recommendations under House Bill 632, which will be the vehicle to appropriate the coronavirus aid.
That subcommittee's chair, Rep. Mike Hopkins, R-Missoula, said lawmakers will need to look at multiple spending bills already advancing for consideration of federal dollars. Plans include agencies under the governor bringing forward recommendations to the committee this week.
In addition to the roughly $120 million expected to be available for capital projects, there's about $910 million that could go toward water, sewer and broadband spending. The first pot of money is marked for "critical infrastructure" projects directly affected by the coronavirus pandemic. Lawmakers have several proposals to increase broadband access in the state, something that's also been prioritized by Republican Gov. Greg Gianforte.
Jason Harlow, with the governor's budget office, said the administration is still awaiting federal guidance on the types of projects that could receive the funding.
"Unfortunately we only have so much information and we'll have to do the best that we can with the words on the page until we get more federal guidance," Harlow said.
The $910 million has a wider range of eligible uses, Harlow said. The governor's office is encouraging lawmakers to allocate money based on existing programs already in place and to look at leveraging existing funds where possible.
Legislators also formed a select committee to look at potential COVID-related spending to support tourism, entertainment and natural resources industries.
Jeremy Sage, the director of the University of Montana's Institute for Tourism and Recreation Research, offered a snapshot of the pandemic's impacts on Montana's travel industry over 2020.
In a typical year, Sage said the state brings in $3.7 billion in nonresident visitor spending, supporting an estimated 53,000 jobs.
Sage said the state experienced a drop of $451 million in nonresident visitor spending in 2020. When taking indirect economic impacts into account, that amounts to Montana losing an estimated $650 million in economic output, he said.
Looking ahead to where the tourism industry's recovery will be most pronounced, he said visitors have indicated higher interest in national parks and other outdoors opportunities, while urban areas will be the slowest to see travelers return. However, he was joined by other presenters warning that many travelers will avoid areas perceived as being unsafe, from a COVID point of view.
"I think there are a lot of people who are not terrified, they want to travel but they are going to pick what they perceive as safe," said Rhonda Fitzgerald, a member of the state's Tourism Advisory Council and the owner of the Garden Wall Inn in Whitefish. "And we do rely heavily on that vast majority of people, who are following their instincts to not take risks."
The education appropriations subcommittee Monday set the table for a long week ahead, again without much guidance on how to begin.
"I think we have a complicated situation, but not quite a big mess yet," said committee chair David Bedey, a Republican representative from Hamilton.
With a target deadline of Thursday, the education subcommittee will soon have recommendations for allocating the federal funding for K-12, higher education, the state library and Department of Transportation. Each agency will make a presentation to the education budget subcommittee beginning Tuesday.
State Superintendent of Public Instruction Elsie Arntzen told the committee she anticipates more than $400 million in federal relief funding for schools. Roughly $25 million will go to homeschooling, Arntzen said, a population that has nearly doubled in the last year with some expected correlation to the pandemic. Roughly 90% of the $400 million will be allocated directly to school districts to be used as they see fit, said chief financial officer Ken Bailey.
A committee dealing with the state Department of Public Health and Human Services, as well as the Corrections and Commerce departments, also held its initial meeting Monday, planning for a long week ahead.
In the absence of clear rules on how to spend the money, Jones and Kurt Alme, Gianforte's budget director, made clear their overall priorities.
Jones encouraged legislators to find ways to offset spending in the state's budget and shift infrastructure projects to be paid for with the federal money. He also told lawmakers to look at things that will have long-term benefits for the state but urged caution against creating long-term programs that would need money after the federal aid expires.
"If we stand up new programs and bring them into existence, then we're going to have to speak to how in the world we're going to fund these new programs," Jones said.
Most of the funding can also be spent over four years, and Alme encouraged lawmakers to spread money out over as many years as permitted.
"Let's try to provide a good, steady, long-term impact to the state," Alme said.