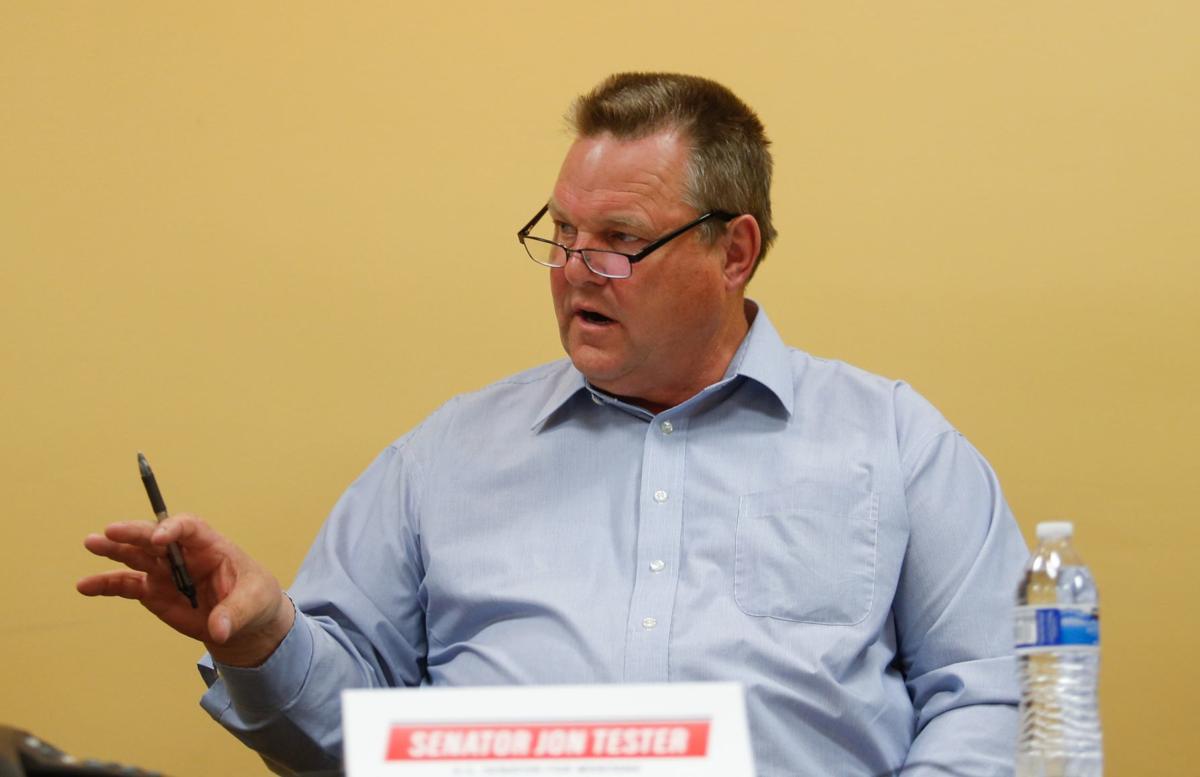 Montana exporters expect an immediate economic hit Friday as the U.S.-China trade war officially begins with each country imposing $34 billion tariffs on the other's products.
Meeting with U.S. Sen. Jon Tester in Billings, representatives from farm groups forecast millions of dollars in lost wheat sales coupled with higher prices for grain bins and other steel products. Other participants warned of higher construction costs, including a six-figure increase for the new Missoula Public Library.
"If and when the tariffs are enacted tomorrow, we face significant duties of $65 million in wheat exports to China annually," said Michelle Erickson-Jones, Montana Grain Growers Association president. "Right now, current daily impacts have been substantial: the price of bins, the price of steel, the price of equipment, the impacts to the used equipment market."
Erickson-Jones said she hesitated on buying a new grain bin earlier this year before passing altogether when the price of the bin increased 20 percent because of a new import duty on steel and aluminum. President Donald Trump called for additional import duties on steel and aluminum March 8. Two weeks later, the cost of steel and aluminum products began to rise.
"For the impacts on the rural economy, that's a small bin builder who didn't get a job, a U.S. bin provider didn't get to sell a bin and a U.S. domestic steel supplier didn't get to ship that steel, "Erickson-Jones said. "And that impact is seen across the farm economy, and we are certainly concerned it will get worse."
Erickson-Jones said a bigger concern is whether the United States wlll increase import duties on automobiles, which would harm Japan, and most likely trigger tariffs against U.S. wheat. Japan is the largest buyer of Montana wheat.
From Missoula, library director Honore Bray teleconferenced in to say the construction costs of the new $35.65 million Missoula Public Library and museum complex was increasing because of import duties on steel.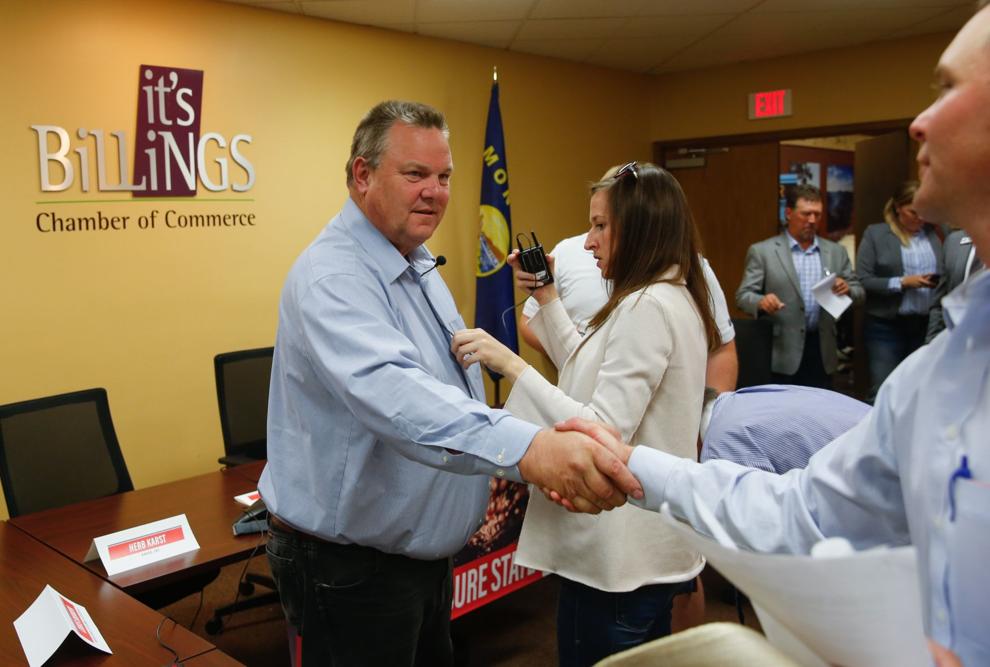 "Tariffs on rebar cost the amount to go up $100,000, and the outside of the building is aluminum siding, of which they don't know how much the tariff will affect that at this point," Bray said. "It's been really difficult to get pricing from contractors because of the tariff. They're afraid of what the prices are going to do."
Construction of the library is set to begin next month.
Others participating in the meetup hosted by the Billings Chamber of Commerce said they were concerned about trade terms with Mexico. Montana farmer Herb Karst said Mexican beer companies have become the biggest buyers of Montana malt barley. Karst, who has become a barley consultant for Modelo and Corona said President Trump's renegotiation of the North American Free Trade Agreement, had introduced the uncertainty into the brewing industry the threatens Montana's malt barley sales. The president's descriptions of Mexicans as dangerous criminals has left Mexican barley buyers nervous about visiting Montana to do business.
"Just exactly a year ago at the trade summit we had in Great Falls, I was approached by the Mexican beer interests, and the first thing they said to me, 'We need to know, are you going to be a reliable supplier, or aren't you?'" Karst said. "And it was hard to give a definitive answer, given the rhetoric that's out there."
Then, in May, a group of Modelo brewers were in Montana for a malt barley sale. From the moment Karst picked the group up at the airport for a trip to northern Montana, the brewers were concerned for their safety.
"The first thing they said to me, when we got in my car to drive, the one young woman who has been here many times said, 'Are we safe here? The looks I get and the rhetoric I hear doesn't make me feel very safe in Montana,'" Karst said. "And I was deeply disturbed by that. Words matter."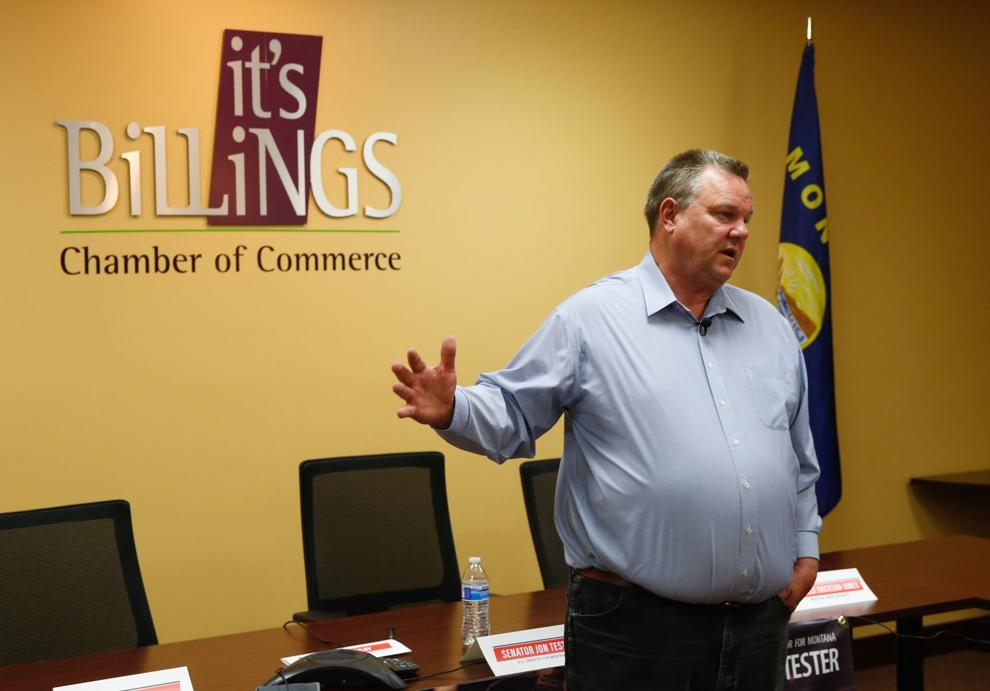 The discussion played out in the hours before President Trump arrived in Great Falls for a rally to support Tester's Republican challenger Matt Rosendale, Montana's current state auditor.
Tester's message to those who participated was Trump's tariffs were generally disruptive to the U.S. economy and bad for Montana. The senator said he was opposed to just walking away from trade talks, as Trump did last year by exiting the Trans-Pacific Partnership, an Obama-era trade deal started by the U.S. that was to strengthen U.S. commerce in the Asia Pacific, while girding trade partners from the economic influence of China.
Erickson-Jones said by backing out of TPP, the president had put Montana farmers at a disadvantage, which will be realized later as TPP partners see tariffs reduced in Japan, while tariffs on U.S. wheat remain high.
Knowing Trump would back out of the agreement, Montana wheat farmers held out hope until the end of 2016 that Congress would sign off on TPP before President Barack Obama left office.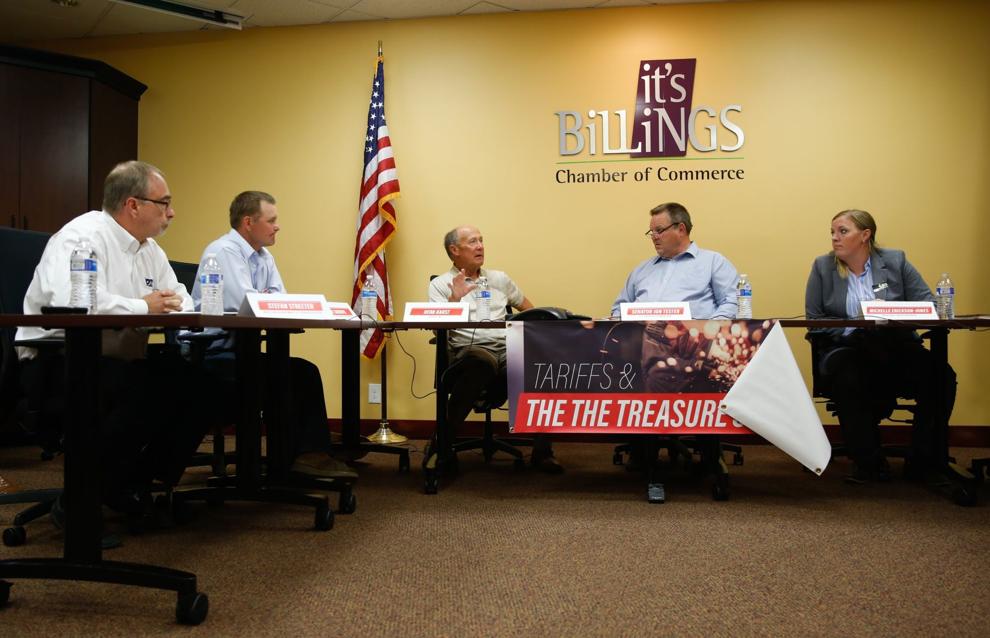 Tester voted against "fast tracking" TPP by giving the trade agreement an up or down vote in 2015, which is what then-President Obama requested. He did not vote in favor of trade agreements with South Korea, Colombia and Panama, which the Senate approved during Tester's two terms. At the time, Tester said those agreements would result in the outsourcing of U.S. jobs. He has been a critic of NAFTA for doing the same.
He told Lee Montana Newspapers in 2015 that his opposition to giving the TPP and up or down vote stemmed from wanting Congress to have the ability to amend the agreement, a move TPP supporters argued would upend trade terms negotiators for 12 nations had already agreed to.
"I'm opposed to giving away our authority to the president because Congress needs the ability to amend these trade agreements to make sure we are giving Montana workers and families a fair shake," Tester said at the time.
Monday Tester said he never objected to the agreement.
"My issues with TPP revolved around currency manipulation, revolved around Congress's input," he said. "I never for a second thought we shouldn't be involved in TPP. I thought we should put some focus on the currency manipulation angle. Why? Because I think it has some serious impacts to trade. But pulling out and not being part of the negotiation is not smart business for a state that exports the kind of products we export in Montana."
Tester said he would like to see terms in NAFTA renegotiated for wheat and soft timber.
Canada slapped the United States with $12 billion in retaliatory tariffs beginning July 1 because of U.S. import duties on steel and aluminum. Trump has said the tariffs are necessary to protect U.S. manufacturing.
He also hasn't given up on County of Origin Labeling, or COOL. Popular with ranchers, COOL called for beef from the United States to be labeled as such in retail refrigerator cases. Tester was an early advocate for the labeling. 
But Canada and Mexico objected, saying COOL discouraged U.S. consumers from buying beef from NAFTA partners. They took their case to the World Trade Organization and won, then followed up by announcing $1 billion in tariffs against U.S. products. The COOL program was ended.