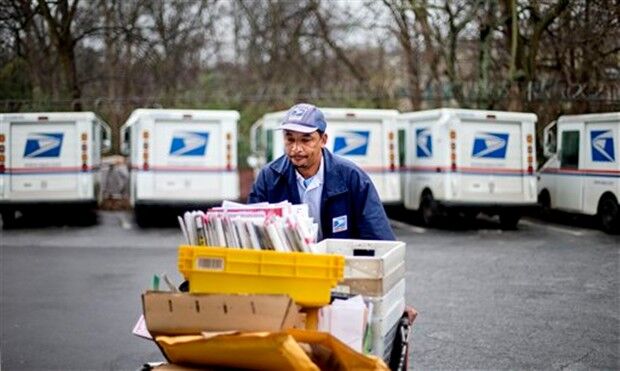 More details about the dismantling of the Postal Service mail sorting machines in Montana emerged Thursday, and a former top USPS official said the Trump administration was attempting to "politicize the Postal Service," with Treasury Secretary Steven Mnuchin leading the effort.
Sorting machines and other equipment at Montana's three major processing centers were dismantled in recent weeks as USPS executed changes prescribed by new Postmaster General Louis DeJoy, which slowed delivery and raised concerns about Montana's upcoming mostly mail election.
DeJoy, a major Trump campaign donor, has been accused of slowing down the mail in the weeks leading up to a general election where people in 46 states will be voting by mail. He has insisted the changes are intended to cut costs.
The Postal Workers Union confirmed for Lee Montana Newspapers on Thursday that sorting machines in Great Falls and Billings had been dismantled, along with the removal of the other equipment. One worker described the Montana sorting centers as still functional, but without backup equipment should anything go wrong. A sorting machine can process 29,000 to 39,000 pieces of mail an hour.
Friday, the union said USPS had imposed a gag order to prevent the employees from talking to the press about changes.
Each sorting center handles hundreds of thousands of pieces of mail daily. The Billings center processes mail for communities from Butte and Bozeman to Miles City. Great Falls processes mail for Helena, Havre, Lewistown and the Hi-Line.
The Missoula sorting center, which processes mail for Western Montana, including Kalispell, lost an an Advanced Facer Canceler System, or AFCS machine. It is the AFCS machine that applies a post mark canceling a letter's stamp, while also matching the address written on the envelope with a known address in the delivery area. Billings was down one as well.
These pieces of equipment won't be brought back online as USPS attempts to undo Postal Service changes following outrages from federal lawmakers and postal workers. Parts of the dismantled machinery have already been sold as scrap metal, according to the Postal Workers Union.
Additionally, U.S. Sen. Jon Tester produced physical addresses for 14 residential mail drop boxes that had been removed from seven Montana communities. Of the communities identified by USPS for the senator, Bozeman had lost the most.
Missing from the list was Missoula. Documents leaked a week earlier showed 18 postal drop boxes targeted for removal there. Last week, USPS would confirm only the Missoula changes.
Also Thursday, a former member of the USPS board of governors told House lawmakers that Treasury Secretary Steven Mnuchin had withheld more than $10 billion in Postal Service funding for months as he demanded concessions the governors considered illegal.
David Williams, a Trump appointee and former vice chairman of the USPS board of governors, said Mnuchin demanded rate hikes and cuts to service that Williams said would ruin the Postal Service. Williams was speaking to the Congressional Progressive Caucus, a group of Democratic representatives with questions about what they framed as "attacks on the U.S. Postal Service." The meeting was livestreamed on the caucus Facebook page.
"The Treasury secretary also insisted that all Republican appointees on the board of governors and the postal regulatory commission come to his office and kiss the ring and receive his blessing before confirmation," Williams said. "The secretary was keenly interested in labor agreements, postal pricing increases, and especially volume discounts being given to Postal Service's largest customers, Amazon and UPS and FedEx. The Postal Service replied to the early demands from the secretary explaining that the provisions he was asking for were illegal, but the concerns were ignored."
Williams said the Treasury has borrowed and spent $300 billion in Postal Service retirement funds at interest rates set so low by the Treasury that the funds were dying.
Asked about Treasury Secretary Mnuchin withholding the Postal Service funds, Montana's Congressional delegation responded cautiously.
Tester has for the weeks expressed concern about the Trump administration sitting on money approved by Congress to help the Postal Service. In late March, Tester and Republicans Sen. Steve Daines and Rep. Greg Gianforte voted for the $2 trillion CARES Act, which included $10 billion for USPS. On July 2 both Daines and Tester signed another proposal to send $25 billion to the USPS to keep it operating through the pandemic.
"Montanans count on the U.S. Postal Service for everything from prescription delivery to paying their bills and voting by mail, which is why I fought to make sure the CARES Act included emergency funding that USPS needs during this pandemic and beyond," Tester said in an email. "Let me be clear, playing politics with pandemic relief funds would be totally unacceptable, and it would fly in the face of congressional intent and the separation of powers. I am going to make sure we get to the bottom of this and ensure USPS has the funding it needs to keep delivering mail to every community in our state."
Republicans Daines and Gianforte said the $10 billion needed to reach the Postal Service, but didn't address the Williams' characterization of Mnuchin's actions.
"Since we're in the midst of a virus and economic crisis, Greg strongly believes CARES Act funding should be implemented as quickly and prudently as possible — whether it's a loan for USPS or the $1.25 billion the federal government sent Montana, much of which still sits in Helena," said Gianforte spokesman Travis Hall. "Greg will continue working to ensure Montanans do not face a delay in their mail delivery."
The $1.25 billion reference was to the amount of money Congress awarded to Montana, much of which has been pledged to local governments by Montana Governor Steve Bullock, but not issued.
"Sen. Daines will continue fighting to ensure USPS has the funding and resources it needs to continue mail operations that work for Montanans including pushing to get his bipartisan bill that provides $25 billion for COVID-19 losses in the next COVID-19 relief package," said Katie Schoettler, Daines' spokesperson.
Get Government & Politics updates in your inbox!
Stay up-to-date on the latest in local and national government and political topics with our newsletter.