American Indians are over-represented in Montana's correctional system, and lawmakers hope to do something about it.
Members of the State-Tribal Relations Committee toured the Montana Women's Prison and participated in an offender re-entry simulation Tuesday. The lawmakers also heard from state officials about challenges American Indian offenders face while serving probation or parole. The interim committee is tasked with improving access to tribal resources for tribal offenders on community supervision.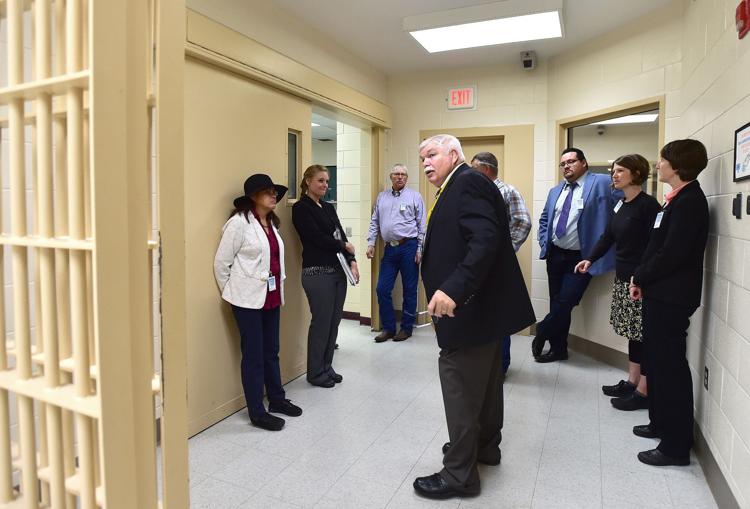 While American Indians make up a little more than 6 percent of the state population, and they account for 21 percent of the state's inmates and 27 percent of the state's arrests for failures to appear in court or for probation or parole violations.
One reason for this discrepancy is lifestyle differences, said state Sen. Jason Small, R-Busby.
Small said many of his constituents don't have a landline in their home, and some areas in his district began getting cell service only in the past year or two.
"Lots of people are sort of detached from the outside world," Small said. So requirements like regular communication with probation and parole officers can be tough to comply with.
And because Small's district, which covers the Northern Cheyenne Reservation and part of the Crow Reservation, is so rural, it's not feasible for people to walk or bike to meetings. Sometimes probation and parole officers travel to the offenders instead.
Poverty comes into play, too. Small said he's heard of people committing crimes in order to get put in jail, "just to have someplace to winter out," he said.
Rep. Rae Peppers, D-Lame Deer, said most of her constituents are unable to afford their own attorneys and instead rely on the public defender system. That puts them at a disadvantage, she believes, because public defenders manage high caseloads and can't devote the same amount of time to each case that private attorneys can.
Living off the reservation
Native American offenders risk cultural alienation if they serve their supervision off of their home reservation.
The sweat lodges and smudging ceremonies that inmates at various Montana prisons can attend are often hard to find upon release, if the person serves their supervision away from home.
And officials speaking Tuesday said that's not uncommon.
"Some have stated that there is nothing for them by going back to the reservation," said Harlan Trombley, American Indian liaison at the Department of Corrections. "I've heard some say that if they go back (home), they may end up going back to prison due to the drug and alcohol use that goes on there."
Roughly 65 percent of American Indians or Alaskan Natives have abused prescription drugs within their lifetime and 27 percent had within the previous year, according to a consultation the U.S. Department of Health and Human Services did in 2014 on prescription drug abuse in Indian Country.
Someone from a reservation might also choose to serve their supervision off-reservation in order to be closer to things like mental health care providers and job search services.
Finding housing and employment is another challenge for offenders. Lots of reservations have Indian Housing Authority placements, but Trombley said long lines and criminal records can make it hard to secure that housing.
Models for change
Corrections officials point to a few things going well in Montana for tribal offenders that they'd like to see more of.
On the Flathead Reservation, a re-entry program coordinated out of the public defender's office helps offenders secure drivers licenses or other photo identification. It connects them with job hunting assistance, and it uses elders as mentors.
"I think it is helpful because as Native Americans, we are taught to respect our elders," Trombley said. "So I think by having guidance from an elder, it will help a person be successful."
Officials with the Flathead re-entry program have offered to help other reservations start similar programs, sharing information on grants and other key components of the program.
"I think every reservation needs to start a re-entry program similar to theirs," Trombley said.
Billings also has an offender re-entry task force that officials say is making a difference, and has piloted projects to kickstart job searching with offenders even before they leave prison.
"Billings has kind of set the pace for a lot of the state in terms of our re-entry efforts," said Katie Weston, a probation and parole supervisor in Billings.
One thing that would help Native American offenders succeed on probation and parole is a cultural mentor, said Trombley, the American Indian liaison. That would help those living off reservation and away from their home communities stay connected with their culture, he said.
The State-Tribal Relations Committee is also studying Indian student achievement, economic development in Indian Country and health care for American Indians.