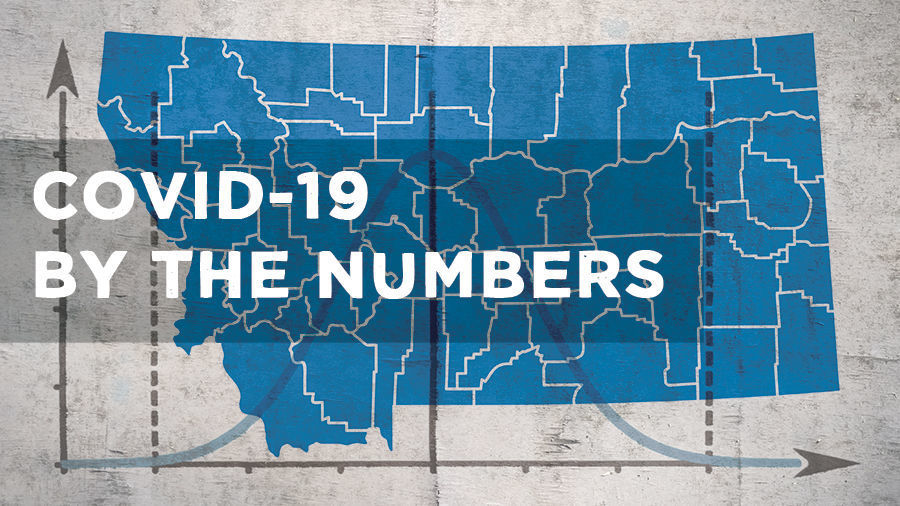 About 36%, or eight, of the state's 14 deaths at the time of the report were among Native Americans. A total of 22 people have died statewide. 
The report also found that 22% of Native Americans infected with COVID-19 required hospitalization while only 10% of those who are white did. 
Big Horn County, where the Crow Reservation is located, added three more cases Wednesday. That brought the number of active cases there to 36. The county last week implemented a requirement for people to wear masks when out of their homes and in situations where social distancing is not possible, with some exceptions for children under the age of 2 and others. 
The report found that most cases there are linked to a large cluster and that many cases are household contacts.
There are 336 active cases in 37 of the 56 counties around Montana, and 14 people are currently hospitalized.
Fifteen of the new cases reported Wednesday are in Yellowstone County, which has 68 active cases — the most in the state.
The state reported Gallatin County added eight new cases, for a total of 50 active cases there. Missoula County added three new cases, bringing the number of active cases there to 42.
Cascade and Ravalli counties each added four new cases. Carbon County added three cases. Custer and Lewis and Clark counties each had two new cases. And Granite, Lake, Rosebud, Butte-Silver Bow, Stillwater and Valley counties each added a case.
The epidemiological report found that eight counties have reported widespread community-acquired transmission, while 18 counties had reported at least one person acquiring the virus in the community. 
About 34% of the state's cases are contacts of a known case, while 20% are tied to community spread. Eighteen percent of cases are associated with travel.
Contact and household transmission account for about 40% of newer cases in Flathead, Gallatin and Missoula counties. About a third of cases in Gallatin and Yellowstone counties are from community transmission, while in Missoula and Flathead counties that accounts for about 20%, according to the report. 
Travel, which includes Montanans leaving the state and then returning as well as those visiting people here and tourists, accounted for about 20% of new cases in Gallatin and Missoula counties and 30% in Flathead.
The analysis found the state is again experiencing "exponential" case growth as it was during the first 100 cases in late March and early April. 
The report also says that the state had by June more than doubled the number of tests it completed daily, reaching an average of 1,560.
The state's overall positivity rate for tests was about 3% in March and April and dropped to 0.7% in May. Through June, the average positive rate is 1% and that continues to rise, according to the report.
Thirteen percent of the tests run in the state have been from Yellowstone County, followed by 11% from Missoula and 11% from Cascade. The counties with the highest rates of tests per 1,000 residents are Rosebud, Toole, Glacier and Big Horn.
People in their 20s account for 19% of all of the state's cases, followed by those in their 30s at 18%. People in their 60s make up 15% of the state's cases, and about half of all cases are for those between 26-59.
The Montana Department of Labor said Tuesday evening it is offering extended benefits for people who exhaust their previous unemployment insurance benefits. That includes up to 13 weeks of additional benefits. The change was triggered by the rise in the state's unemployment rate because of the coronavirus.
The regular cap on benefits is 28 weeks, and the federal CARES Act provided pandemic emergency unemployment compensation for an additional 13 weeks. The states' extended benefits are available after the pandemic emergency unemployment compensation benefits are exhausted, but are not available to those who are self-employed or other people that aren't covered by regular unemployment but were under the CARES Act.
The last time these benefits were extended was from February to June 2010 during the Great Recession.
While people will see an option to apply for these benefits on their online dashboard when they exhaust other unemployment programs, they will need to enroll in that program to file a claim.
Concerned about COVID-19?
Sign up now to get the most recent coronavirus headlines and other important local and national news sent to your email inbox daily.