With Monday's groundbreaking ceremony, city and county officials celebrated planned construction of a $6 million 911 Communications Center that will more than double the current capacity at a new address that's well-suited for its work, 911 N. 24th St.
The new center will have about 9,200 square feet, including about 2,300 for dispatchers. When it's finished in 2018, it'll replace the current facility, which has about 1,000 square feet for dispatchers.
Anne Kindness, who's directed the center for 27 years, said dispatchers outgrew the current building a decade ago.
Dispatchers at the current center, at 2300 Ninth Ave. North, handle emergency calls for Billings Police, Yellowstone County Sheriff's deputies, Billings firefighters, AMR ambulance crews, the crash/ fire/ rescue team at the airport, 15 rural departments and various state and federal agencies from seven work stations, "and that's just not enough," Kindness said.
The current center, across the street from where the new one will be completed in about a year, is about 1,000 square feet and is crammed with integrated radio systems and computer-aided dispatch systems that it was not designed to hold.
"When I came on board, it was carbon paper and (IBM) Selectrics," Kindness said. "Back then, that was cutting-edge technology."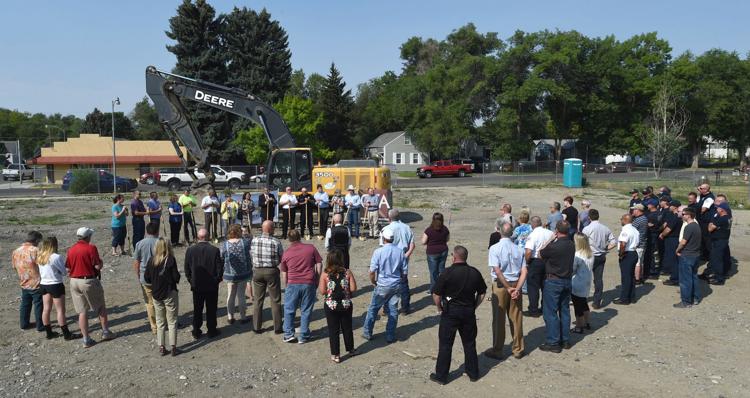 The new center will have a dozen work stations and sufficient storage space "so that everything isn't floor to ceiling with records and files," she said. "We are quite excited to be able to live as human beings."
CTA Architects and Engineers designed the new center. Fisher Construction is the general contractor. Construction cost will be about $3.5 million.
At the current center, there's no heat in the offices, "and we have a brittle electrical system, too," Kindness said. "If you make toast, we blow a breaker."
The 911 Dispatch Center is under the auspices of the Billings Fire Department. Cost for designing and building the new center is being paid for from a portion of a surcharge charged to the phone bills of Yellowstone County residents, money that local officials have been salting away for the past 15 years or so in order to construct the new center.
You have free articles remaining.
Keep reading for FREE!
Enjoy more articles by signing up or logging in. No credit card required.
"For many years," said Bill Rash, Billings Fire Department's acting chief, "our 911 dispatchers have literally worked shoulder to shoulder in taking and dispatching thousands of emergency calls each year."
Dispatchers are "thrilled beyond belief" at the thought of performing their stressful duties in a new, more spacious center, Kindness said.
"911 work is inherently invisible," Kindness said. "Morale is pretty high" around the new building, she said.
"We will have actual men's and women's bathrooms," she said, noting that the men's restroom had to be shut down months ago and that male and female dispatchers and their supervisors must share the women's restroom.
Billings Police Chief Rich St. John said he believes the new center will help stem turnover among dispatchers, which has been a longstanding concern among first responders and elected officials.
"It requires a tremendous skill set to work the police radio. It's knowledge and experience that takes a long time to develop," he said. "The turnover has to be involved with the environment they have to work in, and this new facility will help remedy all of that. Their ability to spread out and make things more user-friendly — that will help all of public safety."
St. John called dispatching "one of the most critical functions in public safety — receiving information accurately, working through it, prioritizing calls and getting the information out to the officer. It's critical for citizen safety and officer safety, and they do a wonderful job keeping up with up to 25 officers on a busy night. It takes a special individual with a lot of training and experience."
Kindness confirmed that turnover has been a recurring concern.
"This is a hard, stressful job, and we always have vacancies," she said. "About 50 percent (of newly hired dispatchers) jump off the ship or we have to push them off the ship. We just hired two young men to fill our final two vacancies, so we hope to remain fully staffed for at least 10 minutes."
Having the construction occurring in view of dispatchers is an added bonus, she said.
"We are so lucky the construction is going on right across the street," she said. "We have the wonderful advantage of watching this progress. There are a lot of staff members who thought this would never happen."