As the federal government vows to deny family planning money to clinics making abortion referrals, Planned Parenthood of Montana plans to forgo funding without cutting services as a result, its director said Monday.
The state's largest provider of sexual health care, including abortion, takes a 40% draw of Montana's $1.9 million in Title X money. The loss is certainly a hit, said CEO Martha Stahl. But limiting the health care options available to women is out of the question.
"If I could get a message across … it's to let our patients know that we're still here for them. We'll still be offering all the same services and we will work with them to figure out what they're options are to make sure they can continue to get those services," Stahl said. "Because the worst thing that could happen and the thing that worries me most about this rule change, and Planned Parenthood having to leave the Title X program, is that folks will assume that they cannot get care and will delay getting care, which would just be a public nightmare."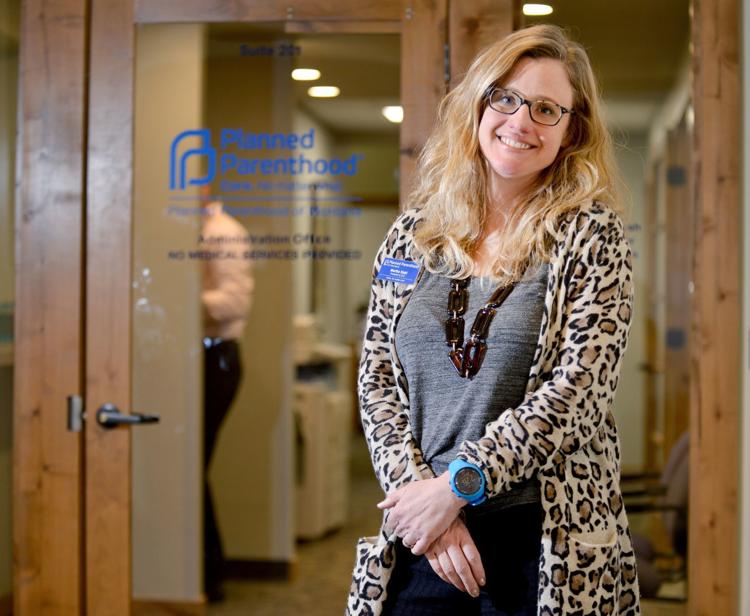 For Planned Parenthood of Montana, the disqualifiers are twofold under the Title X rules change because referrals are prohibited, and so is in-clinic procedure, which the health care provider does up to 21 weeks post-menstruation. The choice of abortion is a right protected by the 14th Amendment. 
Four million women nationally receive free or reduced birth control and reproductive health services annually because of Title X. How much money they earn or whether they're insured doesn't matter. The program has been the only federal funding source specifically for family planning since 1970. It also pays for cervical and breast cancer screenings, and HIV and sexually transmitted disease testing. The federal Office of Disease Prevention and Health Promotion credits Title X for helping prevent 1.9 million unwanted pregnancies a year; more than a quarter of those are avoided teen pregnancies, per ODHP.
Title X funding doesn't pay for abortions, but the opponents of Planned Parenthood have long argued that any funding issued to Planned Parenthood helps keep the clinics open. And, Planned Parenthood is the nation's most high-profile provider of abortion services.
Left out in the cold
In Montana, Title X is about 8% of the Planned Parenthood budget. The clinics serve about 8,000 people a year by way of Title X. About 18,000 Montanans benefit from Title X, all told. Planned Parenthood Clinics will turn to other sources to make up the loss, Stahl said. Medicaid patients, including those enrolled in Montana's newly extended Medicaid expansion program for the working poor, have family planning coverage. There's a Medicaid waiver program for women that will pay for same services as Title X.
But some female patients will still be cut out. That Medicaid waiver program, known as "Plan First," isn't available to females younger than 19. Women will also have to be Montana residents, which will at a minimum delay care for some women. And there are requirements, like proof of income, that aren't expected in Title X.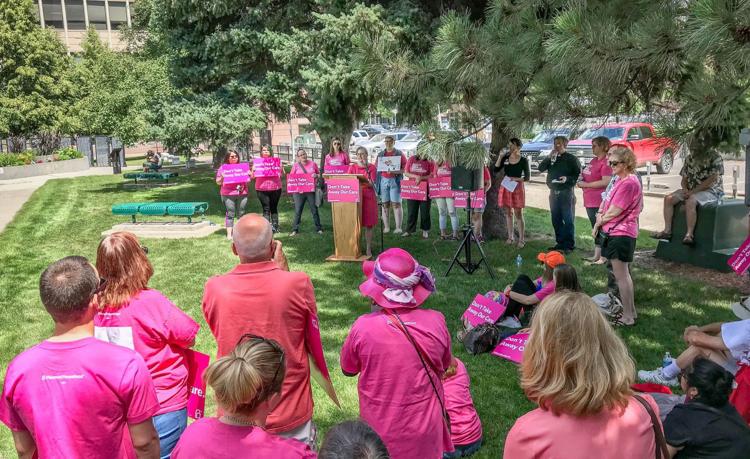 "There will be people for whom that is impossible and it also can be true for teenagers because a teenager on his or her own can't enroll in Medicaid. And, Plan First does not serve teenagers," Stahl said. "So, there are other programs that we will be working with our patients to get them enrolled in, but they don't cover everybody, and there are still folks who are left out in the cold and won't be able to enroll in other programs."
Politically, the Trump rule change in Title X divided Montana's U.S. senators and House member. Democrat Jon Tester said the Title X change amounted to a gag order, preventing doctors from discussing all medical options with patients.
"This gag rule puts politics between Montanans and their doctors and prevents Title X grantees like Planned Parenthood from doing their jobs — providing affordable, quality, and potentially life-saving reproductive information and health care to women and men," Tester said in an email. "This rule will block folks from across the state — especially those in rural areas — from accessing the health care they need."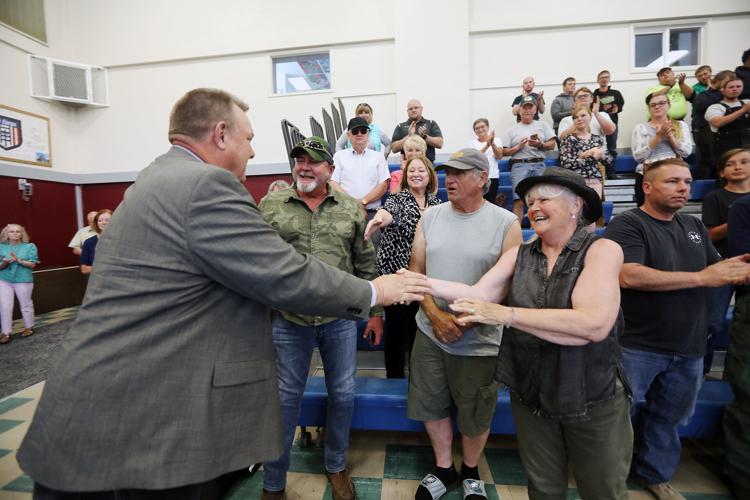 Tester's concern was echoed by Montana health care professionals concerned about the federal government preventing a physician from discussing all the medical options to patients making life-changing decisions. It's always better to have more information, said Barbara Schneeman, vice president of communications and public affairs at RiverStone Health.
Montana impact
RiverStone isn't a Title X participant. It will provide reproductive health services as part of a patient's primary care. That's a deeper patient-care provider relationship than provided by a clinic providing birth control and family planning care without a primary doctor, but it is available for anyone losing benefits because of Title X changes.
Other Title X participants, like Bozeman's Bridgercare, are not following Planned Parenthood out the door. Because the Bozeman clinic doesn't provide abortions, remaining compliant with Title X is less challenging, said Stephanie McDowell, executive director.
McDowell recognizes the Title X change as a gag rule making it illegal for doctors and clinicians to tell patients where abortions are provided safely and legally. The rule change raises ethical questions about doctors withholding medical information. There's also concern about what Planned Parenthood of Montana's withdrawal from Title X will mean for the funding pool the state receives and then distributes to clinics, McDowell said.
In Montana, the state Department of Public Health and Human Services receives the Title X money as a direct grantee and then distributes the money to subgrantees, including Bridgercare and Planned Parenthood of Montana. Contacted by phone and email for this article, DPHHS would not say what it thought the rule change would mean for family planning and reproductive care relative to Title X funding in Montana. It did issue the following statement from director Sheila Hogan: "We are concerned it will impact access to health care services for Montana families."
Montana Gov. Steve Bullock tweeted in protest to the rules change. "Everyone deserves the right to make their own health care decisions. That right does not come with an asterisk based on where you live."
Denying Planned Parenthood participation in Title X has been part of the Montana political discussion for years. Republican Sen. Steve Daines co-sponsored a bill to defund Planned Parenthood in the early weeks of 2017. He's also conditioned his support of health care legislation on defunding Planned Parenthold. In 2017, Daines told The Gazette that Planned Parenthood could lose federal funding and other health care groups would fill in the void, an opinion on which Montana health care providers speaking with the Gazette this week disagreed. They argue these centers picking up Planned Parenthood's clientele are already maxed out, or don't provide the same services.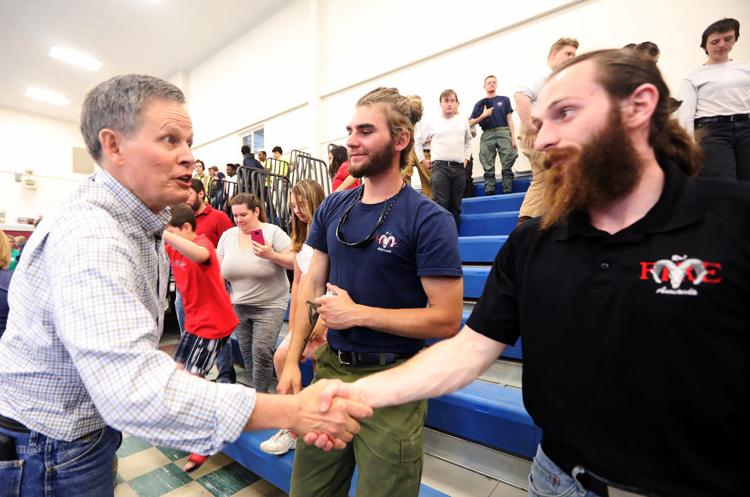 "Fighting for the most vulnerable in our society is my top priority as Montana's United States senator," Daines said Monday. "Today's announcement is a win for life. Taxpayer money is no longer going to the nation's largest abortion provider and will now be available for community health centers across Montana. In Montana, community health centers are more accessible, with more than three times as many locations to provide health care and benefit Montanans."
To hear Genevieve Plaster tell it, Planned Parenthood could close shop in Montana tomorrow with little consequence, though many women would disagree.
Rep. Greg Gianforte, a Republican, said in an email that taxpayers shouldn't be funding Planned Parenthood. Trump's work on Title X was a win, he said. 
"Taxpayers shouldn't pay for abortions, and the administration's action is a victory for the most vulnerable in our society, unborn children. Given its reaction to the rule, Planned Parenthood revealed its true colors, that it prioritizes abortion over health care services."
Like Daines, Gianforte has is past cosponsor of legislation to end federal funding to Planned Parenthood. In June, as House Democrat's tried to amend away Trump's Title X work, Gianforte voted against the attempt.
In one big change, the new Trump rule opens the door for "natural family planning" clinics to qualify for Title X. These clinics sometimes associated with religious organizations don't do abortion referrals, but also don't prescribe birth control and might not offer prenatal care. Montana has several of these clinics, often referred to as crisis pregnancy centers. Free ultrasounds, testing for sexually transmitted diseases and basic physicals are base offerings, though some offer counseling and other services.
The interest level in Title X among crisis pregnancy centers is unclear. Employees at two centers, who deferred to their CEOs for official comments, said their nonprofit facilities were financially sound without federal aid. Eventually, federal money comes with conditions, one said, which might discourage participation. There's also a question about whether the rule change will last. Trump is changing Title X rules by executive order, which can end when a new president is takes office.
Nonetheless, the opportunity is there. 
"Planned Parenthood's departure from the Title X program creates opportunities for clinics that care for both mother and child. That means community health centers or pregnancy help centers may apply to participate in the program — that's good news," said Daines spokeswoman Julia Doyle on behalf of the senator.
The crisis centers are popular with conservative Republicans. Rep. Gianforte, who is now a GOP primary candidate for governor, is a financial supporter.
There will be funding on the table when Planned Parenthood departs. It's unclear whether the Montana Department of Public Health and Human Services would award that money to crisis pregnancy centers.
It may be too soon to tell what the full extent of the rules change will mean. There are pregnancy crisis centers, like Billings-based LaVie, that haven't yet considered applying for Title X funding.
"LaVie's board has not considered using Title X funds as a source of funding for operations," said Cindy Nordstog, LaVie CEO. "Our current funding sources enable LaVie to offer services, free of charge, or at a substantially reduced rate. State or Federal funding could possibly jeopardize this process and, therefore, at this time, I don't see making changes with regards to how we resource funds."
Get Government & Politics updates in your inbox!
Stay up-to-date on the latest in local and national government and political topics with our newsletter.