The mail carrier's motto goes something like this: "Neither rain, nor sleet, nor dark of night shall stay these couriers from the swift completion of their appointed rounds." It doesn't account for a postmaster directing carriers to leave mail behind.
Since July, leaving mail behind is exactly what U.S. Postal Service workers have been instructed to do in certain circumstances. On July 10, new U.S. Postmaster General Louis DeJoy instructed carriers to send the delivery trucks out on time, whether or not the day's mail was fully loaded. A Trump appointee, DeJoy also banned extra delivery trips and overtime. The result has been late mail, which has angered USPS employees and customers alike. The moves have also raised concerns in states like Montana, where counties have been given the option of ordering an all-mail ballot general election this fall.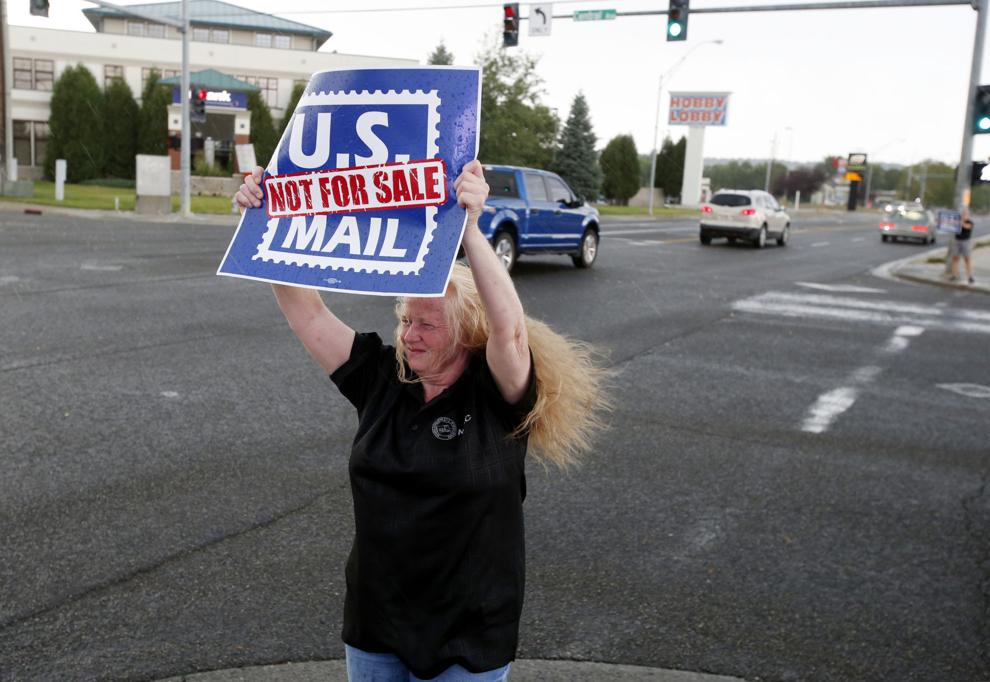 For letter carrier Julie Quilliam, the new rules contradict everything she's ever known about the Postal Service's priorities.
"They don't want to use the manpower. We have it. That's what we've always done, 'every piece every day' was the motto," Quilliam said. Sometimes, the machines that sort the mail for delivery will get a letter out of place, she said. "And, when it does, we're told to go back the two blocks to deliver it. Because 'every piece, every day. I mean, that's what we do. You want your paycheck if it's supposed to come on Friday. You don't want it next Wednesday."
On Thursday, a group of Billings postal employees and advocates rallied at the corner of 24th Street West and Central Avenue. They held signs with sentiments like, "save the mail" and "U.S. Mail is not for sale." Quilliam is president of the Montana chapter of the National Association of Letter Carriers. She traveled to Billings from Great Falls for the rally.
The goals like "every piece every day" have changed. The new postmaster wants carriers off the street by certain times. The edict issued by DeJoy, the new "PMG" as the Postal Service has dubbed him, on July 10 reads as follows:
"The new PMG is looking at COST. Making the USPS financially solvent. We are not at this time. Here are some...expectations and they will be implemented in short order." Cutting overtime to get the mail out is a biggie. Working overtime to get the mail delivered isn't.
"The USPS will no longer use excessive cost to get the basic job done. If the plants run late, they will keep the mail for the next day. If you get mail late and your carriers are gone and you cannot get the mail out without OT, it will remain for the next day. . . ."
DeJoy is a large Republican fundraiser whose contributions, mostly to party committees since 2016 total more than $5.8 million, according to Federal Election Commission data. His past business interests include private mail competitors, New Breed Logistics, XPO, and the trucking firm J.B. Hunt, which have raised concern among members of Congress. Those private businesses offer what are known as "last mile" services, in which parcels are picked up from FedEx and other large companies and delivered to customers. USPS also offers last mile services for FedEx, United Parcel Service and DHL, meaning they compete with the companies DeJoy was to divest his interests in before becoming postmaster.
DeJoy's spouse, Aldona Wos, is a Trump candidate for U.S. ambassador to Canada.
DeJoy has focused on cutting costs since being nominated by the president and appointed by the Board of Governors of the United States Postal Service, a nine-member board whose members are appointed by the president. That absence of the Senate in appointing the postmaster has been reflected in the delayed response to DeJoy's changes at USPS.
On Friday, DeJoy announced the removal of the two top postal officials in charge of day-to-day operations. At least 23 other postal executives have been reassigned or displaced. He said he also implemented a hiring freeze and is seeking voluntary early retirement.
Also on Friday, during the public portion of the U.S. Postal Service Board of Governor's audio-streamed meeting, DeJoy rebutted accusations that he was beholden to President Donald Trump. Trump has previously called the Postal Service a joke and argued for quadrupling postal rates.
"While I certainly have a good relationship with the president of the United States, the notion that I would ever make decisions concerning the Postal Service at the direction of the president or anyone else in the administration is wholly off-base," DeJoy told the board.
Concerning the Postal Service's handling of mailed ballots, DeJoy said the Postal Service would deliver ballots to and from voters within operational standards.
"Let me be clear that with regard to election mail, the Postal Service and I are fully committed to fulfilling our role in the electoral process," he said.
The postmaster general also called on Congress to fix a benefit mandate that requires the Postal Service to pre-fund worker retirements 75 years into the future. Critics of the mandate created by Congress have pointed to it as the primary cause of $80 billion in USPS losses since 2007. Over the last decade, meeting the mandate has meant cutting offices and service hours in Montana. At the board meeting, DeJoy remained steadfast to his changes to delivery policy, insisting the reforms were necessary to make the government service financially sound.
Politicians respond
Leading up to the meeting, Democratic and individual Republican lawmakers were telling DeJoy to back off policies causing mail delays.
"Don't go there," wrote Rep. Greg Gianforte, a Montana Republican, in a Thursday letter to DeJoy. By Friday, Democratic Senators were calling for an investigation of DeJoy, based on already delayed mail.
"Montanans rely on the U.S. Postal Service not only for mail, but for prescription drugs and it's really a lifeline, particularly in rural Montana," Gianforte told Lee Montana Newspapers on Friday. "Their job is delivering the mail. I recognize that they're taking these steps in an attempt to balance the budget, but they should not be doing it on the backs of rural Montanans and delaying mail service."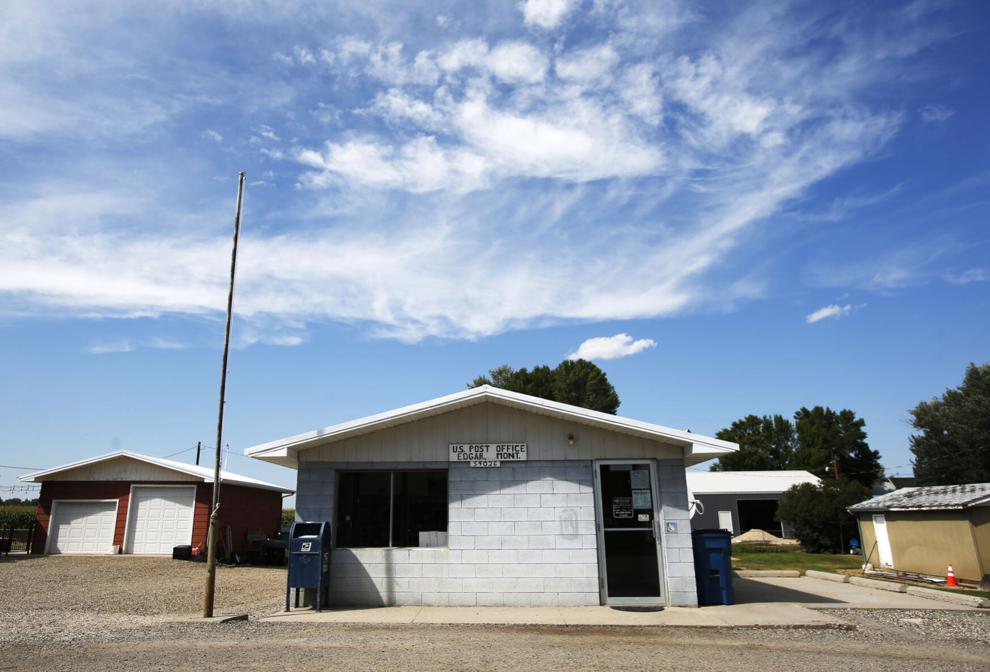 Congress earlier this year approved $10 billion to help the Postal Service, already recognizing 2020 losses ahead of the pandemic. DeJoy told his governing board Friday that pre-pandemic losses were expected to be $11 billion for the year. A June update on Postal Service performance showed mail volume increasing as Americans under shelter-in-place orders shopped from home, but that trend had peaked in mid-May and was headed downward.
Gianforte said the House is aware legislation is needed to right the Postal Service. The short-term response will be protecting service levels during the pandemic.
Montana has always been heavily dependent on the Postal Service. Long before there was eBay, or Amazon, there were Sears Toughskins jeans in brown paper shipping bags, stuffed into galvanized metal mailboxes on country backroads. In a two-story town, with nothing more than a Ben Franklin, the semi-gloss pages of a Montgomery Ward catalog offered more merchandise than every Main Street shop combined.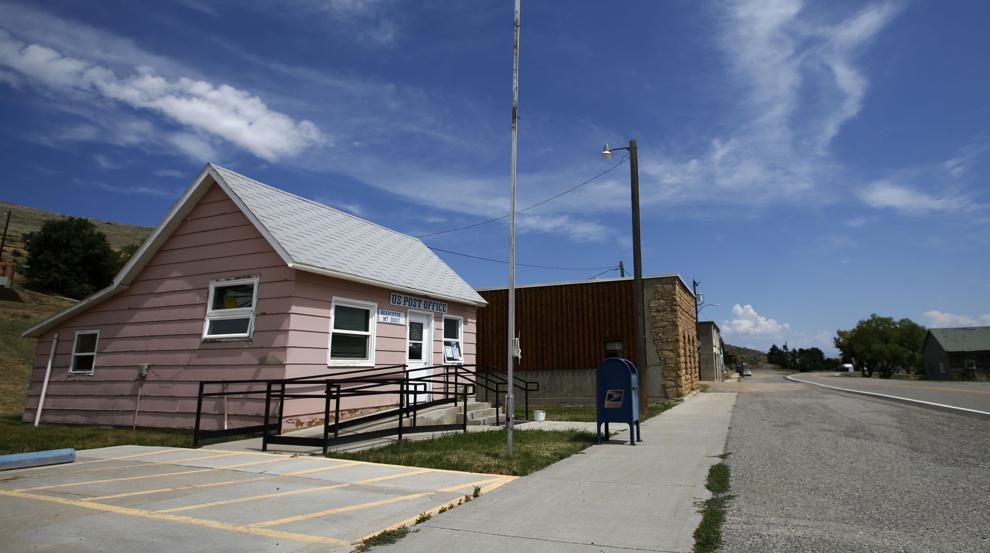 The Postal Service is a constitutionally created service. And preserving that service needs to be the goal, not running it like a profitable private parcel service that doesn't deliver to all parts of the country, said Sen. Jon Tester, a Montana Democrat. The big brown trucks of UPS and white vans of FedEx aren't regular sights on the gravel roads to Tester's farmhouse outside Big Sandy.
"It has to be more than that. It's addressed in the Constitution and, quite frankly, the Trump administration has shown in their time that they want to run it like a business, when in fact it's different than a made-for-profit business," Tester said. "We need to make sure that if we're going to have mail delivery to places that are hard to reach, like Montana, that there has to be some taxpayer support there. I got nothing against UPS or FedEx, or any of those services, but if we depend on those folks, I don't get any mail delivered to my house. The postal service is critically important."
That $10 billion relief package Congress approved for the Postal Service earlier this year, over Trump's objections, has yet to be spent, Tester said, which displeases the senator. The money predates DeJoy's first day on the job, June 15, by a few months. Spending that money to preserve service to many makes more sense than mail delays.
Friday, the USPS Board of Governors said they hadn't received the $10 billion but just reached an agreement with U.S. Treasury about receiving the allocated sum.
Democrats in the Senate are pushing for more Postal Service funding in the phase-four coronavirus relief bill that's yet to pass the Senate, although key phase-three funding for money intended to supplement state unemployment and the Paycheck Protection Program for businesses has expired.
"Their big problem is prepayment of retirement benefits. And if we could fix that, that would help them become fiscally solvent almost immediately. But in the meantime, if they were to get the $10 billion and, and if they get the $25 billion, which I'm advocating for in the next COVID-19 package, then I think they're going to be in fine shape," Tester said.
If that funding isn't getting spent, then it's time for Democrats and Republicans to demand DeJoy is removed, Tester said.
There are fewer Senate Republicans than Democrats objecting to DeJoy's policies slowing mail delivery. Sen. Steve Daines, of Montana is one of them.
Daines, who was offered an interview for this article, wrote the following to DeJoy on Thursday:
"The USPS is critical to Montanans, especially our seniors, veterans and rural communities across the Treasure State. Last year alone, the Postal Service delivered 1.9 billion prescriptions to Americans' mailboxes and nearly 100% of all Veterans Affairs prescriptions. To avoid digging out of backlogged mail, which has been a consistent challenge in my state, I urge you to reverse the mail hold component of the (DeJoy's) July 10 directive."
Daines and Tester are both original co-sponsors of the $25 billion Postal Service Emergency Assistance Act, which likely will be the outline for Postal Service funding in the next COVID-19 relief bill. Both senators signed on July 2, the day the bill was introduced.
That support hasn't stopped the National Association of Letter Carriers, advertising on social media to get voters to contact Daines and tell him to get on board with the $25 billion bill. Those ads posted 13 days after the senator became a co-sponsor, based on Facebook ad data and congressional bill tracking. The ad, shown specifically to Facebook users in Montana, has been viewed 100,000 to 125,000 times.
On Dec 3, 2019, Daines introduced a bill to repeal the law requiring the Postal Service to prefund retirement benefits. The bill was read twice and referred to the Committee on Homeland Security and Government Affairs, which hasn't taken it up.
Election concerns
Democrats have been the loudest voices in the room about concerns that mail delays will result both in ballots getting to voters late and ballots completed by voters not making it back to county elections offices by Nov. 3, when the general election voting ends. It's a fact-versus-fiction circumstance that involves an already recognized delay in mail into a political environment where Trump and others have been suggesting mail ballot voting is vulnerable to fraud.
Montana's Association of Clerks and Recorders, the officials who actually carry out Montana elections, are insistent that concerns about voter fraud are bogus.
Postal Service employees are also concerned about delayed mail negatively impacting Montana voters, but they're also confident no Postal Service employee would break the law by committing election fraud.
"If there's any kind of tampering, that's a crime. That's a federal crime. I don't know anybody who wants to lose their job over alleged missing mail. That's crazy town," said Justine Cool, a Billings member of the American Postal Workers Union.
During election season, postal workers take extra steps to get mailed ballots to election offices by election day, including making more delivery trips to the elections office and in years when voters were required to add stamps to ballots, deliver the ones without stamps anyway.
Mail ballots are scheduled to be mailed Oct. 9, more than three weeks before Election Day. That should be enough time for Montanans to receive ballots, Cool said. It's never a good idea to wait until the last minute to mail a ballot in. In Montana's June primary election, election officials advised voters to mail in ballots a full week ahead of the Election Day, and to hand deliver them any later than that.