President Donald Trump dug deeper in his attacks on Montana's senior U.S. Sen. Jon Tester at a Billings rally Thursday night, the president's second trip in two months in advance of the midterm elections.
Tester is running against Republican state Auditor Matt Rosendale in a race that's drawing millions in spending to the state and is expected to be close. Trump drew more than 6,600 to Great Falls in July, rallying his party's base in support of Rosendale.
Montana is one of 10 states Trump won in 2016 where Democratic U.S. senators are seeking re-election this year. Trump is expected to attend fundraisers in the Dakotas on Friday. In North Dakota, another red-state Democrat, U.S. Sen. Heidi Heitkamp, is also seeking re-election.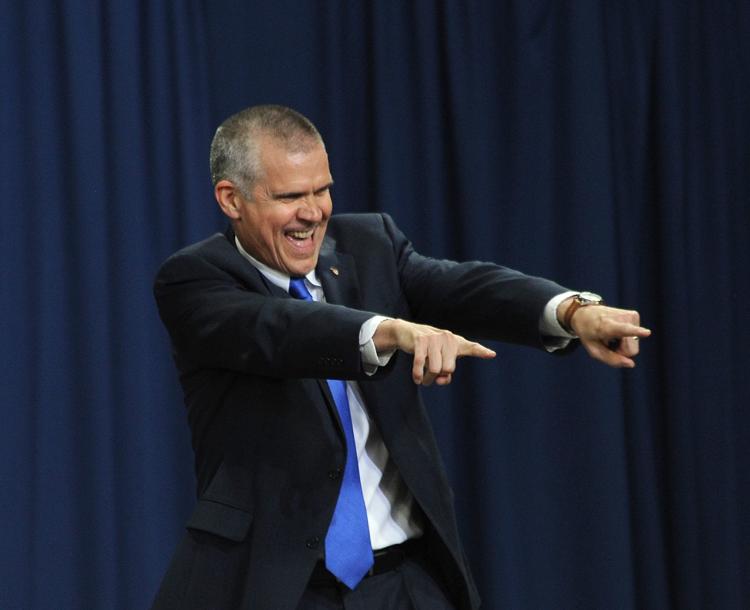 In front of an estimated 10,000 at Rimrock Auto Arena at MetraPark on Thursday, Trump honed his attack on Tester over the failed nomination of Rear Adm. Ronny Jackson to head the U.S. Department of Veterans Affairs.
"Admiral Jackson, his reputation was attacked and all those horrible things that were said about him, they turned out to be lies and they turned out to be false," Trump said Thursday.
Current and former co-workers said Jackson gave prescriptions without paperwork, was intoxicated while on duty and once drove drunk and wrecked a government vehicle.
The Pentagon's Office of the Inspector General opened an investigation into Jackson's behavior. Though Trump said the allegations against Jackson are false, the investigation's results are pending.  
Jackson later withdrew his name from consideration.
Trump also tried to paint Tester as an obstructionist, focusing on the Senate hearings this week on the nomination of Judge Brett Kavanaugh to the U.S. Supreme Court. Trump said Tester would stand in the way of his agenda to appoint conservative justices to the high court.
"He didn't vote for Judge Gorsuch, now Justice Gorsuch," Trump said. "He didn't vote for the things we need so you need to elect our friend and he's going to be a phenomenal senator. You've got to vote against Tester."
Rosendale spoke briefly, telling the crowd he would be loyal to Trump.
"I will always put Montana first and stick with President Trump to make sure we advance his agenda," Rosendale said. "We're going to confirm more justices like Neil Gorusch and Kavanaugh and people that will uphold the Constitution and defend your Second Amendment rights."
Rosendale said he learned Wednesday night he was endorsed by the National Rifle Association and also vowed to serve only two terms if elected.
In an address that ran more than an hour and bounced from topic to topic, Trump touched sporadically on trade, an issue that's concerned farmers and ranchers after the president enacted tariffs earlier this summer that has affected some of Montana's top agricultural exports.
Trump said he will replace the North American Free Trade Agreement with a "new brand, the U.S.-Mexico trade deal, and hopefully Canada will come into that deal."
Trump warmed up before the rally with an interview with "Fox and Friends," where he was critical of an anonymous opinion piece that ran Wednesday in The New York Times. The commentary from a senior White House official said the writer was part of the "resistance inside the Trump administration." It called Trump amoral, saying many around him steer the country away from any harm Trump might bring.
Later, Trump called for the identification of the author of the piece and said "unelected deep-state operatives who defy the voters to push their own secret agenda are truly a threat to democracy itself."
"For the sake of our national security, the New York Times should publish his name and I think their reporters should go and investigate who he is," Trump said. "That would actually be a good story."
Tester, who took out a full-page ad in newspapers across the state the day of Trump's rally in Great Falls, ran an ad on television in Billings all day Thursday highlighting the 19 bills Tester sponsored or co-sponsored that Trump has signed.
"I feel a little guilty because he did run the most beautiful commercial," Trump said. "I heard it yesterday. It started and he's like my best friend. … It's amazing when you win the state by a lot of points how even Democrats can like you. The problem is he's not going to vote for me."
Tester's campaign manager, Christie Roberts, released a statement Thursday after the rally pointing out where Trump referenced work done by Tester. One of those included where Trump said he "fixed Dodd-Frank," which was a banking bill Tester co-sponsored to undo some of the regulations passed after the 2008 financial collapse.
"Thank you to President Trump for once again praising the work Jon Tester has done reducing regulations, fighting for veterans and working to hold the VA accountable," Roberts said. "We urge the President to sign Jon's 19th bill that currently sits on his desk. While Jon keeps fighting for Montana, Matt Rosendale continues to look out for himself rather than stand up for Montana."
Trump also made an apparent reference to now-U.S. Rep. Greg Gianforte body-slamming a reporter on the eve of his special election victory.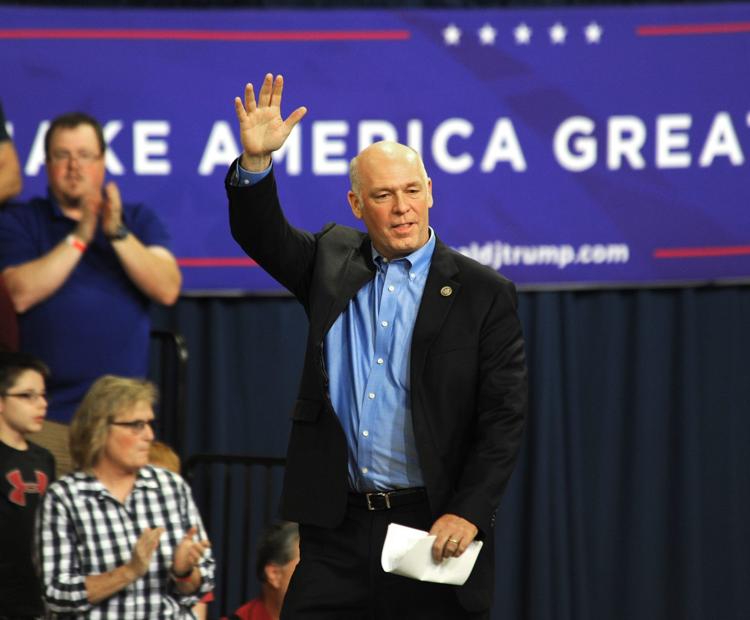 "This man has fought in more ways than one," Trump said. "Greg Gianforte, he is a fighter and a winner."