Ian Root of Ennis used a recycled "Lock him up" sign to protest President Donald Trump's campaign appearance Thursday at MetraPark.
"Trump's a traitor," said Root, who chairs the Madison County Democratic Central Committee. "He benefited from foreign intervention in an election. Even the guys who owned slaves were not as bad as this guy." Root was positioned along Bench Boulevard in front of Rimrock Auto Arena by 2 o'clock Thursday, waving his sign at passing traffic and earning him mixed results of thumbs up and the extension of even taller digits.
"I think (Trump's) unfit for office," said Rachel Rosin of Broadview, who joined Root's protest at about 3 p.m. with her "Save our democracy: Impeach 45" sign. "I saw John Kennedy when he was here" in September 1963, she recalled. "(At the time) I thought, 'this is someone who makes you proud to be an American.' It saddens me it's come to this."
Passers-by occasionally engaged protesters.
"That is so un-American," a woman said when she saw Rosin's sign and another that said "Pray for our President — to be impeached."
One man rolling by on a motorcycle was incredulous. "Are you serious?" he asked protesters.
"A lot of us are sick and tired of (Trump's) misogyny and his stand on immigration and the LGBTQ community, who are our friends and family," said Christl Domina of Billings, who said she used social media and word of mouth to organize protesters.
Retired preschool teacher Joyce Hein of Billings wrapped herself in a space blanket and held this placard: "Just because we disagree doesn't mean I hate you."
The space blanket, she said, honored the children of undocumented immigrants separated from their parents.
"Now I get to be an activist grandmother," she said. "It took this administration to get me out of my chair. I used to see a balance in our political system, but something is seriously out of whack."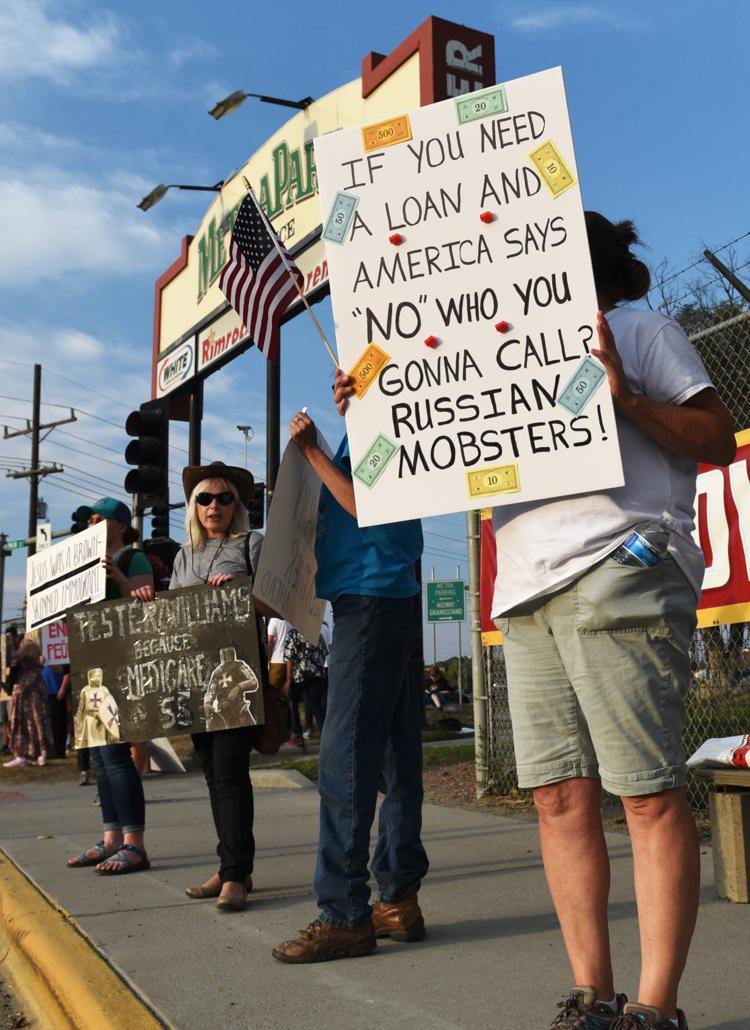 Scott Mann of Roberts was protesting alongside his wife, Jackie Crandall.
"It's all the indictments, the guilty pleas and the long list of people who have left (the administration) under duress," he said.
Janet Rivera Sharon of Billings wore a T-shirt with this message: "Jesus was a refugee."
"I'm Catholic, and we've had a lot of issues lately, but unless you're Native American, this wasn't your land to start with," she said. "The immigrant crisis tipped me over the edge, but it's been a plethora of misdeeds. I feel we need to remove (the president) and get some kind of civil discourse going."
"I used to be a Republican, but when he got nominated, I left the party," she said, sporting a sign that included this message: "Elect a clown, expect a circus."
"I'm on the right side of history," she said. "I think it's going to unravel for him."
State Sen. Jen Gross, D-Billings, told protesters she's concerned that the nearly 426,000 Montanans with pre-existing health conditions have much to lose if the Affordable Care Act is abolished or amended to eliminate coverage guarantees.
Martha Stahl, president and CEO of Planned Parenthood of Montana, also talked about access to health services "from people you trust, including Planned Parenthood," she said.
"It's beyond the Roe v. Wade lens," she said. "It's important to dig into the ways (Trump's Supreme Court) appointments could change health care for everybody."
About 400 Montana Democrats spent the day Thursday knocking on doors and registering voters, said Roy Loewenstein, the party's Montana communications director. Nearly double that many will fan out this weekend to door knock in cities across the state.
By the end of the week, he said, volunteers will have called more than 16,000 Montanans and knocked on more than 12,000 doors.
That kind of outreach suited protestor Daniel Struckman of Billings.
"I don't want to alienate people who can be our allies," he said. "But I do want to draw attention to the ridiculousness of our president."