Clean energy generation and energy efficiency makes both economic and environmental sense, ralliers at the Montana Capitol said Wednesday while advocating for upcoming legislation incentivizing both.
Hosted by Northern Plains Resource Council, the Clean Power For All Rally brought about 100 clean energy advocates out on a snowy afternoon to push for renewable energy programs and laws. Speakers touted the economic potential of renewable energy, a growing industry they believe must replace reliance on fossil fuels.
Rep. Emma Kerr-Carpenter, D-Billings, said she believes monopolized power has distorted decisions about the future of renewable energy in the state.
"We need to put power back into the hands of people like you and I to reclaim energy as a resource that advances economic, social and environmental needs of our communities and our families," she said. "We must work together to make sure our energy future is a clean, safe and affordable one."
Brian Fadie, clean energy program director at the Montana Environmental Information Center, pointed to both wind energy development and utility-scale solar projects as industries with early successes in rural Montana and plenty of room for growth.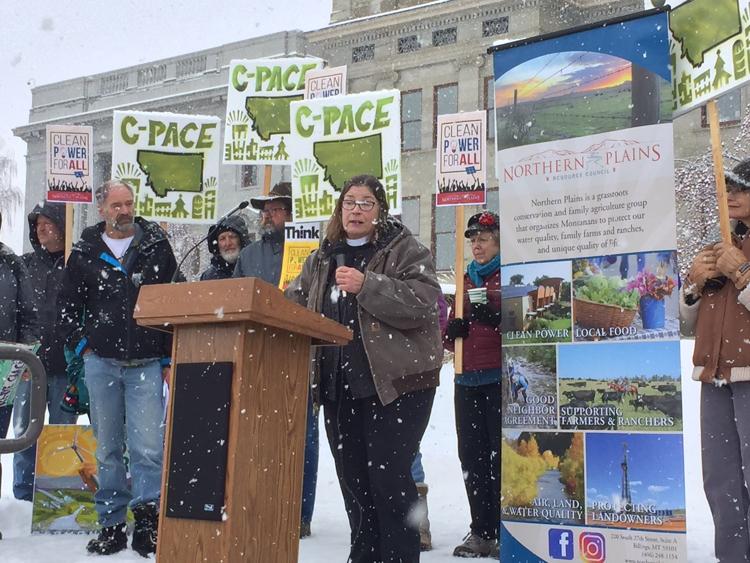 In making a moral case for renewable energy and environmental protection, the Rev. Jean Collins of Lewistown shared her story of raising a successful recycling program that spread from her church and into the community. The church also made energy efficiency upgrades and installed solar panels, she said.
You have free articles remaining.
Keep reading for FREE!
Enjoy more articles by signing up or logging in. No credit card required.
"All of this and more ultimately sprang from our faith, our understanding that we are stewards and not exploiters of this planet," she said.
The central piece of legislation the rally pushed for is called Commercial Property Assessed Clean Energy or C-PACE.
Ed Gulick, an architect from Billings and chair of Northern Plains' clean energy task force, said he encounters many barriers to clean energy in his business. While energy upgrades can increase efficiency by 50 percent or more, securing financing is a major challenge for projects that can run in the hundreds of thousands to millions of dollars, he said.
C-PACE would allow private capital firms to fund renewable or energy efficiency projects on commercial buildings. Local governments would then place an assessment on the property, allowing the owners to repay the project through their property taxes for up to 20 years.
Cost savings from efficiency would exceed that of the assessment, Gulick said.
A draft of the bill is not yet available, but Sen. Margie MacDonald, D-Billings, is listed as the sponsor. Attempts to contact MacDonald for this story were unsuccessful.