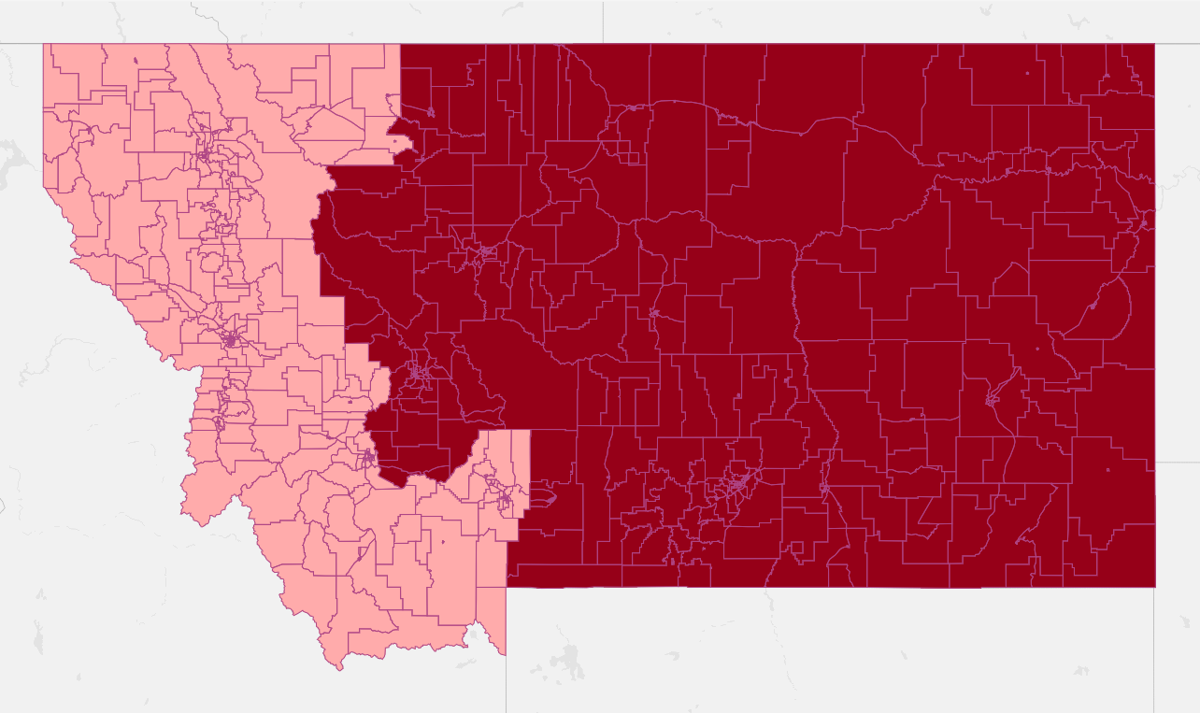 A Republican map has been selected as the finalist for determining Montana's two new congressional districts.
On a split vote Thursday evening, Districting and Apportionment Commission Chairwoman Maylinn Smith cast her deciding vote with the commission Republicans to select Congressional Proposal 12.
There had been major disputes among commissioners over the placement of four counties: Flathead, Gallatin, Lewis and Clark, and Park. Congressional Proposal 12 put Flathead and Gallatin Counties in the West district. Park and Lewis and Clark counties in the East.
For months the debate has centered on the West where creating a competitive district was possible. In the solidly Republican East, the commission recognized there was no chance to create a district winnable by candidates of both major political parties.
As Smith put it, "everyone wants to be in the West," which was true for blue cities like Helena, and Livingston, which didn't make the cut for the Western district. Smith said the Republican-drawn map created a West winnable by both parties.
"This is a competitive district in the sense that we've shown that the right person can win this district and it is the district that I find is the fairest for Montana based on the volumes of comments we've gotten," Smith said. "I appreciate that a lot of people are not going to be happy with me but that's what I'm going to go for."
The bipartisan commission consists of two Republicans and two Democrats appointed by the party leadership of the Montana Legislature. Smith, a professional mediator, was appointed by the Montana Supreme Court.
Republicans threw their weight behind Congressional Proposal 12 after almost discarding it two weeks ago. Thursday's more than five hours of public testimony included a rare public appearance by former Republican Gov. Marc Racicot endorsing the map.
With CP 12, Republicans on the Montana Districting and Apportionment Commission sent some of Pondera County to a Western district for U.S. House mostly to accommodate including all of the Blackfeet Indian Reservation in the West. The move put two Indian reservations in the West, something Smith indicated she preferred. There is a one-person difference between the population of the Western and Eastern districts. Republicans argued that their map produced a competitive Western District, one that Democrats would have won in the 2017 special election for U.S. House and again in the 2018.
Democrats had objected, arguing that the successful back-to-back years cited by Republicans were bookended by Republican wins in 2014, 2016 and 2020.
Republican Commissioner Jeff Essmann dismissed the notion that past results were enough to prove which party's candidates would win the West as drawn in CP 12. Candidates aren't widgets, Essmann said.
"So, there's a limit to how much we can learn from just looking and assuming that all candidates are created equal," Essmann said. "Because we know they're not. Good candidates with good campaigns win. Even good candidates with bad campaigns lose. There's a human factor here that we can't and shouldn't ignore. So the question is, are we, is it looking at the past when we've had good races with good candidates? Do we think it looks fair? We do."
Smith had indicated hours earlier that her preference was that the commission's two Republicans and two Democrats reach consensus on a final map, though it had been clear for weeks the two factions weren't coming to an agreement.
Among the concerns raised by Democrats in the final hours was that the partisan advantage in CP 12 favored Republicans by more than 5%, a competition threshold for the national organizations like the Democratic Congressional Campaign Committee and National Republican Congressional Committee deciding whether to invest in a House race. Commissioner Kendra Miller said CP 12 favored Republicans by 7%.
"We've had testimony, talk about the fact that both the D triple C and you know, the RNC and your organizations, everyone targets seats that are between A D +5 and an R +5. Everyone," Miller said talking to the commission's Republicans. "And there's less and less money and focus on seats that move outside of that small range. Again, a point that you made earlier at a previous meeting about polarization and nationalized election environments, and the fact that you can have really good candidates, but if you don't have them, you know, close, in terms of your sort of original advantage, you're creating for districts that likely aren't going to be competitive."
Democrats had proposed a map that had some of the elements Smith indicated she was looking for, like two Indian reservations in the West and the inclusion of Flathead County in its entirety in the West as well. But, in the final week before Thursday's selection, Democrats on the commission returned to Congressional Proposal 11, which sent the northern portion of Flathead County to the west, while sending Kalispell and the remainder of the Flathead county to the East. The map didn't include the Blackfeet Reservation in the west, leaving the Flathead Reservation as the only one in the Western district.
Smith said there could still be changes to CP 12, based on public testimony provided before the commission's next meeting Nov. 9.
"Keep in mind, this is the map I'm moving forward," Smith said. "It doesn't mean that that's going to be the exact final map. There can still be tweaks based on comments we get. I encourage people to give comments. I have to tell you I've been incredibly impressed with the comments that we received. They've been incredibly helpful for me to try and evaluate what to go forward with on this map on what's important or not."
A final map must be decided by Nov. 14. There is a meeting scheduled for Nov. 9 at which time the public will get to testify on the single finalist.
Montana had two U.S. House districts until the state turned in a poor showing for the 1990 Census. The old Western district had all the ingredients of blue-collar Democratic turf with union miners in Butte and organized workers in the lumber mills of the northwest. Voters in their industries coupled with two flagship university towns and two state college communities, favored Democrats.
The politics of Western Montana have changed dramatically, and the region is no longer a blue shoe-in for Democrats. There's been strong growth in areas like Flathead and Ravalli counties that favor Republicans. The focus by Democrats on the Districting Commission has been to create a Western district that's competitive.