Rosendale hoping alignment with Trump will help carry him to U.S. Senate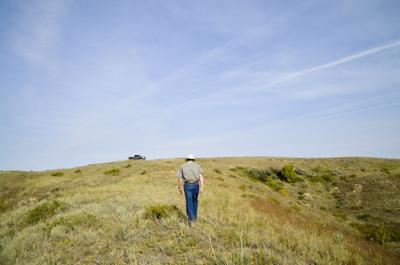 GLENDIVE — In the back room of the local VFW, Susan and Jerry Kelly were spending one of the last warm September evenings in this far northeastern corner of the state hearing what Republican U.S. Senate candidate Matt Rosendale had to say.
The meet-and-greet event was to build energy for Rosendale, but it was impossible to miss the out-sized presence of Republican President Donald Trump in the room. Several in the crowd wore Trump's trademark "Make America Great Again" red hats and a table in the back was selling "Trump 2020" gear.
"The president will get the help he needs with Matt Rosendale," the candidate told the 40 or so people gathered to eat a potluck dinner and homemade pies. " … We are going to continue this good work our president has begun for us."
Tester and Rosendale are in a race that recent polling shows will likely be close; it's already incredibly expensive. Outside groups are spending big to target Tester as one of 10 Senate Democrats seeking re-election in states Trump won in 2016, here by a 20-point margin. Rosendale hasn't escaped the attacks, either.
According to the Center for Responsive Politics, spending on the race by organizations outside Montana that are not connected to the candidates, such as political PACs and interest groups, has hit about $15.5 million. The figures, which also include the Republican primary, put spending by outside groups opposing Tester at $6.5 million and opposing Rosendale at $5.4 million.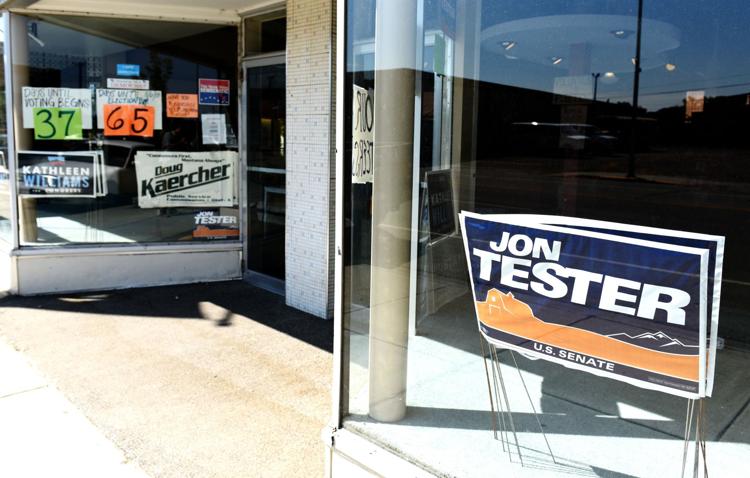 Susan Kelly, who attended Rosendale's event in Glendive, said she backs him because he supports Trump's agenda. For her, it's the promise to repeal and replace the Affordable Care Act, which led her to lose her doctor and forced her to change insurance coverage.
Her husband, Jerry, wants a senator who won't hinder Trump's effort to appoint more conservative judges to the federal bench. 
For Gavin Holden, it was the tax cuts. Trump's main legislative victory to date allowed the electrician to give his three employees pay raises and bonuses.
An outspoken, unfailing supporter of the president, Rosendale has seized on Trump's political moment in an effort to create his own. At this gathering, and in most of his public appearances, Rosendale reminded voters he backs Trump and all the things they ticked off as important: ending the Affordable Care Act, appointing conservative justices to the Supreme Court and cutting taxes.
The day after the Glendive gathering, Rosendale drove his older Dodge Ram 2500 pickup truck around his ranch — more than 9,000 acres that have themselves become a campaign issue — and explained why he thinks Tester's time should be up.
Tester "is not voting to represent the people of Montana," Rosendale said. "You can't vote against tax cuts for people across the state. You can't vote for a Justice (Sonia) Sotomayor, who comes out and says the right to own a gun is not a fundamental right.  They know the Second Amendment is a clear right that can't be infringed."
Rosendale recognizes Tester is going to be difficult to unseat. But if anyone can do it, he said he's the man.
"(Tester) is a two-term (senator). He does have a lot of money. It's going to be difficult to unseat him. And who's going to be able to do it except for somebody that has the name recognition and the support — the real, dedicated support — and infrastructure across the whole state?"
Tester campaign spokesman Chris Meagher said attempts to paint the senator as a far-left liberal won't ring true for voters.
"Talk is cheap," Meagher said. "Jon has a proven record of working with anyone from any party to defend Montana. ... Jon has been busy putting 20 bills important to Montana on President Trump's desk."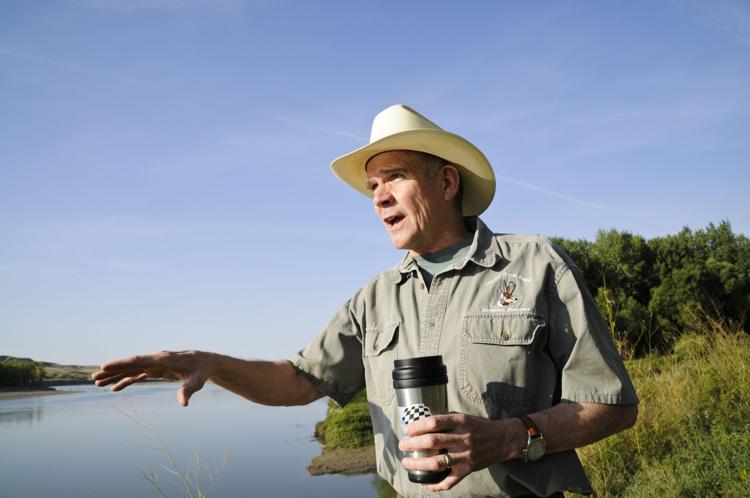 Rosendale moved to Montana from Maryland, where he was not involved in politics, in 2002. As a real estate developer on the East Coast, he built a fortune that financial disclosures peg at between $7 million and $32 million.
The money allowed him to start exploring a move west in the 1990s. Rosendale picked Dawson County because it was far enough away from a population center and had good hunting, quality local schools and was near a river. Back in those pre-Internet days, Rosendale researched the family's options by requesting years of eastern Montana fish and game data and subscribing to two local newspapers.
After hunting trips in the fall and family vacations during the summer that overlapped with the county fair, Rosendale, his wife, Jean, and three sons moved to the ranch, settling into a modest house on their piece of the Montana dream.
Rosendale dove head-first into rural life, hunting his property, delivering the Christmas cookies his wife baked and tending 200 head of cattle in the winter for a man who leased some of the land. The land is still leased to a couple families that run cattle and grow sugar beets, along with other crops. Rosendale lets groups like Wounded Warriors come out to hunt in the fall and built an informal campsite friends and community members could use.
"For seven years, all I did was run this ranch and the only time I went to town was literally to go to church on Sunday. And I was very happy, very happy doing this work," Rosendale said.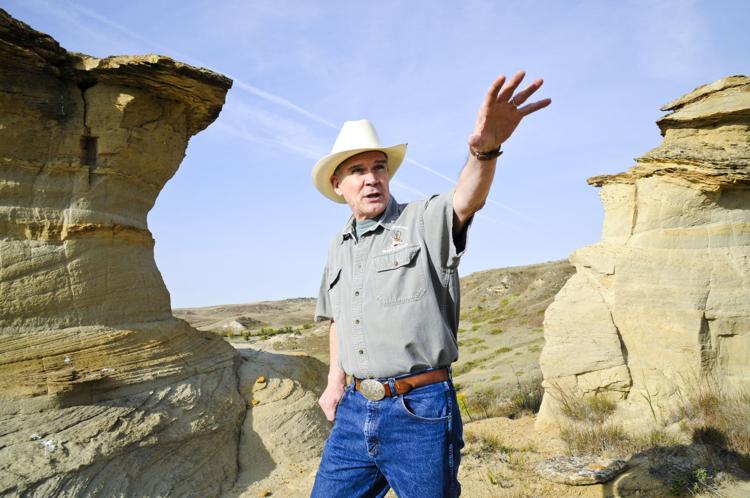 That quiet life didn't last. After a few years, Rosendale was elected chairman of the group that puts on the local agriculture expo and found himself head of the Catholic parish council.
"That's where it really began," Rosendale said of his political career in Montana. "And I have to say, Jean, she knew. She said, 'You realize you're getting ready to get right back into it again.'"
Before long, friends like Matt Hull, senior pastor of the Glendive Alliance Church, started asking Rosendale to consider a bid for the state Legislature.
"I just remember thinking here's a guy who reflects on these issues and he thinks about it and he evaluates them in connection to his values," Hull said. "That's the lens he sees these things through. And I said, 'Matt, we need you.'"
Rosendale's rapid political rise is something opponents, including Tester and the Republicans who ran against Rosendale in the U.S. Senate primary, criticized. Opponents have dubbed him "Maryland Matt'' and claimed he moved to Montana just to launch a political career.
But Hull said Rosendale's rapid moves can give people the wrong impression.
"A reason Matt is misunderstood is that he moves at a pace that is much quicker than most Montanans, especially eastern Montanans. It's a pace more quicker than we're used to," Hull said.
In the Legislature, Rosendale consistently carried and supported conservative legislation. He championed bills that would have loosened restrictions on guns and outlawed or made abortions less available.
Rosendale said he took his conservative, less-government-is-best approach to the auditor's office, where he said he cut staff by 6.3 percent and dropped operating costs 23 percent in his first year. He also opened the door for health-sharing ministries, which are religious insurance pools that a 2007 court decision had banned, and primary care agreements, which let people make direct contracts with a primary care doctor instead of using insurance. 
That resume is what led state Sen. Steve Hinebauch, R-Wibaux, and his wife, Beth, to call Rosendale the most conservative candidate in a four-way primary earlier this year. "We are very conservative and those values — pro-life, the Second Amendment — are why he has our support," Steve Hinebauch said.
Hinebauch said he recognizes Rosendale's lean to the right of the party and alliance with Trump means he's not everyone's cup of tea. But Hinebauch thinks Trump is still popular enough in Montana that Rosendale is well-positioned.
"He's trying to connect himself to the president,'' Hinebauch said. "They wouldn't do that if it hurt his campaign."
One of the few places Rosendale and Hinebaugh don't see eye to eye is on  the death penalty. As a Catholic, it's something Rosendale opposes.
"My faith is a very big part of who I am. I could not have achieved any of what I've done without my faith and without my wife," Rosendale said. "I know what I believe, and I believe it to my very core. ''
Trump's presidency has been marked by scandal on moral issues — including allegations of adultery and lying — but he's retained strong support from the religious right. That includes Rosendale, who said what Trump has accomplished, including putting right-to-life issues at the forefront, are more important.
"He's effective,'' Rosendale said. "And I've watched a bunch of vanilla-flavored people try to go in there and run our government and they haven't done a very effective job of it.''
Rosendale has shifted views on some issues as he's learned more about his adopted state.
When he ran for the U.S. House in 2014, he said he'd support a transfer of federal lands to the state. This year, he said in an interview that after several years of traveling Montana, "it is clear that the general populous … does not want those federal lands transferred and I'm fine with that."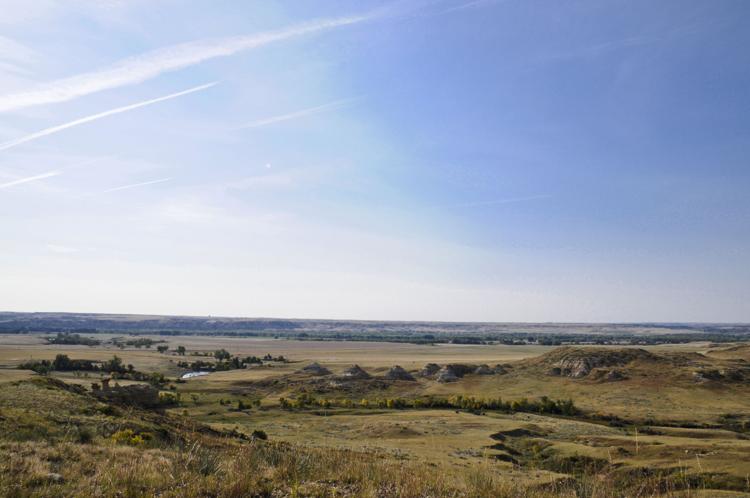 The public lands debate plays into the broader political question of which candidate best represents Montana values, something political scientists have described as the competition for authenticity.
And that's where Rosendale's description of himself as a rancher has come back to haunt him.
Democats have created a website to show voters that Rosendale owns no cattle and has not registered a brand. In past political disclosure forms, he has listed his occupation as a real estate developer, adding "rancher'' only in recent years.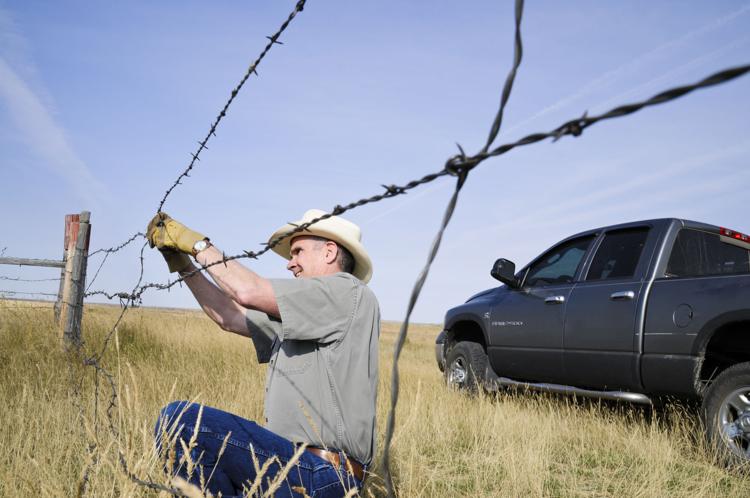 Rosendale's love for his property is obvious. He takes deep pride in the fence line he's mended and rebuilt. On a drive around the spread, he laments not being able to return often enough to repair a washed-out road before stopping in front of a gate.
"These are Rosendale gates. Me and my boys came through here and we redid all this stuff. We reset all these posts, we put all these gates in, we put all the gate latches in," Rosendale said. "Through the grace of God, I worked hard, and I scratched and I saved ... and then after a lot of hard work and a lot of risk, we ended up buying this place."
Rich Liebert, a retired lieutenant colonel from the U.S. Army who ranches south of Great Falls, objects to Rosendale calling himself a rancher.
"If you go out and help your neighbors pound some fence post and move some hay bales and stuff, you're being a good neighbor. And that's what I'd call Matt Rosendale, a good neighbor and a ranch hand, but not a rancher,'' he said.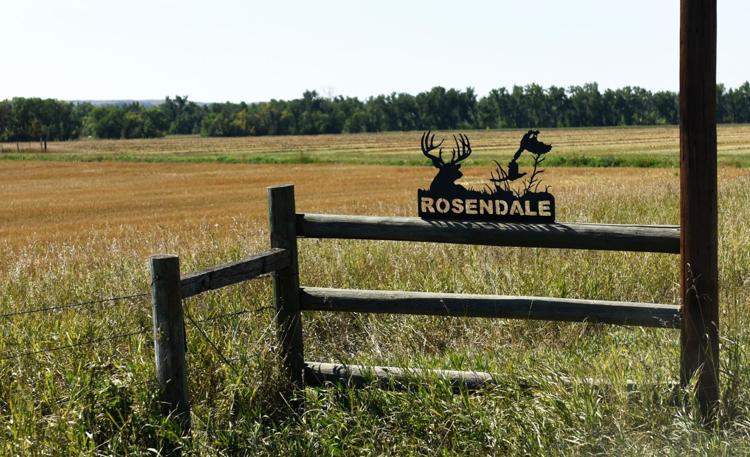 Some question why Rosendale would try to cast himself as more Montana than Tester, a third-generation dirt farmer from Big Sandy. Others, like the Hinebauchs who run cattle on their ranch in Wibaux, don't object to how Rosendale presents himself.
But Jeremy Johnson, an associate professor of political science at Carroll College in Helena, said claiming "authenticity because of a long connection with the state'' doesn't always work.
What might be more important in a year like 2018, when politics has become hyper-partisan, is where a candidate falls in terms of support for Trump. "For many voters, a candidate supporting or not supporting Trump, depending on what side the voter falls, is more important than the biography of the candidate," Johnson said.
Rosendale said attacks from Democrats over how he identifies himself don't bother him.
"It's all the same,'' Rosendale said. "It's all background noise to me.''