John Moffatt remembers the screams. 
He described the "absolute chaos and pandemonium" as he, on a 1986 day at Fergus County High School in Lewistown where he was then vice principal, was pulled into a classroom, bleeding from a bullet wound in his gut.
A student had shot a substitute teacher and then shot Moffatt as they passed in the hall. 
He described seeing the door of that classroom swing open, and the barrel of a gun appeared. 
"It turned out it was the chief of police," he said. 
That scene is the reason for a bill that would create a "school marshal" program, a state-sponsored training program for armed guards in schools as an alternative to school resource officers. 
And the same scene is the reason several police representatives and educators opposed the bill, fearing that more guns will increase the risk of accidents that could make a tragic situation even worse.  
The bill
House Bill 567, sponsored by Rep. Derek Skees, a Whitefish Republican, has been chugging through the Legislature since it was introduced in February. It was endorsed by the Senate Tuesday before going to the Senate Finance and Claims Committee for a Wednesday hearing. It passed out of committee 12-7, and still needs another vote of passage in the full Senate before coming before Gov. Steve Bullock.
A Bullock spokeswoman said Bullock is concerned about opposition from law enforcement and "will be talking with experts in law enforcement before making a decision on this bill."
Montana School Boards Association executive director Lance Melton said no more than 10 schools at one time have ever approved someone to carry a gun in school, and that the current number of approvals is five or six. 
Skees said several schools would like to have school resource officers — regularly trained police who often have additional training to work in schools — but local law enforcement agencies can't afford to allocate officers in schools, or districts can't afford to pay for them.
The marshal bill lays out requirements for what would be included in a training program for school marshals, but leaves the actual program design to the Department of Justice and school trustees.
It does have a handful of bedrock requirements — marshals would have to qualify for entrance into Montana's law enforcement academy, complete marshal training, become certified by the state, complete any additional training required by a school district, and have a concealed carry permit.
Marshals could be hired full-time or part-time, could be school employees or independent contractors, and could take on duties outside the scope of being a marshal.
That scope appears to be narrow; "a school marshal may act only as necessary to prevent or stop the commission of an offense that threatens serious bodily injury or death of persons on public school property."
However, the bill also requires schools using a marshal to have a policy about job duties.
An earlier version of the bill would have kept marshals' identities secret. The bill now requires reporting to law enforcement agencies. It's unclear if the marshal's identity would be considered public information. Some schools who have chosen to arm staffers have argued that the staffers' identity should be kept secret.
Tangled arguments
In several areas, arguments of proponents and opponents become tangled in vague provisions and rely on assumptions instead of facts.
Skees, with the persistence of a woodpecker, maintains that the marshals would be "police officers."
But with the vague training requirements, it's unclear if training would be at all equivalent, and the marshals would not have powers of investigation or arrest like regular cops.
"If the state trains it and certifies it and the POST puts a stamp on it, it's a police officer," Skees said.
Montana Law Enforcement Academy Administrator Glen Stinar, who appeared as an informational witness at a March 28 Senate Judiciary Committee hearing, disputed that — "they're not."
Opponents seized upon a fiscal note that estimates training would consist of a four-week, 160-hour program, calling it insufficient. But there's no set plan for training.
"That four weeks is really a cursory evaluation by my staff based on the requirements of the bill," Stinar said.
If that's what the training would look like if the bill passes, Stinar agreed with opponents.
"The decision to use deadly force is the most critical that any professional law enforcement person makes, and I don't think that this meets the mark," he said.
It's also unclear what the fiscal impacts would be for schools, at least if they hired a "school marshal" exclusively as a law enforcement officer without other duties.
"This allows their school to use their budget and put a resource officer in their school," Skees said.
Other small schools haven't.
You have free articles remaining.
Elder Grove, a K-8 district just outside Billings, estimated last year that it would cost $40,000 to $60,000 to hire a SRO, calling it a fiscally "impossible feat" without cuts elsewhere. The district had recently lost its SRO paid for by the Yellowstone County Sheriff's Office, which said the officer was needed for regular patrol.
The bill's revised fiscal note says that it would cost districts $1,456 for training, and full-time employment costs for a marshal could hit $78,000.
If the marshal program were used to train existing school staffers and they took on marshal duties in addition to their regular job description, schools could likely save significant money compared to hiring an SRO. But if the marshal were an additional full-time hire, it's unclear what savings schools would see compared to a traditional SRO.
"Should any district in the state be forced to pass on hiring the best teacher in order to hire a marshal?" Moffatt said.
The bill allocates no money for the training program, instead instructing the Department of Justice to use existing resources. But the fiscal note said that if all 821 schools in the state hire a marshal, it could cost more than $400,000 statewide to develop and administer the program.
"If no appropriation is provided, DOJ will be required to reduce other services to accommodate for the increased costs associated with HB 567," the note says.
Skees called the first version of the fiscal note an "attempt to torpedo my bill."
At Wednesday's committee hearing, he seemed unaware that there was a second version, assuming that the existing resources provision made the note moot.
"Wow," he said after hearing the provision about reducing other services. "I guess if they made that choice, it would a bad choice." He maintained that the bill shouldn't require significant expenditures, disagreeing with state analysts.
Melton, reckoning that not all schools in the state would use the bill and that some schools are consolidated in the same building, estimated that the bill's real cost would be far smaller. 
Police opposition
Several police groups opposed the bill, arguing that training requirements were insufficient and that an armed marshal could add to the chaos in an active shooter scenario.
Jerry Williams, who leads the Montana Police Protective Association, laid out fears about friendly fire with officers rushing into a school that had a marshal with a gun. His first comments, made at a February committee hearing when the bill still had the secrecy provision, focused on an outside officer seeing an unidentified person with a gun during an active shooter response who turns toward the officer with a gun.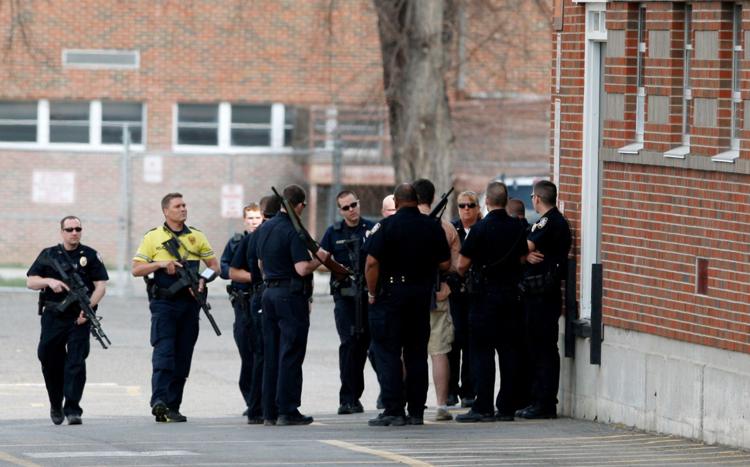 "What do you think the law enforcement officer's going to do? They're going to fire. It's that simple," he said. "Have we just taken out an innocent? Probably. That's the situation, that's real life."
Williams maintained similar concerns after the secrecy provision was removed, and argued that schools were ill-equipped to screen marshal applicants.
"We cannot make a mistake in the hiring process," he said. "The few mistakes that we have made in law enforcement in the few previous years have literally cost hundreds of thousands of dollars," he said, referring to litigation about police misconduct.
"The people who would take this job are signing on to kill someone, probably a child. You don't understand what you're authorizing by doing this," he said. "This is the first time I've been to the capitol building … I'm here today because I'm so strong against this. This is a mistake."
The Montana School Boards Association testified in opposition during the bill's first hearing, then flipped to proponents after the bill was amended.
"We trust that the elected school board will make the right choices that are reflective of their community values," said Lance Melton, the group's executive director. He pointed to existing law allowing trustees to arm someone without requirements.
"I think that this bill maybe puts needed meat on the bones," he said.
When schools arm a staffer, it affects insurance rates, he said. With more requirements in place, those increases are likely to be lessened. And many of the bill's provisions mirror the group's own recommendations for schools who decide to arm a staffer. 
Effective
Then, of course, there's a question of whether a "good guy with a gun" can stop school shootings.
In Parkland, Florida, a deputy working as an SRO did not enter the building to confront the shooter. The deputy later resigned.
Research shows mass shooters can inflict massive damage in the first two minutes, leaving a very narrow response window.
A report on more than 100 "active shooter" situations between 2000 and 2010 found that about half ended before police arrived, and the attacker usually killed themselves. About one-third ended because of civilian intervention, but only three of those cases involved use of a firearm. Researchers have cautioned against drawing conclusions from the small sample size and have advocated for more civilian training for active shooter situations.
Moffatt, the Lewistown school shooting survivor, believes nothing he could have done would have changed the outcome in 1986.
"There were students screaming, crying," he said.
"I know, and I've thought about this for many years, that there's nothing I could have done in that situation had I been armed. It was too quick … the point I want to emphasize is the absolute chaos and pandemonium after the initial shot that killed (the teacher)."
"Very few communities have experienced a school shooting. Nearly all have lost young people to suicides, gun accidents or murder, often at the hands of a domestic abuser," he said. "We lead the nation in teen suicide … We can't keep cutting mental health programs already stretched to the limit in the schools they serve."
Finland had one of the highest suicide rates in the world in the 1980s.