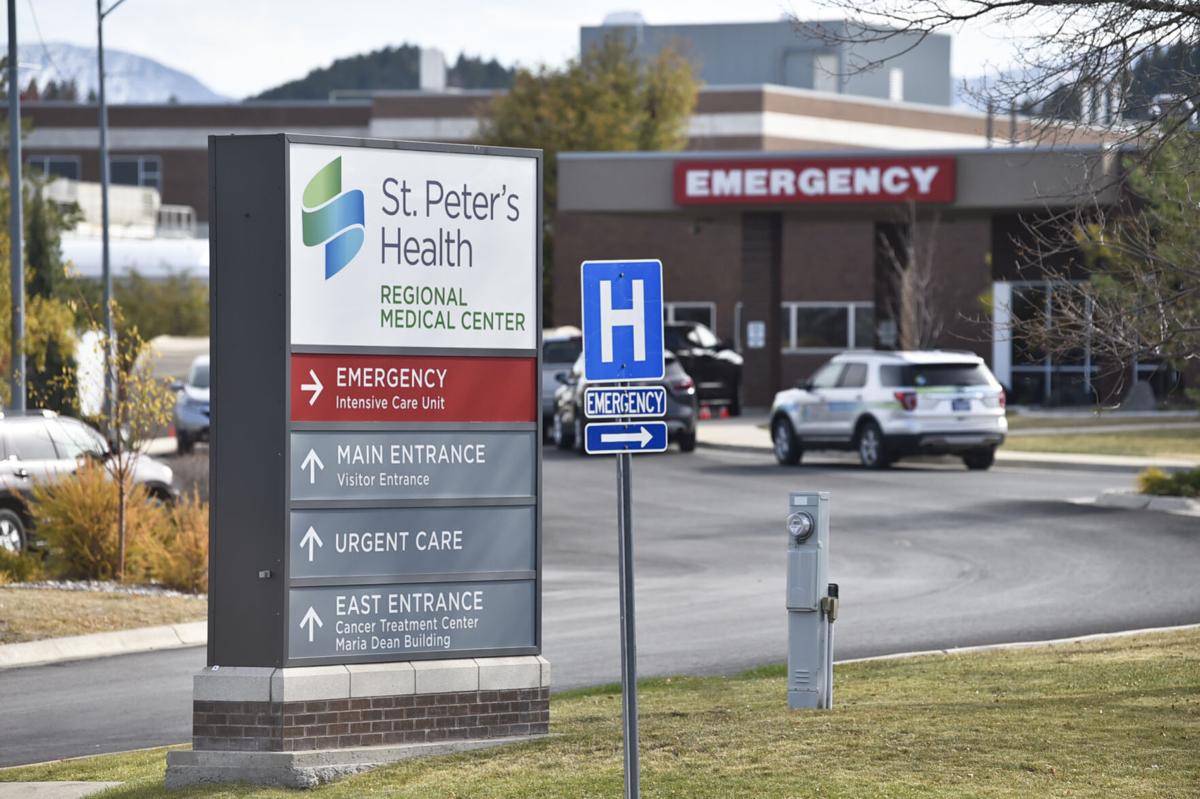 The Lewis and Clark County sheriff raised questions Wednesday about whether state Attorney General Austin Knudsen overstepped his Department of Justice's jurisdiction when dispatching a Montana Highway Patrol trooper to St. Peter's Health in Helena last week.
After previously pointing to a different segment of state law when asserting jurisdiction, Knudsen's office said Wednesday it has the power to investigate "patient abuse or patient neglect" through its Medicaid Fraud Control Unit. The office has also defended the attorney general's actions and has disputed the hospital's description of events. 
In an interview Wednesday, Lewis and Clark County Sheriff Leo Dutton said he does not believe Montana Highway Patrol had the jurisdiction to send the trooper to St. Peter's Health to investigate the dispute. 
"That's how I read it," Dutton said in a phone interview.
Previously, the Helena Police Department also said the hospital is usually within its jurisdiction. The building is within city limits.
Dutton said no one from the Attorney General's Office or the Montana Highway Patrol contacted him before dispatching a trooper. He added that he reached out to Knudsen, who agreed to meet and discuss the matter.
"I'm hoping to visit with him about jurisdictional issues," Dutton said. A spokesperson for the attorney general did not respond when asked to confirm if the meeting was set up.
When asked about jurisdictional issues earlier this week, Attorney General spokesperson Kyler Nerison said the Department of Justice has concurrent jurisdiction under Title 45, which broadly relates to crimes.
Asked Wednesday to respond to Dutton's concerns about jurisdiction, Nerison pointed a different mechanism: the justice department's Medicaid Fraud Control Unit.
The unit investigates fraud and abuse in health care settings. It generally investigates provider fraud, according to a federal report from 2020 following a 2019 inspection. Of the 143 cases the unit opened from fiscal years 2016-2018, for example, 81% were provider fraud and 19% involved patient abuse or neglect.
The unit had its own four investigators, according to the report.
The federal report said the unit normally receives referrals from sources that can include private citizens. When the unit receives a referral, a unit staff person completes a referral form and forwards it to the director, according to the report.
Earlier this week, Nerison said Knudsen "contacted a board member who set up a telephone conference with hospital executives."
The highway patrol's jurisdiction is outlined in state law as offenses on highways, rest areas and state highway properties adjacent to the highway or involving motor vehicles. The hospital is not located on or adjacent to a state highway.
Asked why the department did not send a member of the Medicaid Fraud Unit and instead used the Montana Highway Patrol, Nerison said "It's literally the same agency."
"The Department of Justice has the ability to investigate any complaints of patient abuse or patient neglect," Nerison said in an email Wednesday. 
Nerison said the Department of Justice is investigating the patient's family's claims that hospital staff cut off communication with her family and failed to deliver legal documents to her. St. Peter's has visitor restrictions in place because of COVID-19, including not allowing visitors for patients that have tested positive for the virus.
"It's unfortunate that the hospital and members of the Montana media are trying to turn the focus away from the serious allegations regarding the mistreatment of a patient," Nerison said. "The Department of Justice's ongoing investigation does not involve any specific medical treatment, nor did anyone at our agency give any directive to hospital staff regarding any specific medical treatment. Our concern was — and the focus of our investigation continues to be — allegations that the hospital mistreated a patient and violated her rights and her family's rights."
A statement from the hospital last week directly countered Nerison's claim about trying to direct treatment.
"These officials have no medical training or experience, yet they were insisting our providers give treatments for COVID-19 that are not authorized, clinically approved, or within the guidelines established by the FDA and the CDC," a hospital spokesperson said of the interactions. "In addition, they threatened to use their position of power to force our doctors and nurses to provide this care. We have reviewed all medical and legal records related to these incidents, and we have verified that our teams are providing care in accordance with clinical best practice, hospital policy and patient rights."
Nerison has not responded to requests from the Montana State News Bureau about another of its public officials involved in the incident. A third person involved, who is an elected official, has not responded to multiple messages seeking comment.
In a phone call Tuesday, the patient's daughter said that she knows the attorney general and contacted the office. The patient is a woman in her 80s involved in local Republican politics.
"I don't think they're giving her the proper care they should give her," Susan Williams said, adding that she told the hospital she did not want her mother to receive remdesivir, which the FDA has approved for use to treat COVID-19, or to be put on a ventilator.
Williams referenced a "right-to-try" law passed in 2015 in the state, saying she felt it allowed for any drugs a patient wanted to try.
However, the law in Montana does not require a doctor to prescribe medication or any type of treatment. It allows for a manufacturer of an experimental drug to make the medication available to a terminally ill patient. The law also says a patient must have considered all other approved treatment options and received a recommendation from the health care provider treating them for use of the experimental drug.
The law also includes several other requirements, including an attestation that the patient concurs with the doctor treating them that all currently approved and conventionally recognized treatments are unlikely to prolong their life.