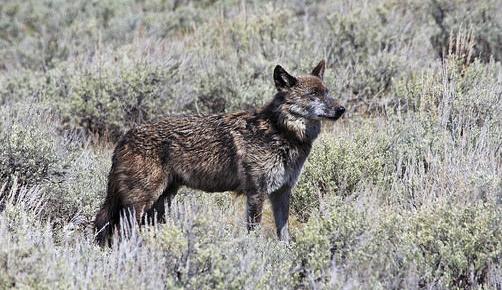 Some wildlife have an "outsized value," such as wolves that wander from Yellowstone National Park into Montana, argued Sen. Mike Phillips, D-Bozeman, on Thursday.
Consequently, those animals should be protected from hunters and trappers in two wolf management units in Park County, which borders Yellowstone, Phillips said in introducing Senate Bill 185 in the Senate Fish and Game Committee. Barring hunting and trapping would be a commonsense and humane approach for a naïve group of wolves, he added.
Those two hunting units, WMU 313 and 316, each allow the killing of two wolves a year by licensed hunters. Wolves can also be shot by landowners with no license when the wild canines threaten humans, livestock or pets. It was in one of those units, WMU 316, where a well-known Yellowstone wolf was killed last fall, prompting national media coverage and sparking outrage by wolf advocates.
Wolf 926F, a female known to wolf watchers as Spitfire, was shot just outside the unincorporated town of Silver Gate, close to the park's Northeast Entrance. Such wolves, which live most of their lives in Yellowstone, do not fear the "sights and sounds of people," Phillips said, making them "easy pickings" for hunters.
What's more, Yellowstone wildlife like wolves — an animal more visible in the park than anywhere in the lower 48 states — is much more valuable to Montana's economy when it's alive for paying tourists to see — a wildlife economy he said has been estimated at $35.5 million annually.
Opponents, which included conservation and livestock groups, argued that such wildlife management decisions should be left in the hands of the Montana Fish and Wildlife Commission, not the Legislature.
"We do not support putting special seasons into state statute," said Nick Gevock of the Montana Wildlife Federation. "We have to look at healthy populations and not individual animals."
Jay Bodner, of the Montana Stockgrowers Association, said approval of the bill would effectively expand the boundaries of Yellowstone National Park. Sen. John Esp, R-Big Timber, said most of his constituents didn't want wolves reintroduced to the park 24 years ago and still don't want them on the landscape.
"Yellowstone National Park is a very good wolf sanctuary, but every sanctuary has to have boundaries," said Matt Gravely of the Rocky Mountain Stock Growers.
Jim Brown, representing the Montana Wool Growers, said the Fish and Wildlife Commission is the place to change the hunting and trapping quota. Yet Brown was involved in a 2013 lawsuit that challenged the commission's closure of wolf hunting and trapping in the same areas. The closure came after five park wolves wearing tracking collars for research were killed in Montana in 2012.
A judge ruled that the commission hadn't offered enough time for public comment before enacting the closure. As the commission reconsidered its decision and discussed putting the idea out for public comment, a bill in the Montana Legislature would have prohibited the commission from closing down wolf hunting or trapping next to a national park. Facing mounting political pressure, the commission dropped the closure but eventually reduced the harvest to only two wolves in each of the two wolf management units. The legislative bill was suspended after garnering strong support in both houses.
So although opponents may say the decision should be left to the Fish and Wildlife Commission, even that board's action is not without challenge.
Several residents of Gardiner, a Yellowstone border community, argued that shooting wolves so close to the park gives the state of Montana and hunters a black eye with national and international tourists. Resident Mary Strickroth said it was "irrational" to give four hunters more importance than thousands of wolf watchers. "The math just doesn't add up," she said.
Phillips, who was the wolf project leader when wolves were reintroduced to Yellowstone, told the committee he hopes they "don't punt because the Fish and Wildlife Commission should be making the decision.
"You have more than enough authority," he said.
No vote was taken on the bill. The Senate Fish and Game Committee meets on Tuesday's and Thursdays at 3 p.m. Phillips has also introduced bills this session that would prohibit contests for predatory animals (SB 186) and prohibit vehicular injury of predatory animals (SB 187) and a joint resolution (SJ 7) that would study the value and costs of wolves and grizzlies.