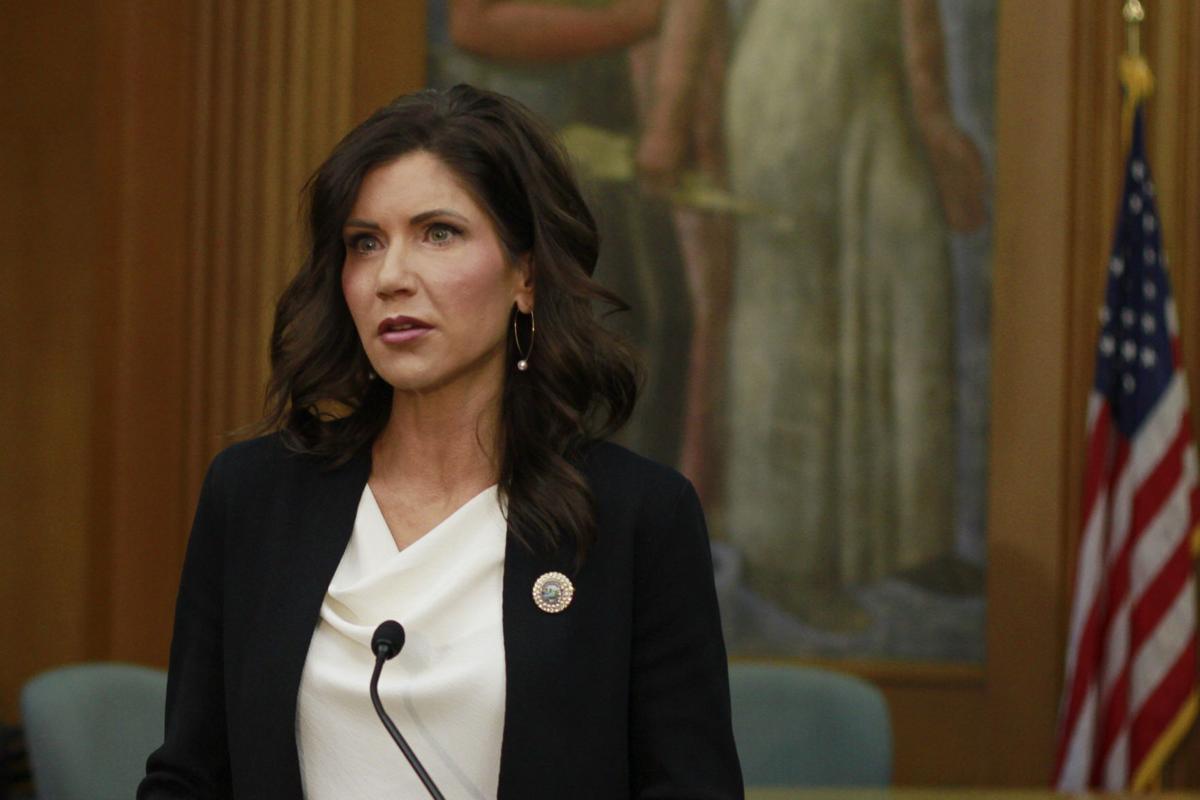 South Dakota Gov. Noem on Thursday revealed she hasn't heard from prosecutors investigating the Ravnsborg-Boever crash, addressed her communism comments for the first time, and discussed topics including the inauguration, Capitol invasion, her education bill and preparing for marijuana legalization.
Noem made her comments during a news conference in Pierre.
"I continue to call this a great disservice to the victim's family. I'm disappointed that we haven't seen some action take by the state's attorneys involved and hope that certainly soon that they will" take action, she said.
Noem also revealed that the attorneys haven't communicated with her about the status of the case.
"We make inquiries on a regular basis and have gotten no answers," she said.
Noem is not the only one being ignored.
Emily Sovell, deputy Hyde County state's attorney, will decide whether Ravnsborg committed any crime but she has not returned any messages from the media. Nick Nemec, Boever's cousin, said he has also not heard from Sovell. 
Pennington County State's Attorney Mark Vargo, Minnehaha County prosecutor Crystal Johnson, and Beadle County State's Attorney Michael Moore previously answered questions about their roles and status of the case but are now not returning messages or referring the media to Sovell.
"We need to look at their history and what they have said and what they have chosen not to say in the past and examine them and their belief system and see if that lines up with American values," Noem said Thursday. 
As for Ossoff, opponents point to his 2012 tweet encouraging people to follow a media outlet run by the Chinese government and sharing an article by them in 2013. They also point to his late financial disclosure that he was paid at least $5,000 for two documentaries by a Hong Kong media company whose owner supports the Chinese government. The documentaries were distributed to dozens of other media outlets.
Biden, Trump, insurrection
"I am hopeful that we'll find ways to work together that's good for the people of south Dakota," she said. "I'd love to have President Biden at Mount Rushmore on July 3 with the fireworks as well," she added. "I'm hopeful we'll be able to keep them."
One reporter asked Noem how historians will judge Trump's legacy and his role in the June 6 Capitol invasion.
Noem said she's not a historian, but she will remember Trump for his positive policy changes. She denounced the violent mob but did not say whether she believes Trump played a role.
"What I want to do is look forward and make sure that we continue to have fair and transparent elections that people can trust," she said.
Noem's office did not immediately respond when asked what election fairness concerns she has and whether she believes the mob had legitimate concerns or believed in conspiracy theories about the election.
Meanwhile, new federal documents obtained by the New York Times show that Noem gifted President Donald Trump a bronze bust of Mount Rushmore worth $1,100.
The replica was paid through private donations, according to Noem spokesman Ian Fury. He did not share which artist made it.
Noem has proposed $900,000 in one-time funds for curriculum to help meet her goal of teaching South Dakota's students "why the U.S. is the most special nation in the history of the world."
Noem was asked to respond to educators who say South Dakota who defended the state's civics curriculum. She said this curriculum will provide teachers with more options and have a stronger focus on state history.
Noem, who has not said what she thinks is wrong or missing from the current curriculum, said she will not be the one designing the curriculum.
"That is something that will be put forward by historians to tell all events of South Dakota's history," she said.
Her spokesman, Ian Fury, did not immediately say who would be appointing the curriculum group and whether it will be made entirely of historians and educators, or also politicians.
Noem said the Amendment A lawsuit won't be resolved by the end of the legislative session. She she supports and approved state money to challenge the constitutionality of the voter-approved constitutional amendment legalizing medical and recreational marijuana.
"That's why we're working with legislators to make sure that we're adequately prepared and that the planning is there to implement responsibility if necessary," she said, adding that law enforcement and the Department of Revenue are also preparing.