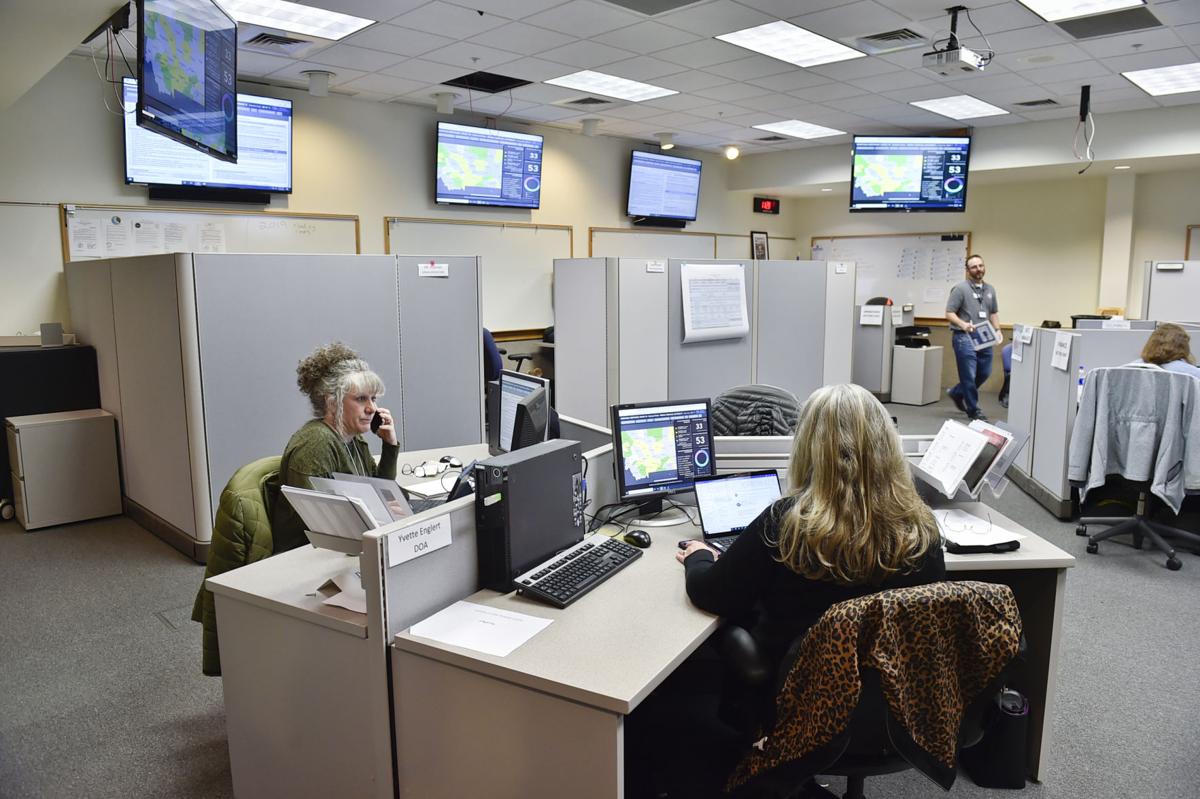 Montana added four new cases of the coronavirus Thursday night, including the first in a rural eastern Montana county. There are now 16 cases within the state's borders.
The patient from Roosevelt County is a woman in her 70s, who acquired COVID-19, the disease caused by the coronavirus, through international travel, according to a press release from Gov. Steve Bullock's office Thursday night.
Yellowstone County also added three cases, bringing its total to five. The new patients are a man and two women, all in their 20s. Gallatin County has four cases, as does Missoula. Butte-Silver Bow has one case and Broadwater County has one as well.
All patients are isolated, following public health guidelines. The state health department and county health departments follow up with people to learn their exposure risk and travel history and identify and communicate with their close contacts. Close contacts are quarantined for 14 days.
Also Thursday, as people come back to the state following spring break, Bullock issued an advisory for Montanans who traveled internationally, saying they should self-quarantine for 14 days upon returning to the state.
"As Montanans return from spring break, Montanans who have been traveling internationally should take the proactive step to self-quarantine for 14 days to avoid spreading the virus in their community," Bullock said in a press release. "Prevention is our best tool for combating COVID-19. The ability to slow new infections is in our hands, and our friends and neighbors are counting on us to do the right thing."
People who have traveled internationally are being told to contact their local health departments as they return to notify them.
On Thursday the Department of Labor and Industry offered a first glimpse of how those changes could affect workers in Montana, as unemployment claims spiked after the state's first cases were announced March 13.
Before then, the number of new claims filed daily fluctuated between a low of 17 and a high of 71 through the month. By March 16, however, new daily claims hit what at that point seemed startling high at 720.
'This is likely to continue'
Lori Christenson, the public information officer with the Gallatin City-County Health Department, said Thursday that her county, which has four cases of COVID-19, is discussing its capacity to handle people coming back from spring break.
"That's something that we're talking about on a daily basis," Christenson said Thursday. "I think we realize as a community as well as a community of responders that this is likely to continue for quite some time. ... We are prepared and know very well that there are individuals coming back from spring break, and we are expanding capacity to make sure that we can respond effectively and efficiently."
Christenson said expanding capacity can mean bringing in volunteers and that there are organizations keeping track of individuals who want to volunteer, as well as hiring additional staff.
The advice from Bullock on Thursday follows an advisory form the U.S. State Department telling U.S. citizens abroad to return home unless they had planned to stay in the country they were visiting for an indefinite period. The advisory also encouraged avoiding international travel.
Similarly, the State Department recommended travelers defer all cruises and anyone who has taken a cruise self-quarantine for 14 days following the trip.
While it's not fully understood how COVID-19 is transmitted, and the Centers for Disease Control and Prevention suspects people are most contagious when the most symptomatic. However, the CDC also suggests people could also be infectious without or before having symptoms.
A press release from the Governor's Office said Montanans staying home after traveling will "play a key role in preventing spread in the community."
Symptoms include fever, cough or trouble breathing. Anyone experiencing that should call their heath care provider and also share with the provider their travel history.
Montana's cases are for the most part in its larger communities: Gallatin and Missoula counties each have four cases, Yellowstone has two, Butte-Silver Bow has one and Broadwater has one.
Office closures
The state Department of Public Health and Human Services on Thursday announced it was temporarily closing several of its offices around the state and shifting the work that requires public interaction to online or phone helplines.
"It really is about the public," department director Sheila Hogan said Thursday. "These are the outward facing departments that the public relies on heavily."
Employees at the office will respond to the public and program participants over email, phones and other ways, and staff will handle emergencies as they arrive, Hogan said.
Signage will go on doors at the offices, and letters will go out to community partners and program participants to let them know how to reach the offices.
Within the Child and Family Services Division, family visitations will be done using available technology, but child protections specialists will still respond to reports of child abuse and neglect.
Closures will include the Offices of Public Assistance, Child and Family Services, Vocational Rehabilitation, Vital Statistics, Women, Infants and Children, Child Support Enforcement and the Developmental Disabilities Program.
A list of the towns affected and how to contact offices is attached to this story.
In Helena, a person who works on the second floor of the Max Sieben Baucus Federal Building in the Great Northern Town Center in Helena tested positive for the virus, the Environmental Protection Agency confirmed Wednesday.
An EPA spokesperson said Thursday that it notifies employees who have been in contact with anyone who has tested positive for COVID-19 and asks them to telework and follow CDC guidance about the virus, as well as to contact their doctor if they become symptomatic.
The EPA, the spokesperson said, is following guidelines from the federal General Services Administration on disinfecting work stations, common areas, work spaces and other pertinent areas of a building or work space.
Concerned about COVID-19?
Sign up now to get the most recent coronavirus headlines and other important local and national news sent to your email inbox daily.