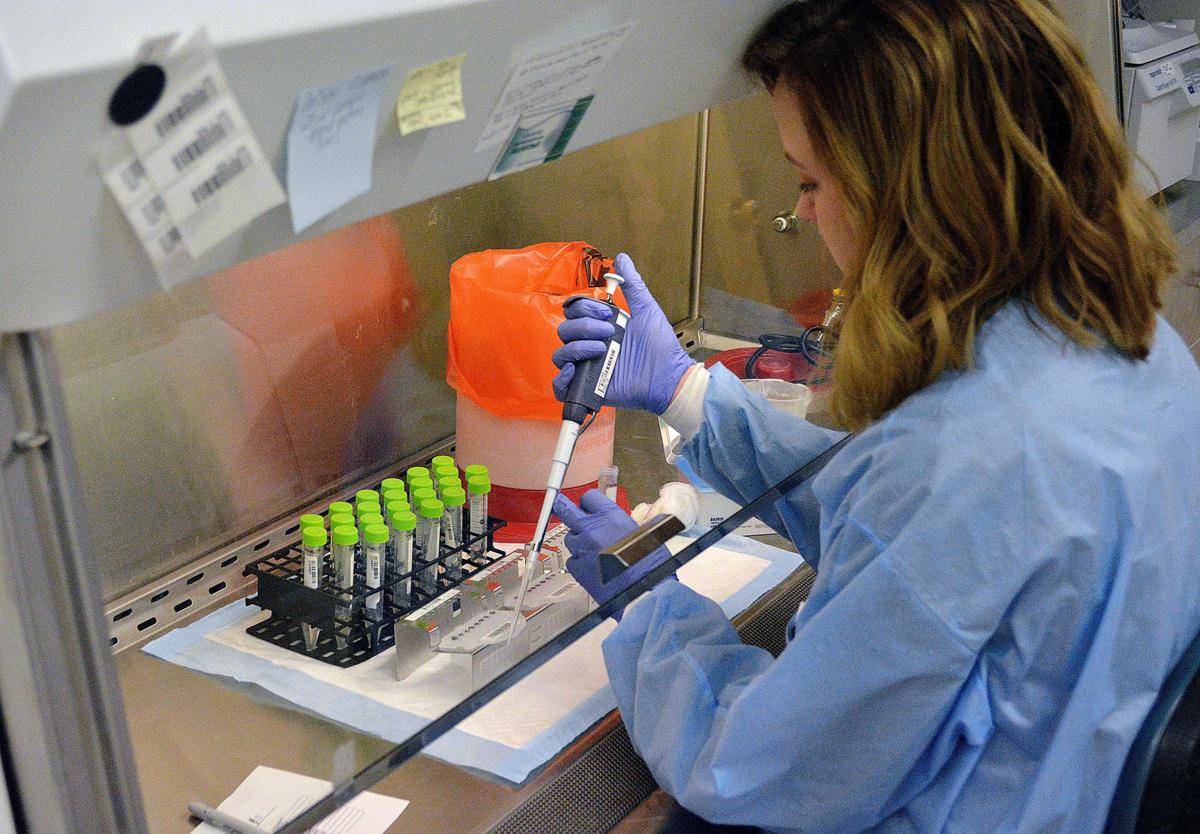 The state public health laboratory is following a new testing priority while it looks to find a replacement for its out-of-state contract laboratory, Quest Diagnostics, Gov. Steve Bullock's office said Friday .
"Where we have been sending the surveillance samples, (Quest) has delayed further and further its turnaround time, not just in Montana but indeed across the nation," Bullock said Wednesday in a press conference. ""When it takes a week to 10 days or more to provide us with results back on our test, it really is of more limited value to Montanans."
The contract lab had been where Montana sent most of the tests that came from mass surveillance and sentinel testing events around the state. Tests for symptomatic people generally go to the state public health laboratory in Helena, which kept a faster turnaround time of about a day or two.
Testing events around the state were canceled Friday. PureView Health Center, a federally qualified health care center with clinics in Helena and Lincoln, said Friday it was calling off all its upcoming drive-thru testing events.
"Due to the increase in symptomatic patients and the governor's request that we all focus on contact tracing, we will not be able to process asymptomatic tests at this time. All previously scheduled drive-through COVID-19 tests are canceled," the clinic wrote on its website.
RiverStone Health in Billings said Friday it is no longer able to hold community-wide testing "because of a nationwide backlog at Quest Diagnostics"
"Per guidance from the Montana Department of Public Health and Human Services, RiverStone Health will continue to offer free testing, but only to people who are 'close contacts' of someone who already tested positive or who have symptoms of COVID-19. This testing protocol will begin Monday, July 20 and will be in effect until further notice," the public health entity said in a press release.
On Wednesday Bullock predicted the halting of surveillance testing events.
"Now we're at another roadblock, and it's uncertain over the next few weeks whether we'll be able to stand up all of the mass community snapshot testing events that we've encouraged and planned for," Bullock said.
The state health department is now organizing testing at the public health lab by priorities.
The first priority is testing that supports response activities to slow the spread of the virus. That includes people who are symptomatic, regardless of whether they are hospitalized. The other group of of people in the first priority are those who are close contacts and part of outbreak investigations that are being coordinated by local public health authorities.
Close contacts in this definition are generally identified and referred to health care providers for testing by local public health officials.
The second priority is testing that supports surveillance and monitoring activities, and prioritizes front-line workers such as health care workers in high-risk situations, staff of assisted living facilities and long-term care centers participating in surveillance testing. This priority level also includes residents of selected congregate settings such as group homes, institutions and other facilities
The state health lab's guidance says "other low priority testing will be conducted as resources allow but may not be a priority."
That includes testing of individuals in the general public who are not symptomatic; asymptomatic testing before for activities such as travel; pre-procedural testing such as before operations, dental visits and similar activities and others.
"We are working diligently on finding solutions to meet Gov. Bullock's testing framework and we are confident in the potential for both in-state and out-of-state opportunities," a spokeswoman for Bullock said Friday in an email. "Every state has been impacted by a lack of a comprehensive, federal testing strategy with increasing cases and each state is having to navigate finding new solutions."
Jim Murphy, the head of the state health department's communicable disease bureau, said in a Wednesday press conference the lab's capacity was about 1,200-1,300 tests a day.
A lack of a national testing strategy is partly to blame for the backlogs, Bullock said Wednesday.
"I'm deeply concerned with the lack of national testing strategy from the federal government. Their strategy up to this point,or at least for this chapter, was that we utilize private labs in order to reach those testing targets," Bullock said.
In Montana that was 60,000 a month, and between June 15-July 15 the state tested more than 64,000.
The state got set up with Quest following conversations with senior officials in the federal government about two months ago, Bullock said, under an assurance of a 72-hour turnaround time. That hasn't been the case, though.
"it's still clear that the federal government is ill-prepared to find the solution as cases increase across the nation and private labs are becoming overwhelmed," Bullock said.
State efforts include looking at ways to expand capacity at the state public health laboratory in Helena, as well as other contracts with out-of-state labs.
After at least two facilities in Montana said they were changing who would get tested for the novel coronavirus following a backlog at the state's out-of-state contract laboratory. 
Also Friday, Benefis Health System in Great Falls sent out an internal posting about testing, saying "as of today, July 17, we will no longer be testing asymptomatic patients or employees, including those who have been exposed to someone who has tested positive for COVID-19."
Bullock's office said some information in Benefis' internal posting was incorrect and that it would reach out to the hospital to clarify. Benefis said late Friday it had been in contact with the state and would look into the issue once it got follow-up information.
In Billings, free, drive-through testing for close contacts and symptomatic people is available Monday through Friday at 9 a.m. and closes when the allotment of 175 tests per day has been reached. The RiverStone Health testing site is in the Shrine Auditorium parking lot, 1125 Broadwater Ave.
Concerned about COVID-19?
Sign up now to get the most recent coronavirus headlines and other important local and national news sent to your email inbox daily.