Colstrip Power Plant operator and co-owner Talen Energy was one of 13 electricity companies who last week offered to work with President Joe Biden on a plan to cut greenhouse gas emissions at power plants by 2030.
Talen and the other companies suggested they could cut carbon emissions to levels equal to 20% of what pollution levels were in 2005. Reuters news service, which was given access to the letter, reported that companies said the 2030 benchmark aligned with Biden's 2050 goal for decarbonizing the economy.
Talen, in an email to Lee Montana Newspapers, said the carbon reduction plans haven't involved the southeast Montana power plant in which it operates and also holds a 15% share. The company announced a $2 billion investment in renewables last week as it pivots away from coal power in the 12-state PJM energy market, which includes Pennsylvania. Colstrip isn't among Talen's planned retirements, said Talen's Taryne Williams, this week.
"In November 2020, Talen Energy announced that it will transition select coal fired facilities within the PJM market to run on alternate fuel. Colstrip is not one of these facilities. Additionally, Talen announced that it will invest in renewable energy and storage development projects using land surrounding its fossil fuel generation facilities, including Colstrip, as outlined in our Joint Venture announcement last week. Our investments in these projects are additional to our current fleet and separate from the operation of Colstrip. Talen Montana remains committed to the economic viability of units 3 and 4."
Additionally, four utilities with a combined 70% ownership share in Colstrip face coal power bans, the first beginning in 2025 in Washington. Oregon imposes a ban in 2030. Both states are cutting coal power as part of a broad effort to lower carbon emissions and slow climate change.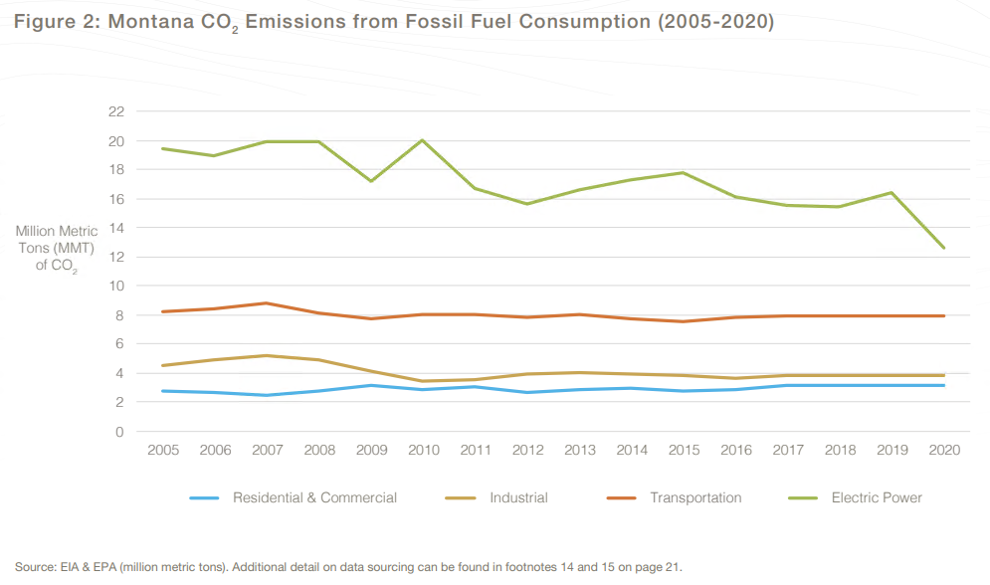 The decarbonization proposal Talen signed onto uses 2005 as a starting point, which happens to be the year carbon emissions approached their peak of 2.4 billion metric tons from fossil fuel burning for electricity, according to EPA. It was the worst year for carbon emissions from U.S. coal-fired power plants since 1990.
Carbon dioxide and other greenhouse gasses trap solar heat. Limiting carbon dioxide receives a lot of the attention when addressing climate change because carbon dioxide stays in the atmosphere for 300 to 1,000 years, according to NASA.
Carbon emissions from fossil fuels burned for electricity generation were nearly 44% lower last year than they were in 2005, reports EPA. The reduction is accelerating as coal-fired power plants are retired, or burn less often to accommodate energy from natural gas and renewable sources, both of which are cheaper than coal power.
Given the path carbon emissions are on, reaching pollution levels 80% lower than what they were in 2005 isn't a heavy lift, said Seth Feaster of the Institute for Energy Economics and Financial Analysis.
"You've seen an enormous reduction in generation from coal plants that has accounted for a lot of the carbon reductions in the U.S.," Feaster said. "What I would say about these companies is that they have achieved a lot, if not all of their carbon reductions already, but have not yet made more ambitious goals going forward in order to take advantage of the reductions they have already made. Plus, if you're talking about 2005, this is not an ambitious starting point."
Colstrip might not be one of Talen's target facilities, but carbon emissions at the power plant have nonetheless declined significantly. Montana's Department of Environmental Quality estimated that carbon emissions at the power plant dropped 4 million metric tons in 2020 because Colstrip Units 1 and 2 were shut down for good in early January of last year.
The estimate was part of the 2020 Montana Climate Solutions Plan, which showed Montana carbon emissions declining from 20 million metric tons in 2010, a high point, to just over 12 million metric tons in 2020. The declines in carbon dioxide from power plants are directly tied to decisions by Talen and its predecessor PPL.
In 2015, PPL close to close the J.E. Corette coal-fired power plant in Billings rather than invest in mercury pollution controls. The economics of Corette didn't support the investment.
There will be another reduction in Montana carbon emissions this year related to the March shutdown of Lewis and Clark Generating Station in Eastern Montana, near Sidney. At 44 megawatts of capacity, Lewis and Clark produced 349,000 metric tons of carbon dioxide in 2019. Owner Montana Dakota Utilities closed the plant because it was no longer economical to operate.