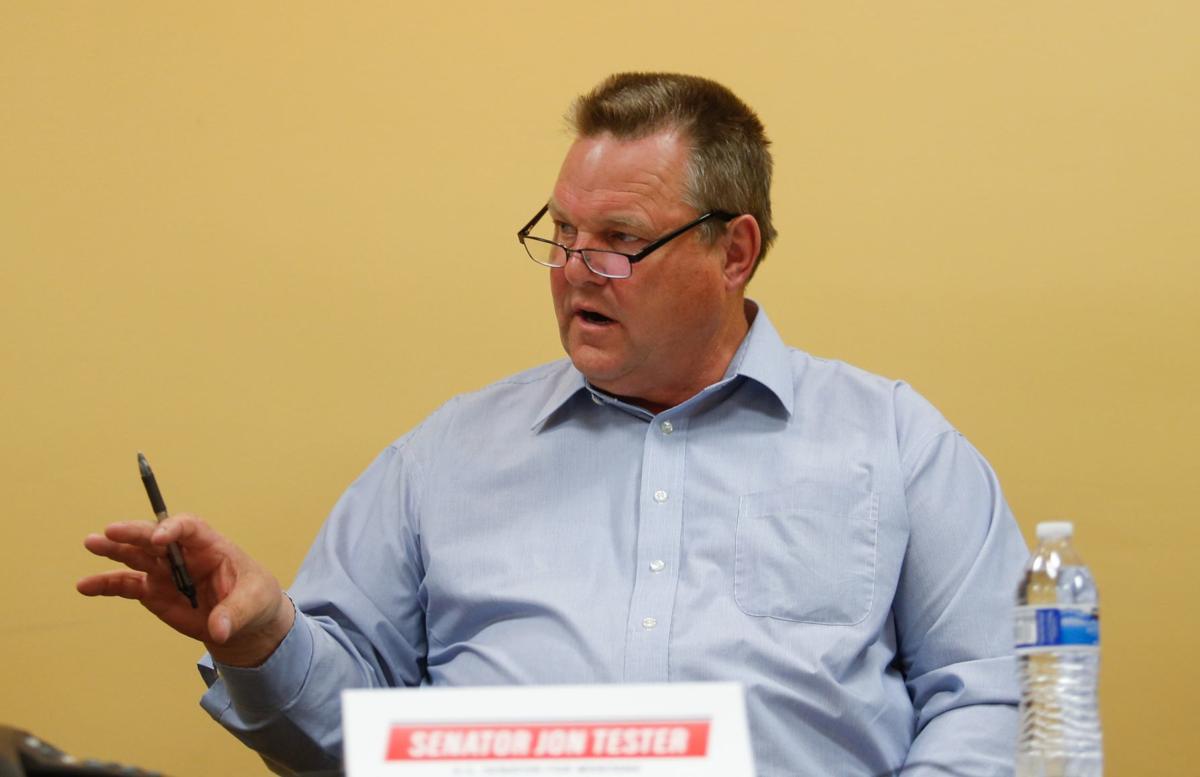 U.S. Supreme Court nominee Brett Kavanaugh won't be meeting with Montana Sen. Jon Tester before confirmation proceedings start next week, but there's been no refusal by the Democrat to do so, according to the White House.
Not meeting President Trump's second nominee to the Supreme Court has spun into a campaign issue for the Democrat, with everyone from Republican challenger Matt Rosendale to the president's son, Donald Trump Jr., blaming Tester for not visiting Kavanagh in the nearly two months since Kavanaugh was selected.
White House spokesman Raj Shah told Lee Montana Newspapers this week that despite several attempts to schedule a visit, Tester and the White House never agreed on a date. The back and forth stretched into the fourth week of August, which was the last week of scheduled appointments between senators and Kavanaugh.
Tester has repeatedly said over the last two weeks that a meeting was scheduled but that White House canceled. Shah said there was no cancellation by the White House because there was no meeting.
"When Senator Tester was available and the judge was available, there was overlap and it didn't work out," Shah said. "At no point was there a scheduled meeting that was cancelled. That's not accurate."
Tester's staff has said for weeks that it was unable to get a scheduled meeting with Kavanaugh, explaining in mid-August that the White House was delaying its meeting with Tester and wouldn't give the senator a date. The first meetings were to be with members of the Senate Judiciary Committee, which will start its confirmation hearing for Kavanaugh on Tuesday.
On Aug. 23, Tester told Montana press that a meeting was supposed to take place that week, but was delayed by the White House. He still wanted to meet with Kavanaugh. The senator hasn't decided whether to support Kavanaugh's confirmation.
"It was my hope this August that I would have the opportunity to sit down, face to face, with Supreme Court justice nominee Brett Kavanaugh," Tester said. "I wanted to ask him questions on behalf of Montanans. I wanted to get his thoughts on important things like women's health care, net neutrality, right to privacy, campaign finance reform. Unfortunately the White House delayed my meeting with Mr. Kavanaugh, which was supposed to take place this week. But I look forward to sitting down with him, because I will."
Friday, the senator's account of the non-meeting was more pointed. He told The Gazette editorial board the White House canceled, not delayed, the meeting. He again said the White House canceled the meeting during an interview with Yellowstone Public Radio.
Rosendale has been accusing Tester of promising to meet with Kavanaugh, but failing to do so. Friday, Donald Trump Jr. went a step further, accusing Tester of refusing to meet with Kavanaugh in an opinion-editorial submitted to The Gazette.
"How can Democrats and John Tester fulfill their job in the US Senate if they refuse to meet with the nominee? This is a dereliction of duty of a United States Senator. Our constitution is clear, the Senate must 'Advise and Consent' on nominees," Trump Jr. wrote.
The Gazette declined to publish Trump Jr.'s submission because Tester said the White House had canceled a previously scheduled meeting.
Montana's Republican Senator Steve Daines has met with Kavanaugh, whom Daines endorsed early on.
President Donald Trump will visit Billings on Thursday, Sept. 6, for a "Make America Great Again" rally. He will lend support to Rosendale, U.S. Rep. Greg Gianforte, and likely Kavanaugh's confirmation as he has during recent stops.