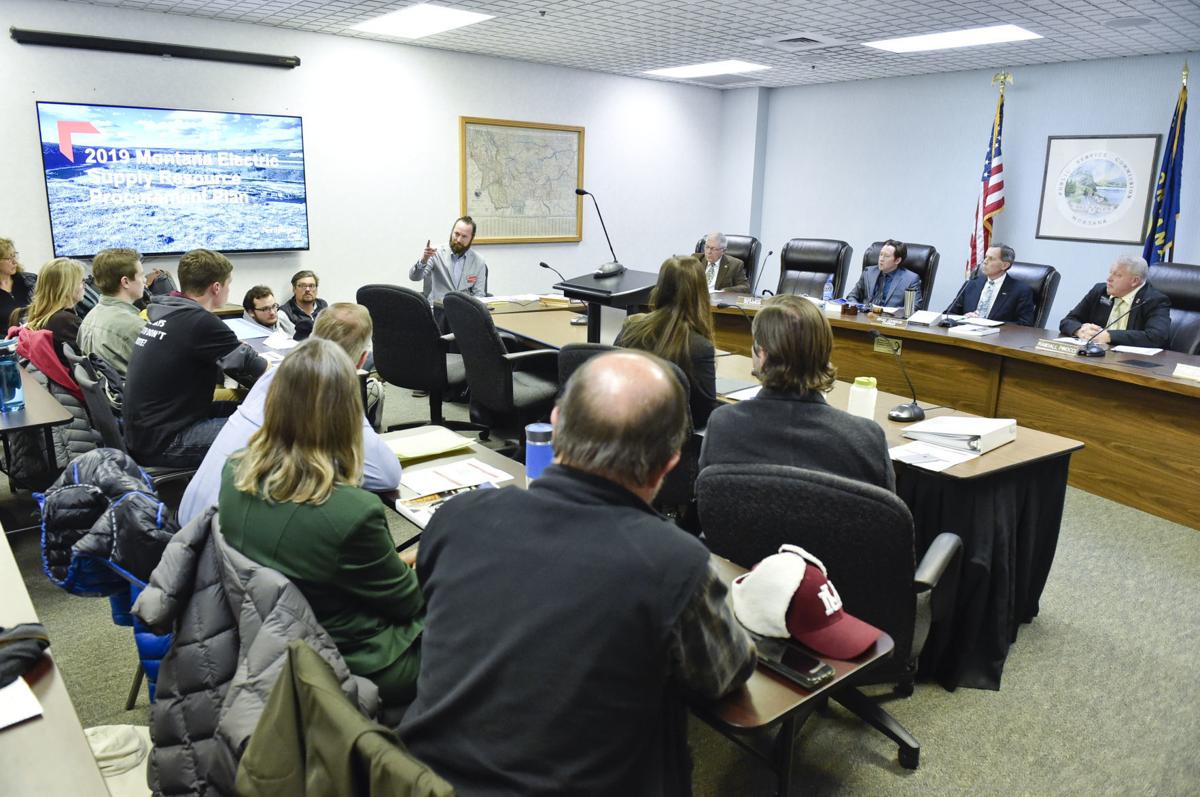 Energy politics in southern Montana rarely occur without a fight.
Consider the regional Republican primary for Montana Public Service Commission.
There's current commissioner Tony O'Donnell, constantly pressured by Colstrip politicians to greenlight any proposal, regardless of consumer risk, that might potentially extend the life of the community's vulnerable namesake power plant. Also applying pressure is the Billings-based Northern Plains Resource Council that sees renewable energy as Montana's future and wants it given priority.
And then there's Kirk Bushman, a former public service commissioner, unseated by O'Donnell in the 2016 primary, an election that featured the majority of the 2016 PSC traveling to Billings to endorse O'Donnell. In that election, because no Democrat ran, Republican primary voters decided the office in June.
Bushman is back on the primary ballot this year asking voters to give O'Donnell the boot.

And then there's Daniel Zolnikov, 2019 chairman of the Montana Legislature's House Energy, Telecommunications and Federal Relations Committee. Zolnikov reports more campaign money than O'Donnell and Bushman combined.
This time, the office won't be awarded in the spring. The winner of the Republican nomination will face Democrat Valerie McMurtry in the fall general election.
Primary ballots will be mailed to active voters May 8. The election ends June 2.
Montana's five-member Public Service Commission is a quasi-judicial body created by the Legislature to balance a monopoly utility's right to a fixed return on investment with the consumers' right to a reasonable price and reliable service.
O'Donnell said he became a PSC candidate four years ago because Bushman's peers considered Bushman too disagreeable.
"Three of the commissioners were so motivated by this, they didn't suggest I run against him, they pleaded with me. Three commissioners of the same party as Kirk endorsed me and pushed hard," O'Donnell said. "I found this out later on from people who work with engineers. Engineers, they tell me, have the tendency to believe they're the smartest people in the room.
"Kirk might have been right some of the time, most of the time. Heck, even all of the time, but in his very angry outbursts and yelling and screaming at the other commissioners, it was a broken commission."
Two of the commissioners who backed O'Donnell are still in office. Brad Johnson, of Helena, is chairman and has two years remaining. Roger Koopman, senior commissioner, is in his final year.
Bushman and Zolnikov both observe that the current Public Service Commission is in disarray. In the past year, Commissioner Randy Pinocci, a Republican from Sun River, along with Drew Zinecker, a communications director, were implicated in accessing Koopman's emails, which were then leaked to a right-wing extremist website where they were read aloud and posted. Complicating things further, Johnson's signature stamp was used to authorize Pinocci's eavesdropping on Koopman, who was unaware until his emails, some of which were personal, were broadcast.
O'Donnell said he's stayed out of the fracas and works well with all commissioners. Being able to work with everyone and listen to all sides is his strong point, O'Donnell said. The bad blood between Pinocci and Koopman hasn't made the PSC dysfunctional, he said. It is worth noting that Pinocci told Lee Montana Newspapers earlier this year that O'Donnell has asked Zinecker to do campaign work on government time. O'Donnell says the accusation is false. The details are likely in a report Lee Montana Newspapers requested two months ago, which the PSC hasn't produced.
PSC District 2 includes 10 counties and stretches from Carbon County east to the North Dakota state line. The district includes Yellowstone County.
There don't appear to be commissioners involved in this year's southern Montana primary. Zinecker has donated to Zolnikov's campaign.
"I've had a number of people ask me if I would give it another shot," Bushman said. "They were very frustrated with the PSC not dealing with the issues. People have told me they're frustrated. They don't think the PSC is understanding the issues in the dockets that are brought before them."
Bushman said it was unethical for Johnson, Koopman and former commissioner Travis Kavulla to get involved in his 2016 primary race. A return to the commission for Bushman would mean having an engineer at the table to add a different perspective, he said. His contributors include Republican Sen. Duane Ankney, of Colstrip, who supported Bushman in 2016, as well.
Zolnikov said much of his time at the Legislature involved resolving issues the PSC couldn't.
"We always seem to be trying to fix many of the mistakes by the commission that aren't legal, don't have standing, aren't well thought out, don't have some extra protections or clawbacks," Zolnikov said.
Both Zolnikov and Bushman are critical of the way the PSC has dealt with the federal mandate that alternative energy projects of a certain size be given contracts with monopoly utilities and prices for energy based on the utilities' avoided cost, that is to say what it would cost the utility to either generate the power itself or buy it from another source.
In 2016, at the request of NorthWestern Energy, the largest monopoly utility in Montana, the PSC suspended the standard rate offered to small solar developments at NorthWestern's request. The utility had argued that the fixed price set years earlier by the PSC was too expensive. What followed in the year to come was a resetting of rates and a shortening of contracts that Commissioner Bob Lake, of Hamilton, was caught on a hot mic acknowledging would kill the solar industry. The short contract terms were then applied to all generation contracts, including for larger wind and solar renewable energy projects, as well as NorthWestern's own developments.
Lawsuits ensued. The PSC lost in the lower courts and now awaits a ruling by the Montana Supreme Court. Whether the commission was in the right is one of the bigger disagreements among the three candidates.
Bushman was on the commission at the time the rate was suspended. He and Kavulla voted against the move. The next year, the PSC was shortening contracts, from 25 years down to five and then back to 15. The changes lead to lawsuits.
"Did they handle it appropriately? No. I think they had a knee-jerk reaction," Bushman said. "There's two levers that (the federal government) gives the PSC, avoided cost and length of contract. And they yanked on the contract length so hard. They took it to five years. Nobody can recoup an investment in five years. And then they realized that, is my understanding, and then they exempted NorthWestern Energy. And when they did that, they clearly showed bias and then you're done, right? It showed a complete lack of understanding of what their actions were doing. So much so that it was taken into courts and the solar companies are having success in the arena of the courts. Needless to say, this is problematic for the ratepayers."
Zolnikov said in rashly shortening the contracts, the PSC surrendered its authority to the courts, while also making it difficult for NorthWestern Energy to do long-term planning.
O'Donnell said the shorter contracts, once reset to 15 years, were in line with what other states had done. He is convinced the Supreme Court will reverse the lower court decision, by District Judge James Manley, against the PSC and the commissioners will be proven right. And, that the court will conclude that negative comments by commissioners in opinion columns and public settings were not proof of bias.
"For Manly to say we had this bias, so what? It didn't have any effect upon the outcome. He didn't say so. It doesn't exist," O'Donnell said. "And that really burns me, also, that he can be allowed to infer something that he has absolutely no basis whatsoever for. That's judicial activism in the worst way."
The other big difference between the candidates is how to manage consumer risk, an issue that's at the forefront of NorthWestern Energy's request for preapproval to buy an additional 12.5% share of Colstrip Unit 4. Montana Consumer Counsel has expressed concerns about unknown risks the sale presents to NorthWestern customers. The counsel wants more information about the costs associated with the Colstrip share.
Zolnikov said it's time for the PSC to abandon the preapproval process for power plants and require competitive bidding for anything a utility wants to buy. Because currently, the preapproval route allows a no price comparison to other energy sources.
"We don't know if there's a cheaper resource because there's not a competitive method. If we go the competitive way, it's successful in court and it allows competition to ensure anything else has a chance at the table," Zolnikov said.
O'Donnell said earlier this month that he's excited about NorthWestern owning more of Colstrip and looks forward to voting for the purchase later this year.
Bushman said the costs customers will pay as a result of the NorthWestern purchase will be revealed in future rate proceedings, after the PSC grants approval of the purchase.
Get Election 2020 & Politics updates in your inbox!
Keep up on the latest in national and local politics as Election 2020 comes into focus.