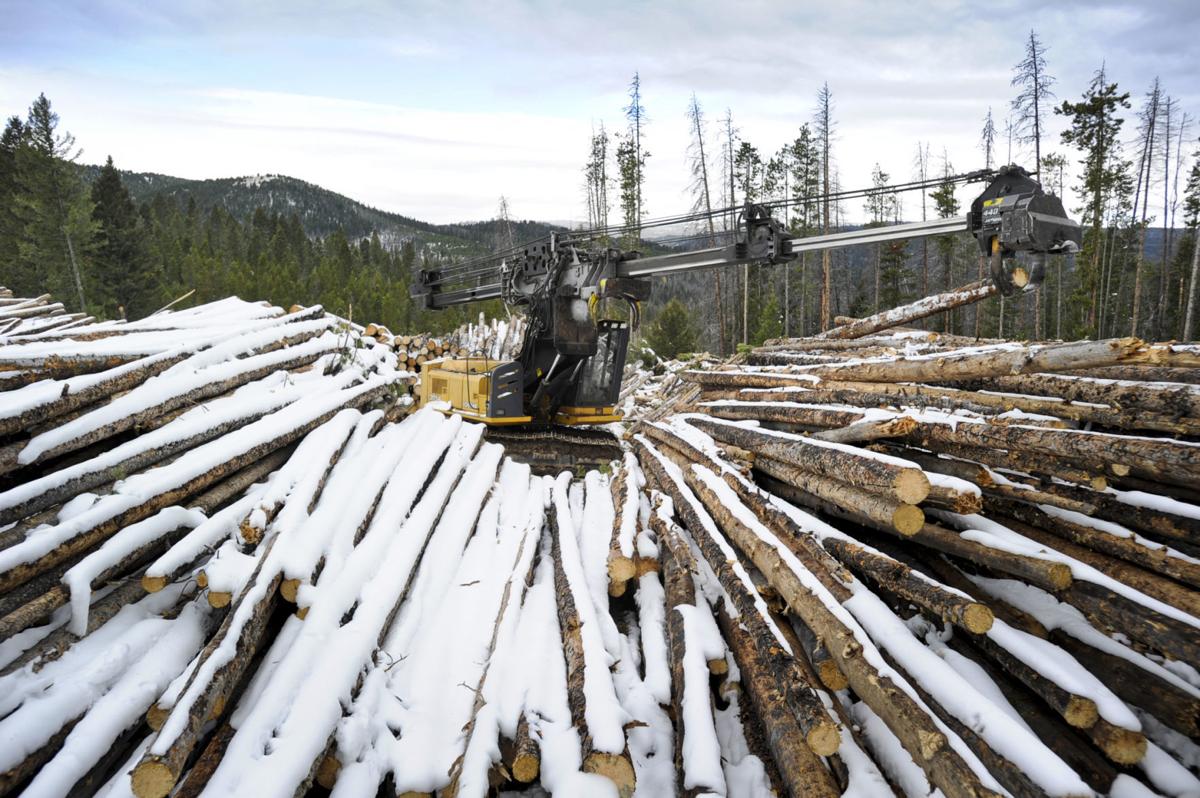 After failing to receive broader authority to log national forests through the 2018 farm bill, President Donald Trump issued an executive order Monday to boost the cut on Forest Service and Department of Interior lands.
"To protect communities and watersheds, to better prevent catastrophic wildfires, and to improve the health of America's forests, rangelands, and other Federal lands," Trump ordered the secretaries of Interior and the U.S. Department of Agriculture to identify a multitude of logging projects.
The order also urges "developing and using new categorical exclusions" to speed projects along and avoid delays while also reducing the time required to comply with "obligations under the Endangered Species Act."
Although executive orders carry the force of law, Congress has the power to overturn them or deny funding.
Details
Under Trump's latest order, the acting secretary of Interior — Ryan Zinke stepped down as the agency's leader at the beginning of the year — is ordered to identify 750,000 acres of DOI lands to reduce fuel loading; 500,000 acres to protect water quality and mitigate severe flooding and erosion risk from forest fires; and to treat 750,000 acres of land for native and invasive species.
Interior also must offer 600 million board feet of timber to reduce wildfire threats and improve forest health. To accommodate the logging, Interior is ordered to maintain public roads.
The Department of Interior oversees the Bureau of Land Management and National Park Service.
USDA
Likewise, Secretary of Agriculture Sonny Perdue is ordered to identify 3.5 million acres of land for fuels reduction; 2.2 million acres for water quality and erosion; and treat 750,000 acres for native and invasive species.
Trump also ordered the secretaries to identify by March 31 salvage logging projects where forests have been burned or killed by insect infestations.
Response
Trump's executive order drew fire from conservation groups.
"Trump likes to think he is a dictator, but he still has to follow the Constitution," said Michael Garrity, of the Alliance for the Wild Rockies, in an email. The Alliance is a frequent protester of logging sales.
"If Trump brings his proposal before Congress, there will most likely be public hearings where the public can see that most of the fire-fighting proposals Trump is calling for is a waste of money," Garrity added.
Land Tawney, president and CEO of Backcountry Hunters and Anglers, said in a press release that the language of Trump's order was "vague" and consequently could harm valuable wildlife habitat.
"Public lands sportsmen and women understand the need to manage wildfires; however we draw the line at approaches that could do so at the expense of our shared natural resources and outdoor opportunities," Tawney wrote. "We need a balanced approach that manages young successional and old-growth forests."
Study
Garrity pointed to the Forest Service's own studies which have shown that, in part, "Treating fuels to reduce fire occurrence, fire size, or amount of burned area is ultimately both futile and counter-productive," according to a 2008 article. The paper was authored by researchers at the USDA's Rocky Mountain Research Station, Fire Sciences Laboratory in Missoula.
The article went on to conclude: "We believe that the primary goal of fuel treatment should be to create landscapes in which fire can occur without devastating consequences. Once these conditions have been achieved, wildfire need not be as vigorously suppressed and can itself play a role in maintaining these landscapes."
Sen. Jon Tester, D-Mont., said in an email that he supports "collaborative forest management" and "ways to make government more efficient. But you cannot address the growing threat of wildfires without tackling climate change head on."
In the past Trump has deemed climate change a hoax.
The move was hailed by Sen. Steve Daines, R-Mont., whose staff said in an email that he "strongly supports this action and looks forward to getting the Forest Service back to work as quickly as possible so they can implement it."
In a weekend tweet Daines thanked Trump and said the move would reduce the risk of severe wildfire and create more jobs.
In the farm bill the Trump administration had sought broader authority to log forests in the wake of California's deadly wildland fire season, but Congress instead expanded a program that encourages state and federal agencies to work together on forested areas near homes.