In a speech that anyone who heard the president's son when he campaigned on behalf of Republican candidates in Montana last year would find familiar, Trump Jr. and his girlfriend Kimberly Guilfoyle, a former Fox News personality, traded off praising President Donald Trump's performance in office with a litany of charges against Democrats they called "socialists," the media they called "fake news" and protesters who gathered outside the building they called "triggered." Trump Jr. also mixed in the promotion of his recently published book, "Triggered."
Neither of Gianforte's opponents came up during the event, where the price of admission was $250 a person minimum and up to $1,000 for a private reception and photo opportunity. 
Gianforte told the crowd he could duplicate Trump at the state level.
"It just shows you what a business guy can do if you let people keep the fruits of their labor by lowering taxes and peeling regulations back," Gianforte said. " … Imagine if Montana took a page out of that national playbook and we put a business guy in the governor's office and we lower taxes to let Montanans keep more of what they earn."
Gianforte moved to Bozeman nearly 25 years ago and founded RightNow Technologies, which later sold to Oracle for $1.8 billion. In his 2016 gubernatorial campaign, which he lost to Bullock, and both of his successful races to the U.S. House, Gianforte has campaigned on being a successful businessman and said that approach would best serve Montana either in Washington, D.C., or Helena.
Before saying he wanted to let Trump Jr. do most of the talking, Gianforte told Republican state lawmakers that if elected governor, their work would not have "ended up in the trash can" like he said it has done under Bullock, citing specifically a so-called "born alive" abortion bill.
Trump Jr. started by criticizing the protesters and calling Helena, the state capital, the "People's Republic."
"We're actually doing something right if we're triggering them a little bit," Trump Jr. said of the protesters.
He moved between touting his book and voicing frustration at what he called the "fake news," retelling a story he shared several times in 2018 about shooting prairie dogs in Montana. Then he moved on to the 2020 races here. In addition to Gianforte, Trump Jr. called out Rosendale, who is running for U.S. House and attended Sunday night, and U.S. Sen. Steve Daines, who is seeking reelection. Opponents either in the Republican governor primary or Democrats were not mentioned.
"You get that trifecta, you can actually do something," Trump Jr. said. "… You have an opportunity to right the course that you all know is going wrong so quickly."
Trump Jr. then discussed impeachment, saying the son of former Vice President Joe Biden has gotten off too easy for his involvement with a Ukrainian oil company. There has been no evidence of any wrongdoing by Hunter Biden and his work with Burisma.
You have free articles remaining.
"We saw it play out for two years with the Russia hoax," Trump Jr. said. "This is just version 2.0 or 3.0 or 4.0, whatever they're throwing at the wall."
Before closing, Trump Jr. equated Gianforte's business experience to that of his father's in terms of being a political outsider before holding elected office.
"I want more guys that actually know how to do it in the real world who aren't going to just get superficial and fictitious wins," Trump Jr. said.
More than two hours before the event, protesters gathered outside the 1905 Cass Gilbert-designed Montana Club building, eponymous with the gentleman's club founded in 1885 to which it traces its roots.
Outside the building's hallmark stone arches, protesters filled the sidewalk, some holding signs, in 40-degree weather with 20 mph winds to voice their objections to Gianforte, Trump Jr., and the president.
Brian Miller came dressed as President George Washington and used a megaphone to talk to those gathered about impeachment. Miller said he wants to see a secret ballot on impeachment in the Senate so Trump cannot intimidate senators to sway their vote.
"That's the pressing thing right now," said Miller, of Helena.
Miller was also critical of Gianforte for not holding in-person town hall meetings with Montanans.
"Gianforte doesn't meet with voters," Miller said. "Why would he run for a job where he's supposed to talk to the people?"
Carol Clifford, also of Helena, said she's ready to see Trump out of office.
"We need to stand up to the hateful things that he has said and done," Clifford said, adding that Gianforte's support of Trump has been "an outrage and a shame."
"(U.S. Sen.) Jon Tester has had public meetings where you can ask any question from the audience," Clifford said. "You just can't do that or have the same feeling over the phone."
Donald Trump Jr. stumps for Greg Gianforte during a campaign fundraiser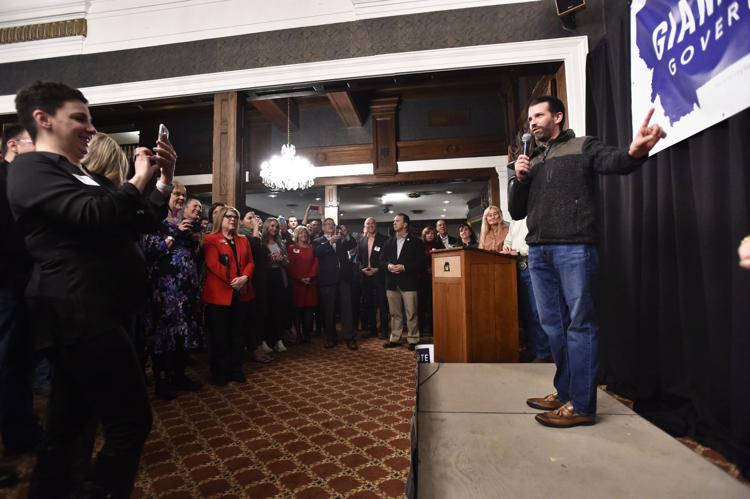 Donald Trump Jr. stumps for Greg Gianforte during a campaign fundraiser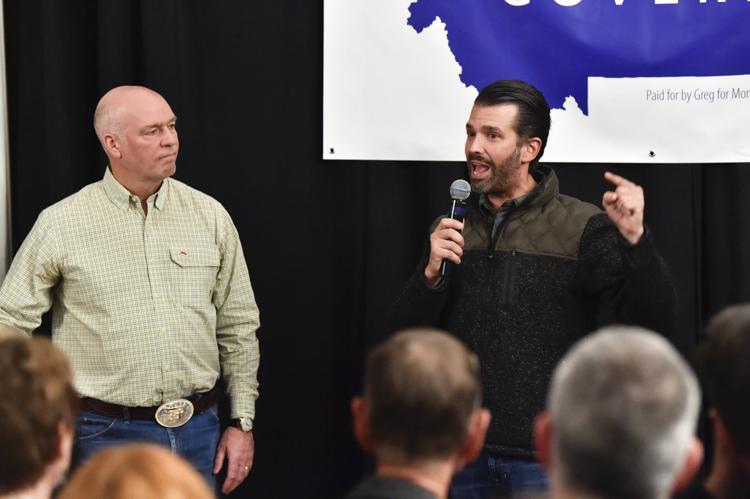 Donald Trump Jr. stumps for Greg Gianforte during a campaign fundraiser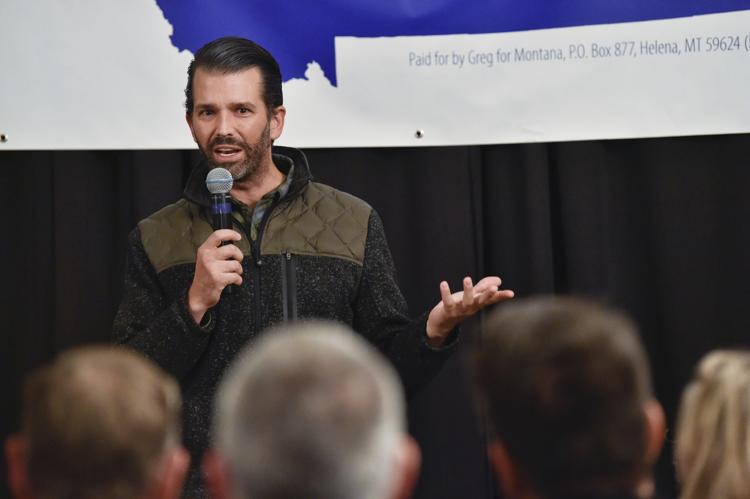 Donald Trump Jr. stumps for Greg Gianforte during a campaign fundraiser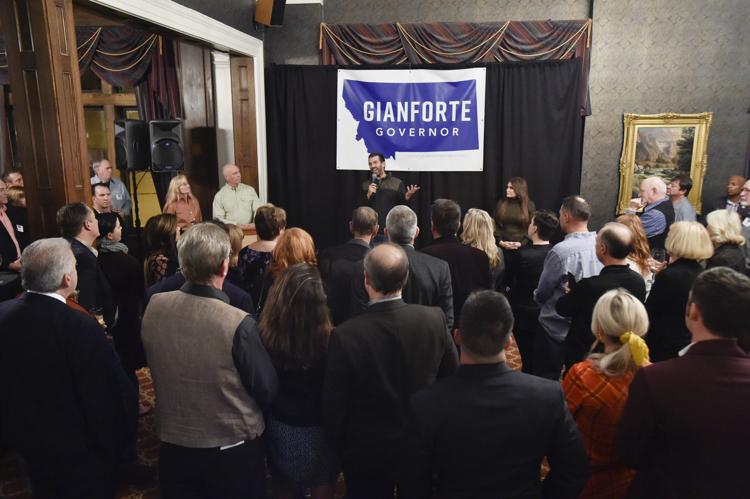 Donald Trump Jr. signs a copy of his book "Triggered" f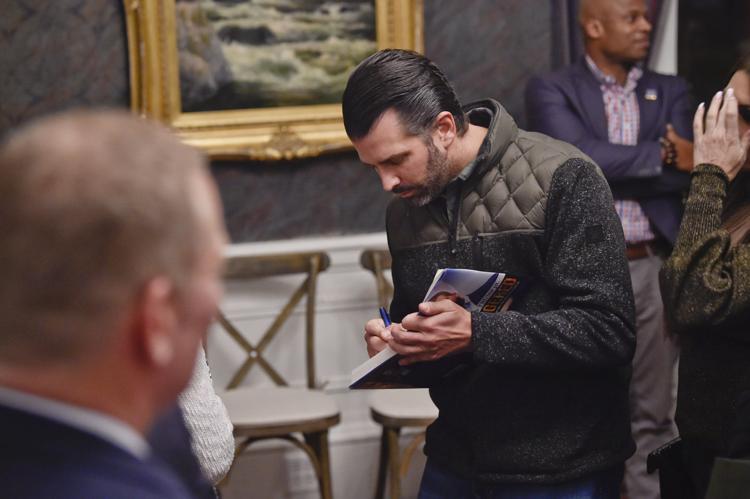 Greg Gianforte speaks at a campaign fundraiser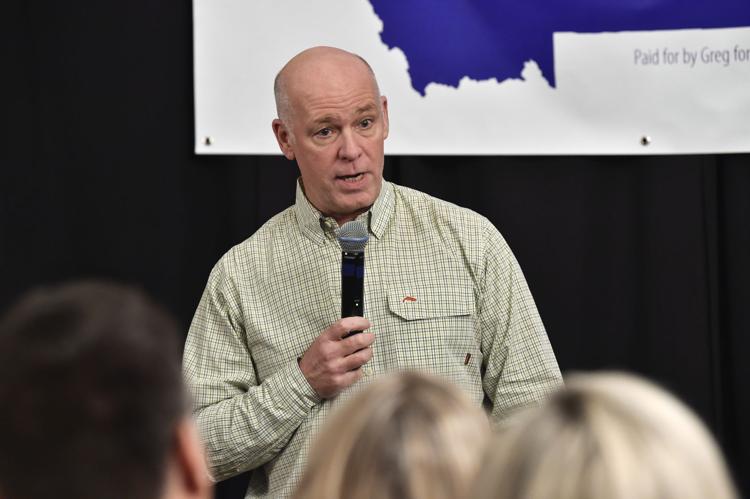 Brian Miller dressed as George Washington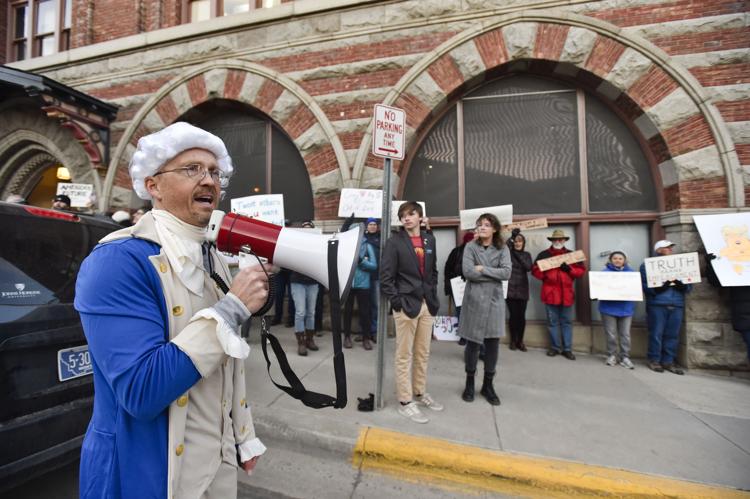 Protesters demonstrate outside the Montana Club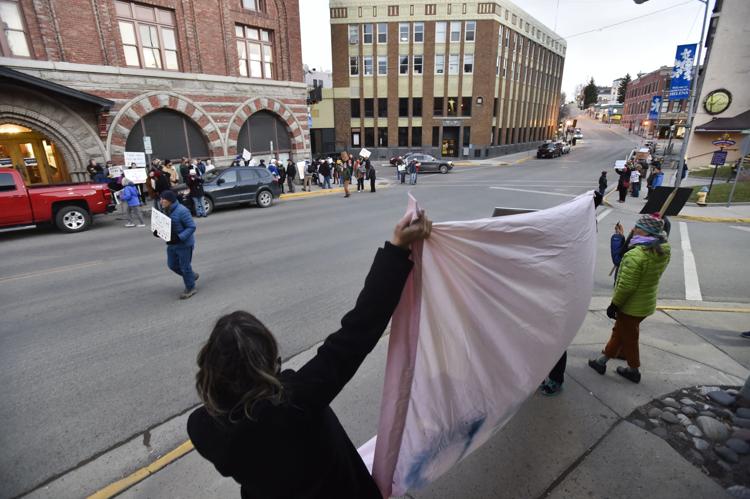 Republican party staffers hang a Greg Gianforte campaign poster
Helena police officers move protesters off the street Sunday evening outside the Montana Club.