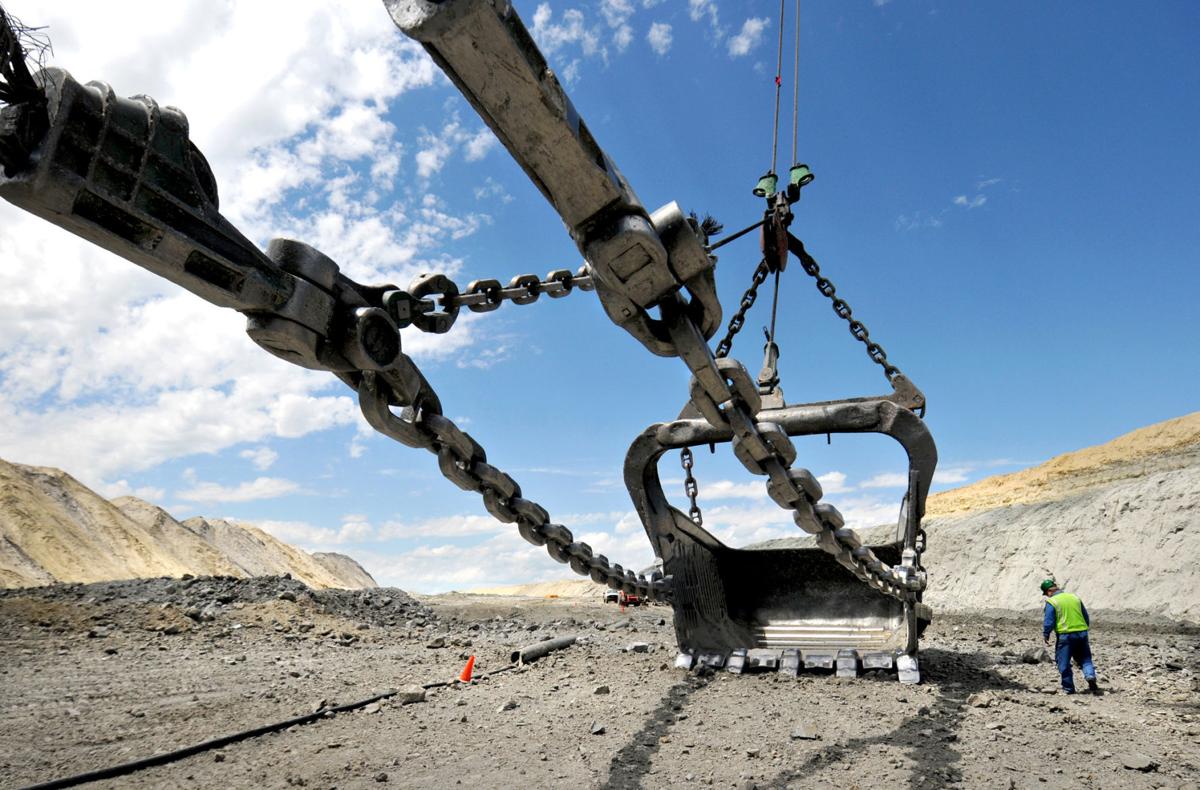 The latest coal contract for Colstrip Power Plant has prompted calls for investigation in Washington state, where researchers have questions about new details.
Three of Colstrip Power Plant's five monopoly utility owners do business in Washington, which as a state consumes more electricity from the coal-fired southeast Montana generator than any other.
Now researchers for Washington's Utility and Transportation Commission want to know whether customers are overpaying for the 10-square-mile expansion of Rosebud Mine, while also not benefiting from a substantial tax credit.
Washington utilities face a coal power ban in 2025. The mine expansion opens up 70 million tons of coal, enough to keep Rosebud supplied through 2049, according to permit details. Customers of Avista Corp., PacifiCorp, and Puget Sound Energy shouldn't be paying to expand the mine or reclaim it for coal mined beyond 2025, researchers say.
"Staff is concerned that Washington ratepayers will be paying to expand the Rosebud Mine and the future associated remediation costs of this expansion — at a time when the Washington Legislature, in the Clean Energy Transformation Act enacted last year, has directed this commission to end Washington's relationship with coal," wrote Joe Dallas, state attorney for the Counsel for Washington Utilities and Transportation Commission staff.
WUTC staff raised the mining costs issue after reviewing a highly confidential copy of the new coal supply agreement, which had been submitted by Puget Sound Energy in a case to determine the utility's future rates. Of the three Colstrip owners doing business in Washington, only Puget had disclosed the contract.
The WUTC staff is now asking that all three companies be included in a joint investigation.
Coincidentally, Montana's Public Service Commission is expected Tuesday to take up a NorthWestern Energy request to prevent the coal contract from becoming public in Montana. The utility is seeking approval to buy out Puget Sound Energy's share of Colstrip Unit 4, the coal contract will affect what the extra 25% share of Colstrip Unit 4 means to customer rates. Montana legislators, consumers and environmental groups are pressuring the PSC to let the public see the contract details.
NorthWestern told The Gazette last week that it isn't asking the PSC for unusual treatment. Utilities are granted confidentiality for coal contracts frequently.
"The terms of the coal supply agreement are available to the Montana Consumer Council, Montana Public Service Commission, and parties participating in MPSC proceedings where the coal supply agreement is an issue," said Brandy Powers, a NorthWestern spokesperson. "However, the terms are confidential business information of competitive entities. It's standard practice for competitive businesses and vendors, like Talen Energy Montana LLC and Westmoreland Rosebud Mining LLC, to protect confidential business information during regulatory proceedings.
Colstrip owners have filed with regulators coal contracts completely un-redacted or partially redacted in the past. The 1998 coal agreement was filed completely un-redacted in Washington.
The second prong of Washington's joint investigation request concerns the federal "refined coal" tax credit. A federal subsidy created in 2004 as part of the American Jobs Creation Act, the more than $7-per-ton refined coal tax credit rewards businesses that precondition coal with chemicals to bring emissions into pollution compliance. Companies get the credit for lowering nitrogen oxides by 20%, or mercury and sulfur dioxide by 40%.
The tax credit is for marginal coal, meaning coal that doesn't already pass regulatory muster. WUTC staff in a separate investigation has been asking whether a shift to burning marginal coal resulted in the malfunctioning of Colstrip Units 3 and 4 during 77 days of the summer of 2018. The units were shut down over excessive hazardous air pollutants and then operated only to see if maintenance had fixed the problem, according Montana Department of Environmental Quality reports.
In the 2018 summer shutdown investigation, utilities have insisted WUTC questions about marginal coal are a dead end. The Gazette has asked NorthWestern Energy, Puget Sound Energy and Talen Energy about "refined coal" efforts at Colstrip. Puget and Talen, over several days, didn't respond. NorthWestern wouldn't discuss potential coal refining at the Colstrip.
"Northwestern doesn't comment or speculate on potential transactions," Powers said.
If there were lower fuel costs at Colstrip for any reason, those costs should by law be reflected in customer bills through annual adjustments for power costs and credits.
"Lower fuel costs would be reflected in the PCCAM (Power Cost and Credit Adjustment Mechanism) rates as a benefit to customers," Powers said in an email. 
There have been steps taken toward setting up Colstrip Power Plant for the tax credit. Tinuum Group, a Colorado-based company that specializes in refined coal, has posted job listings for Colstrip since 2018. Specifically, Tinuum was hiring a facility manager "dedicated to providing additives to coal as conveyed into the Colstrip Power Plant in Colstrip, Montana."
That push to extend the credit took place in May. By the end of the year, other members of Congress were calling on the tax credit to be investigated. There were concerns the tax credit was benefiting Wall Street banks but doing little for coal country.
A chief financial officer for A.J. Gallagher & Co. told analysts in 2019 that the global insurer was making 200% to 500% profit on cleaned coal tax credits, by producing refined coal. The account was reported by Reuters in a news investigation in December.
Both the Reuters investigation and a study by Resources for the Future concluded that refined coal projects weren't bringing marginal coal into emissions compliance, though 20% of coal burned at American power plants was refined.
Get Government & Politics updates in your inbox!
Stay up-to-date on the latest in local and national government and political topics with our newsletter.