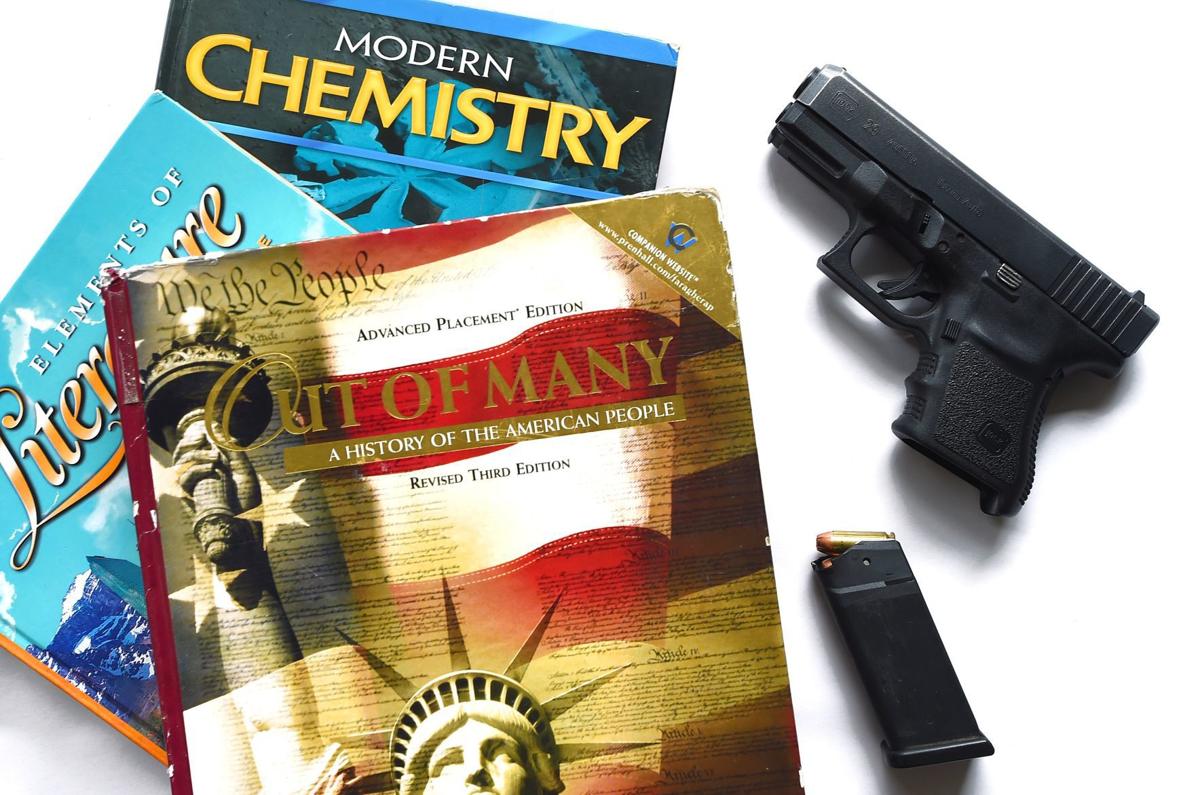 Dave Perkins gets paid to worry.
As superintendent of Custer schools, he worries about student achievement, about staffing, about athletics, about school buses, about textbooks.
And about student safety.
State law allows Montana school boards to let anyone carry a gun in schools. Custer is one of only three that do — fewer than one percent of schools in a state that loves guns.
Most education advocates argue vehemently that guns have no place in schools, and that their presence only increases the chance of a deadly accident. But dozens of legislators and a handful of educators focus on rural schools similar to their one-room roots, where a lawman likely wasn't stationed nearby, arguing that slow response times from law enforcement could leave violent actors unchecked.
Virtually no academic research shows armed staffers improve school safety, and limited incidents complicate research on active shooter situations. Montana has had two deaths in separate school shootings in modern history.
In Cut Bank, self-described "gun nut" and superintendent Wade Johnson has been on both sides of the debate. A few years ago, he asked school trustees for permission to carry a gun. They said no. And after reviewing research that showed New York City Police had hit their target 18 percent of the time in shootouts, he now agrees.
"That's unacceptable in a school," he said.
The Gazette requested information from each of Montana's school districts — more than 300 communities.
Three school districts have staff members that actively carry. Two others have current authorizations for a staff member to carry a gun, but they don't pack. One school recently had a teacher carrying a gun, but no longer does.
"Talk about a polarizing subject. You might as well talk about abortion," said former Saco superintendent Gordon Hahn, who carried a gun at school for about 5 years.
At least 12 other states allow some form of carry in K-12 schools. Utah has allowed school employees to carry for more than a decade. 
At Custer, on the fringes of Montana's most populous county, trustees estimated it could take between 20 and 60 minutes for an armed law enforcement officer to respond when they considered authorizing a gun in school — too long, all five members of the school board agreed.
Frontier culture
Most people in Montana don't worry much about guns, at least not about their own.
"You can go to any house, any pickup along the street, and probably find a rifle of some sort," said Wade Sundby, Saco's new superintendent.  
When Steve Bradshaw, now superintendent at Columbia Falls, commuted from Huntley Project to teach in Hardin in the 1970s, he'd usually have a rifle in his truck — later parked in the school lot — and pelt payments on his mind.
"I was known to pull over occasionally and take a shot or two at a coyote," he said, guessing that "very few" pickups in the school parking lot didn't have a gun at the time. 
Whether the Gun Free School Zones Act of 1996 changed that is up for debate; none of the dozens of administrators The Gazette talked to said they make a habit of checking parking lots, though there was a general consensus that guns are less pervasive than in the past.
Despite that culture and Montana's law, guns have rarely found their way into schools — only Lima, Belfry, Custer and Harrison have recently had an armed staffer, according to records requests.  
Lima school board minutes show that there was no discussion about the proposal when it passed unanimously in October, and the staffer carrying a gun declined comment. Belfry's armed staffer didn't respond to interview requests, and board minutes show no discussion and unanimous approval of the firearm authorization.
However, Custer had an extensive planning process for arming a staffer. For several months in 2013 and 2014, a safety committee made up of law enforcement; trustees; and Perkins, the superintendent who shepherded the process, examined types of weapons, bullets, training, background checks and police coordination. A pair of public meetings were held discussing the proposal, and letters were mailed out to district parents. Trustees unanimously approved a proposal requiring a psychological review, firearms training and background checks to carry in school.
"We did things right," said Perkins, who provided hundreds of pages of documents related to The Gazette's records request. 
Not every school has been within Montana law in their decision to arm staff members.
In Harrison, on the heels of a second safety scare in 2014 involving a high school student who previously brought a loaded .357 Magnum revolver and an unloaded .22-caliber pistol to school with plans to "shoot up a school," officials gave a teacher permission to carry a weapon outside the public eye.
Superintendent Fred Hofman said he approached school trustees individually and gathered that there was "general permission" to arm a specific teacher. That teacher left after the 2014-15 school year, and no employees have carried a gun since. A memo was placed in that teacher's personnel file, but was discarded after the teacher left. Other than that, there was "zero documentation," Hofman said.
Saco
Hahn, the retired Saco superintendent, was driving to Malta to have lunch with his wife in April. When they sat down, Hahn, who retired last year, planned to scan the room, looking for an object that could be thrown at an active shooter. He also looked for exits — ways to escape.
"Sadly, we live in that world today," he said.
Hahn now travels the state part-time running active shooter training with schools. He adheres to an approach that emphasizes evacuation and fighting back against active shooters. He's done presentations in about a dozen schools.
"You can't just hide in a room. It just doesn't work," he said. "If we all just stand around and do nothing, they're going to shoot until they're out of ammo."
For Hahn, the gun at school was "out of sight and out of mind."
"Once it was decided, I had staff that didn't even have a clue for two years," he said. "It gave me some ability to do something other than throw a chair at a person."
Hahn's authorization at Saco was passed on to Sundby, the new superintendent. He doesn't use it.
"I guess my opinion would be if it's a necessity then every school in the state of Montana would do it," Sundby said. "I guess until, you hate to say it, until more situations arise where it's needed, is it a necessity at this point in our educational system?"
In Philipsburg, superintendent Mike Cutler is also authorized to carry a gun but chooses not to. He said he told trustees that he may or may not carry when they approved the policy.
Sundby spent 16 years in the military. When trustees asked if he'd be comfortable drawing a weapon on someone, he said, well, that comes with the territory.
He said his decision not to carry hasn't caused any waves at school, among teachers or students.
"For all they know I am," he said.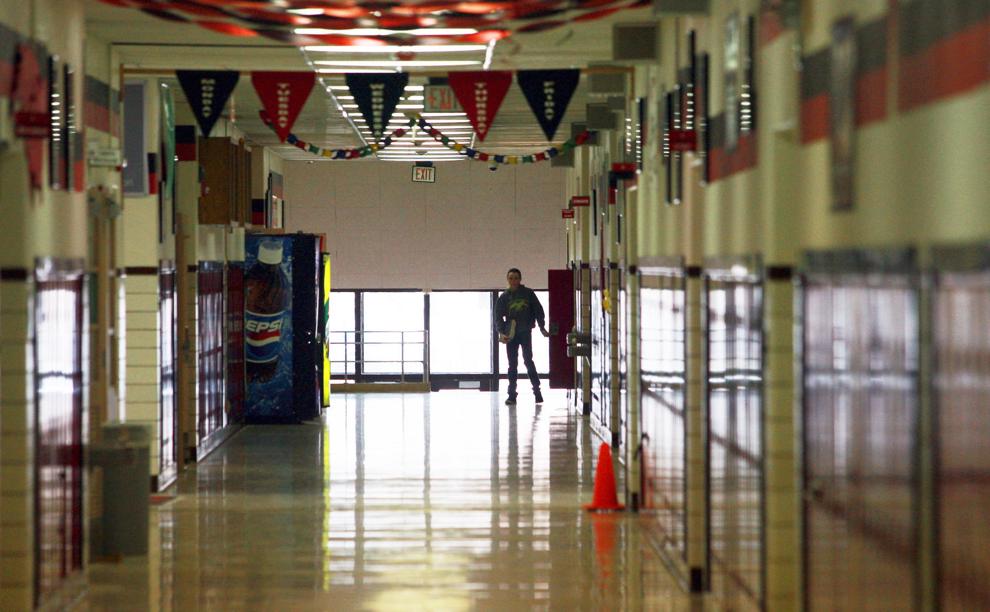 Response times
There's good reason to worry about active shooter response times.
A joint Texas State University and FBI report found that even with law enforcement response times within three minutes, shooters inflicted "devastating damage."
But there's little evidence on whether armed civilians effectively stop mass shootings.
The report on more than 100 "active shooter" situations between 2000 and 2010 found that about half ended before police arrived, and the attacker usually killed themselves. About one-third ended because of civilian intervention, but only three of those cases involved use of a firearm. Researchers have cautioned against drawing conclusions from the small sample size and have advocated for more civilian training for active shooter situations.
In each of Montana's past four legislative sessions, there's been a bill addressing the presence of guns in schools, ranging from opening up carry to anyone with a concealed permit to easing student penalties for having fake guns on school grounds.
Most recently, a bill from Rep. Seth Berglee, a Joliet Republican, would have allowed school employees who meet certain requirements to carry concealed weapons on school property.
It's the type of bill John Moffatt calls "the most ridiculous thing I've ever heard."
On Dec. 4, 1986, Moffatt watched his blood pool as he lay in the hall of Lewistown High School, where he was a vice principal. A bullet had ripped through his gut.
A freshman student shot and killed a substitute teacher and shot Moffatt through the torso.
It was the first time in modern history someone died in a school shooting in Montana. The only death since was when a 10-year old in Butte shot a classmate on the playground in 1994.
Moffatt's liver was damaged, but he was saved in part by a trained medic who happened to be visiting the school. He testified against Berglee's bill in February, and has argued that easy access to guns perpetuates violence.
"I know absolutely that there was nothing I could have done even had I been armed at that time," he told legislators, recounting how he ran toward a sound he initially thought was an explosion, and found a gunman instead. "We passed each other in the hall in a matter of a second. And at that time, he raised the gun and he shot me in the abdomen. I was severely wounded. I was down on my hands and knees on the floor."
The student who shot Moffatt left the school, running home with police in pursuit. His parents turned him over to police.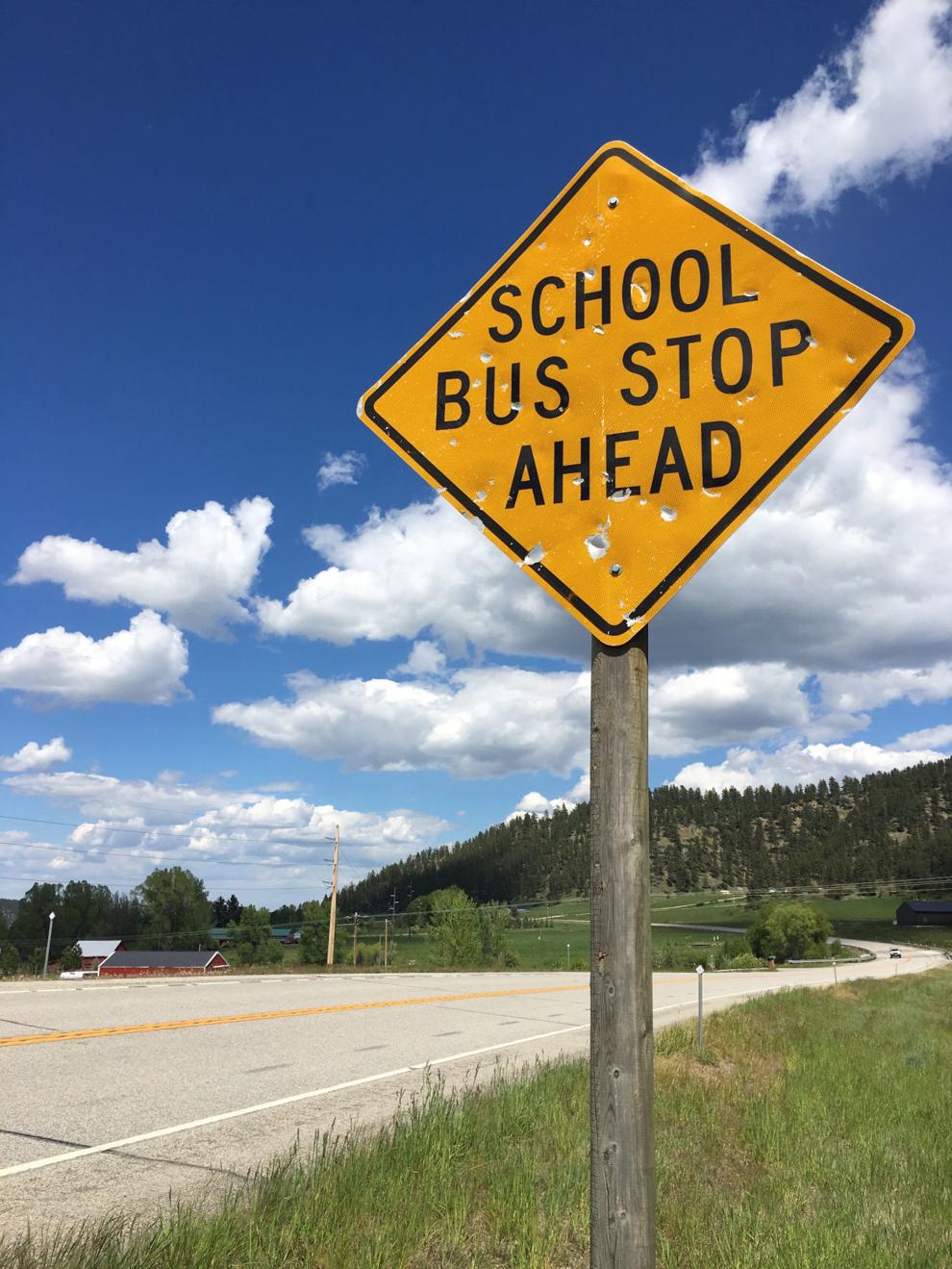 Control
Between 2006 and 2015, 26 Montana teenagers have died in vehicle wrecks. In 2014 and 2015, people between the ages of 10 and 17 killed themselves at a rate of 11 per 100,000. Statistically, almost half of them used a gun.
Traffic wrecks and self harm are community tragedies that kill far more children than in-school violence. But they don't spark overwhelming responses like Columbine, Sandy Hook or Virginia Tech.
"It is true that people have a perception that these things (like car wrecks) are fate or acts of god," said Carol Runyan, a University of Colorado-Denver professor.
Runyan worries about how we worry. She specializes in studying how we can prevent injuries — at home, in the workplace, on the road. She gravitates toward environmental changes, things that remove human error from the equation.
"To the extent that we can build safety into the environment, people can screw up and not get hurt," she said. "We don't just tell people, 'be careful you don't drive off the side of a mountain.' We put a guardrail in."
Things like guardrails or airbags are known as passive restraint devices. They're automatic. People don't have to think about them in the moment they're needed. They're nearly the opposite of confronting an active shooter with another shooter.
Things like locked doors, buzz-in systems, evacuation plans and lockdown training hew closer to the idea of passive restraint devices, though not completely. But like airbags, which don't prevent all vehicle fatalities, they're not perfect. In the 2012 Sandy Hook Elementary shooting, the gunman blasted through the glass of locked doors. And adding security precautions like metal detectors or security officers can negatively affect how students feel about a school.
But arming a staff member as a safety measure requires a very human response.
"I think there're some misconceptions about the likely safety of arming people," Runyan said. "It's there in place to be protective. The intent is protection. But the ability to carry out the function that's required for protection is too complicated. … I think it's too much to ask."
In Saco, Hahn never envisioned himself gunning down an active shooter.
"Typically once they're confronted with another firearm, they kill themselves," he said. "My hope was if I ever had to fire my firearm … that they would just kill themselves."
He said if there was potential to hit a bystander, he wouldn't have fired.
"The success of police in shooting situations is terrible … it's not like I'm expecting to be a marksman," he said.
During debate on his bill in February, Berglee argued that even when a law enforcement officer is near, often it's still too late.
"Who's going to be able to respond in time to stop a shooting that happens in three minutes?" Berglee said. "The only person is going to be someone who is in that school."
School shootings in rural areas are exceptionally rare but can be devastating.
"The last thing I'd ever want to see is an entire town wiped out of kids because of poor planning," said Hahn. "We just can't stick our heads in the sand and say, 'It's not going to happen here.'"
It's unlikely the search for a measure of control over potential school shootings in Montana will end soon. Nationally, most people oppose carrying guns in public places; about 19 percent said it was OK to carry a gun in school, lower than any place but bars or sports stadiums, according to a new academic survey released in April. 
But overall support for carrying guns in public places has grown compared to a similar survey published in 2001.
And areas like Montana, with high concentrations of gun owners, are more likely to support carrying guns in the open.
Secretary of Education Betsy DeVos said she would support President Donald Trump if he moves to ban gun-free school zones, as he pledged during his campaign.
However, not all those who've carried guns in schools support more firearms. Hahn, after going through more active shooter training, no longer views guns as essential to responding to a school shooting.
"My perception of my weapon changed. I really didn't feel like that was the key anymore," he said. "I've changed my mind on that. I think it's still good if you have a person who has the right mindset. … Whether a school district has a gun or not, to me right now, is completely elementary."
Tomorrow: Learn more about what changed Hahn's mind and the measures that other schools have taken to improve safety.