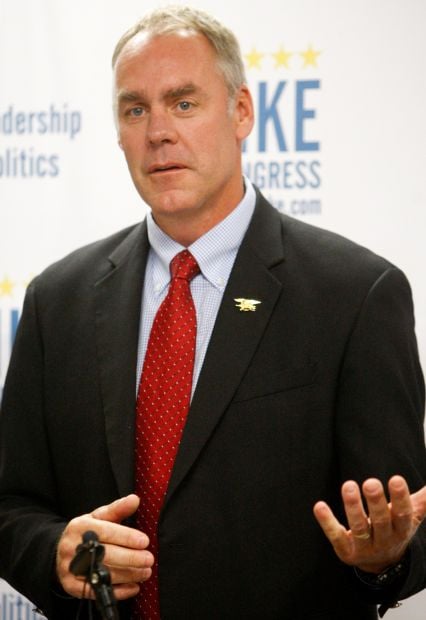 Republican U.S. House hopeful Ryan Zinke was in Billings on Wednesday presenting an energy policy he says will put Montanans to work building infrastructure for resource extraction.
The former state senator from Whitefish is running against Libertarian Mike Fellows and Democrat John Lewis in November for the seat formerly held by Steve Daines, who is running for U.S. Senate.
Lewis' energy plan focuses more on renewable energy technology and lacks depth when it comes to exploiting resources like oil, gas and coal, Zinke said.
Any energy plan that doesn't include coal, oil and gas is just wishful thinking, he told a small crowd gathered at the Billings Chamber of Commerce Office, 815 S. 27th St.
The U.S. and Montana Chambers of Commerce have both endorsed Zinke, according to his campaign.
As unrest continues to plague the Middle East and Eastern Europe, energy independence is more important than ever, he said.
"To me it's personal," said the father of a US Navy diver. "Children shouldn't fight on foreign shores for oil that we have here."
His plan calls for an expansion of West Coast ports, to bring more Montana coal to foreign markets, and to build the Keystone XL oil pipeline that would cut through Eastern Montana.
His plan also supports halting Environmental Protection Agency regulations that are pending congressional review. He fears the current EPA policies could put coal-powered facilities out of business.
While in college studying geology, Zinke said his professors warned him that oil resources would be completely depleted by 2010. "Well, God's got a sense of humor, he gave us fracking."
Zinke also talked about harnessing the natural gas being wasted in the Bakken because a collection system is not in place to get it to places like Europe where many countries are dependent on unreliable Russian sources.
"Bleeding or venting or flaring 3.5 million barrel equivalent every day in the the Bakken, because we can't build infrastructure to capture natural gas, is wasteful," he said.
While focusing heavily on a fossil fuels message, Zinke said he is not against the continued development of renewable sources such as wind, solar and hydroelectric.
"To me, it's all of the above," he said.
But, he does not support tax incentives for companies that develop renewable technologies, saying the technologies must compete in the marketplace with other energy sources.
"Government shouldn't be picking winners and losers in the energy industry," he said.
Kathy Weber, senior advisor and communications director for the John Lewis' campaign, said Zinke's message is contradictory and does not accurately portray Lewis' message.
"John Lewis believes in building a Montana-focused, responsible energy future that includes all of Montana's energy resources," Weber said.
She said Zinke is trying to take away tax incentives from some energy producers but keep them for others.
"Zinke has supported the Ryan Budget plan, that preserves a whole host of tax incentives for oil and gas companies," she said. "There's a contradiction there."
After reviewing Zinke's proposal, Weber said she believed his proposal didn't have Montanan's best interests in mind, and just creates more division.
"Zinke's plan is laced with partisan rhetoric that does nothing to solve problems or bring people together toward solutions," she said. "That's the Washington way, not the Montana way."