Reds, pinks and yellows contrasted with the golden grass and cold blue sky. Myriad colors of graffiti covered hundreds of rail cars sitting idle on a nearly 30-mile stretch of Highway 39 near Colstrip in October.
Regular commuters driving between Colstrip and Interstate 94 may already be familiar with certain rail cars with particularly elaborate graffiti scrawled across the large freights. 
Rail cars have been stored on that stretch of highway off and on by BNSF Railroad for years and vary as supply and demand for freights change, said BNSF spokesperson Maia LaSalle. 
Graffiti artists, or "writers" as they're called in the community, are often hard to identify by those who don't know what they're looking at. The stylistic writing can often look convoluted or illegible. Lettering and styles can vary for individual artists, too. Some common graffiti fonts can include "bubble fonts," which have exaggerated blown-out circle lettering.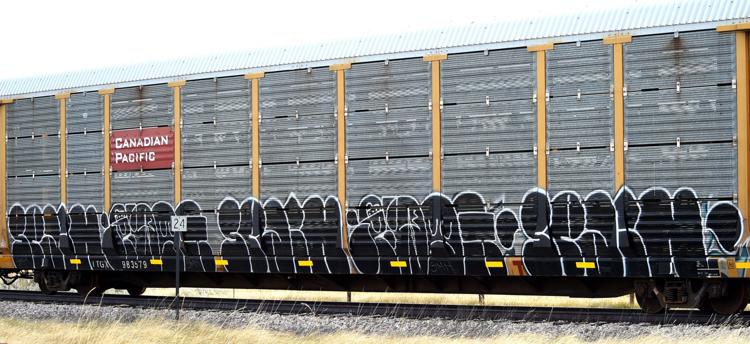 But, the hundreds of tags on the freights are likely not all from Montana graffiti artists. "Jaker" is a Montreal-based graffiti writer who is known for his large-scale tags featuring his own moniker.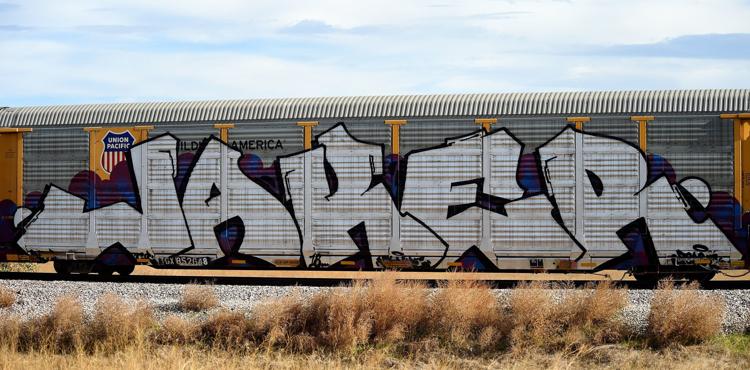 You have free articles remaining.
Four large blue tags scrawled across a freight car appear to have connections to Louisville, Kentucky. Over large lettering spelling "boog" are several smaller tags of "2 Buck." 2 Buck, or 2 Buk, was a Kentucky-based graffiti artist named John Brown. Brown was hit by a car and killed in 2015, while fleeing police after painting a mural, the Leo Weekly reported. Other graffiti artists took to spraying his tag "2 buck" to memorialize the 27-year-old artist. 
The illegible phrases and graffiti tags are seen as blights to some and works of arts to others. To BNSF crews, the graffiti is a nuisance.
---
Photos: Graffiti on rail cars stored near Colstrip painted by writers across the continent