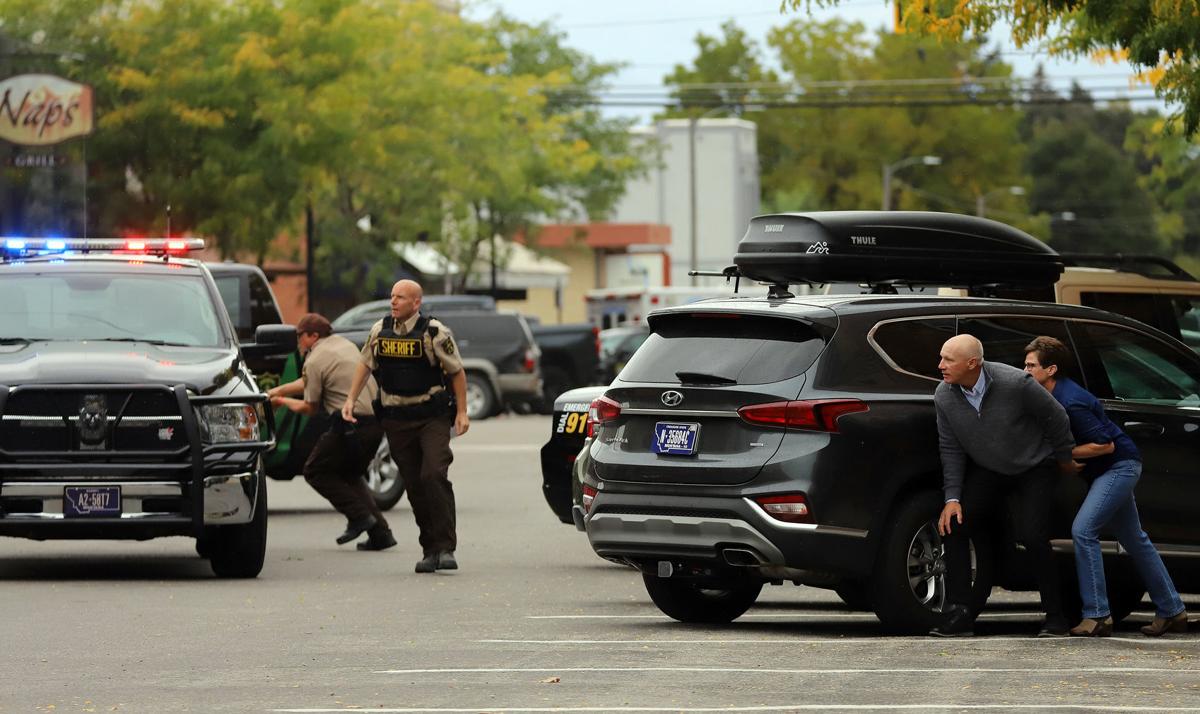 Over and over again Thursday afternoon, wheels squealed past Naps restaurant and Fords Department store as filming for the hit series "Yellowstone" took over a part of Hamilton's downtown.
As community folk gathered on a couple of corners of Second Street to watch the action, a caravan of black vehicles roared through a stoplight with their emergency lights blinking. Slamming to a stop, actors clad in vests with the sheriff stenciled across the front came out with guns drawn while a couple hid behind a parked vehicle.
Kori Anderson of the Bitter Root Land Trust had a front-row seat for the filming of the scene from inside her office.
"It's been kind of funny to watch," Anderson said. "They do the same thing over and over again and film it from different angles. It's kind of fun to see that other side of the films that I normally wouldn't have seen if it hadn't been filmed right in front of our office."
"There have been a lot of spectators," Anderson said.
Hamilton Downtown Association director Claire Kemp has been one.
"I think it's very exciting for Hamilton," Kemp said. "It's brought a lot of excitement to downtown. A lot of the people who are standing around are extras, but there are people from the community too. I came down to watch."
Members of the "Yellowstone" production company reached out to Kemp several months ago about the possibility of filming in downtown Hamilton.
"They really wanted to be good neighbors," Kemp said. "They've compensated a little bit to the businesses that had to close, and they have donated to the Hamilton Business Relief Fund."
She knows that's brought some much-needed revenue to downtown business as well.
"I've chatted with a couple of business owners who said there had been quite a bit of foot traffic through their businesses today," she said. "I watched all the crew eating to-go food, which they had to buy somewhere local. I would imagine that it has inconvenienced some with traffic and parking, but more than anything, it's very exciting."
"It's putting Hamilton on the map on a very popular TV show," Kemp said. "Most of what I've heard has been good. I think it's been well received."
Bitterroot Valley Chamber of Commerce director Al Mitchell agrees the production of "Yellowstone" has offered good exposure for the community.
"It's certainly been good for the economy," Mitchell said. "It's pumping money into the economy up and down the valley. It's providing jobs and lots of revenue for the community. And it's kind of fun to have something going on that can divert our attention away from the world of COVID for a little while."
"I know that trying to get a motel room here for the last couple of months has been impossible," he said. "It's shoulder season here. I know the motels are happy. We appreciate the boost they are giving to our economy."
Hamilton Mayor Dominic Farrenkopf said this week's filming in downtown is a bit of a trial run to see how it works for local businesses and residents of Hamilton. City staff spent a good deal of time studying the issue before granting the permit, he said.
"They seem to be very interested in what Hamilton has to offer," Farrenkopf said. "They are looking at using other parts of the city and locations in the valley. I think they're going to be here for a while unless it's not a good fit for the community."
While Farrenkopf said he's heard from some folks concerned about traffic and parking, others have said they appreciate the production company's willingness to work with the community.
"I've heard more good than bad," he said. "I think in general people are excited about having a television production happening here in our valley … In my opinion, they've made their best effort to be responsive to concerns that anyone has expressed."
A couple of years ago, the state presented Hamilton with a film-friendly award for work that it had done with other film production companies. Farrenkopf said he was interested in seeing where this all might lead.
"You never know what might spark the interest for the next thing," he said. "It's nice to have people interested in Hamilton and the Bitterroot. I feel like it's a great place to live, work and visit. I'm just a welcoming person. I want everyone to be successful, whether it's 'Yellowstone,' the Brewfest, or the farmer's market. I don't want anyone to fail."
Be the first to know
Get local news delivered to your inbox!