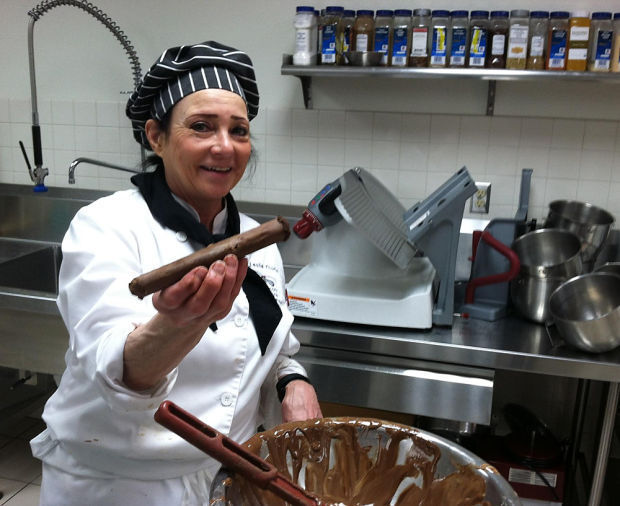 KALISPELL – Zaine Greenland, a junior at Flathead High School, was already pretty sure he is headed to Flathead Valley Community College to study culinary arts before he and hundreds of other high school students spent Tuesday on campus.
But FVCC chef instructor Hillary Ginepra still had an effect on Greenland.
"She's making me hungry," Greenland decided as Ginepra showed a group of 16 students from Flathead, Glacier, Bigfork, Whitefish and Eureka high schools around the kitchen at the Culinary Institute of Montana at FVCC.
Ginepra didn't sugarcoat the food business for the teenagers.
"It takes a lot of stamina," she said. "Typically there are some long hours, and you're on your feet all day, not sitting behind a desk. Most people are overwhelmed when they first see a commercial kitchen. They're super loud and busy."
Across the FVCC campus Tuesday, approximately 725 juniors from the five high schools dropped in on instructors or ducked into classrooms to get a taste of life after high school if you're going to study English, music, education, business, computers, health care, outdoor science, professional health and science, social and human services, theater, STEM (science, technology, engineering and math), or visual and culinary arts.
It was FVCC's seventh annual "College for a Day" program, and "the goal of the event is to allow high school students to experience the college classroom setting, meet college instructors and explore a diversity of career options."
If you wind up enrolling in culinary arts, Ginepra told them, come prepared for a challenge.
"Our associate's program is four semesters," she said, "and it's pretty intense, because that's the way the industry is."
It also looked delicious, at least when the group rounded one corner of the 3,224-square-foot kitchen and came upon FVCC student Leslie Thomas of Whitefish preparing for her composed dessert baking final.
Thomas was whipping up a box of chocolate cigars.
Where you'd normally find tobacco, you'll find chocolate mousse, Thomas explained, and by the time she's done, the chocolate cigars – rolled in another version of chocolate – will also have cigar bands (specially made of cookies and icing), and look like they're lit (one end dipped in shaved chocolate and cookie crumbs to look like ash, and wasps of smoke made from sponge sugar).
The culinary arts are for creative people, Ginepra told the visiting students, and also adventurous ones.
"You have to like to try new things," Ginepra said. "Have you ever eaten squid? Snails? Liver? You've got to try everything. We just had octopus in here last week. One student said, 'I don't want to eat the suction cups.' That's the best part!"
Food is no different than fashion, Ginepra added.
"It always changes, and you have to be on top of trends," she said. "You have to read a lot of trade magazines."
Culinary arts students don't walk out of school and put on a chef's hat, Ginepra said.
"It takes years to earn the big tall hat," she explained. "When you graduate, you'll likely work on a line, acquiring more skills. Cooking is understanding the whole picture, the science and math of it, picking the right pot, plating the food – it's lifelong learning. School is just a foundation."
There's more to the field than restaurants, Ginepra added. There are jobs with hospitals, schools, cruise ships, airlines.
In addition to teaching at culinary schools in Chicago and Vermont before coming to Kalispell, Ginepra operated her own catering and personal chef business for private clients and yachts at World Trade Center Marina in New York City.
FVCC executive chef instructor Howard Karp, the director of the Culinary Institute of Montana, is a former director of food and beverage operations at the Waldorf-Astoria in New York City. He has organized and directed six Super Bowl commissioners' parties and cooked for four U.S. presidents and Britain's Prince Andrew.
But on Tuesday Greenland, the Flathead High junior, seemed most impressed with Ginepra's skills with a knife as she cut a carrot down to size.
It takes practice, she told the high school kids, and lots of it. Asked how many carrots he'd gone through honing his knife skills, FVCC student Cody Hegstrum answered, "About 800 pounds' worth."
Another culinary arts student, Alex Hanson, told the visiting teens that cooking is a labor of love.
"You have to be passionate about it," Hanson said, and Ginepra said Hanson, Hegstrum and Thomas were all proving the point. None of them had class Tuesday morning, but there they all were, in uniform, cooking and baking on their own time.
The group Greenland was with also visited classes and instructors involved with ceramics and jewelry and goldsmithing before embarking on a campuswide tour of the community college.