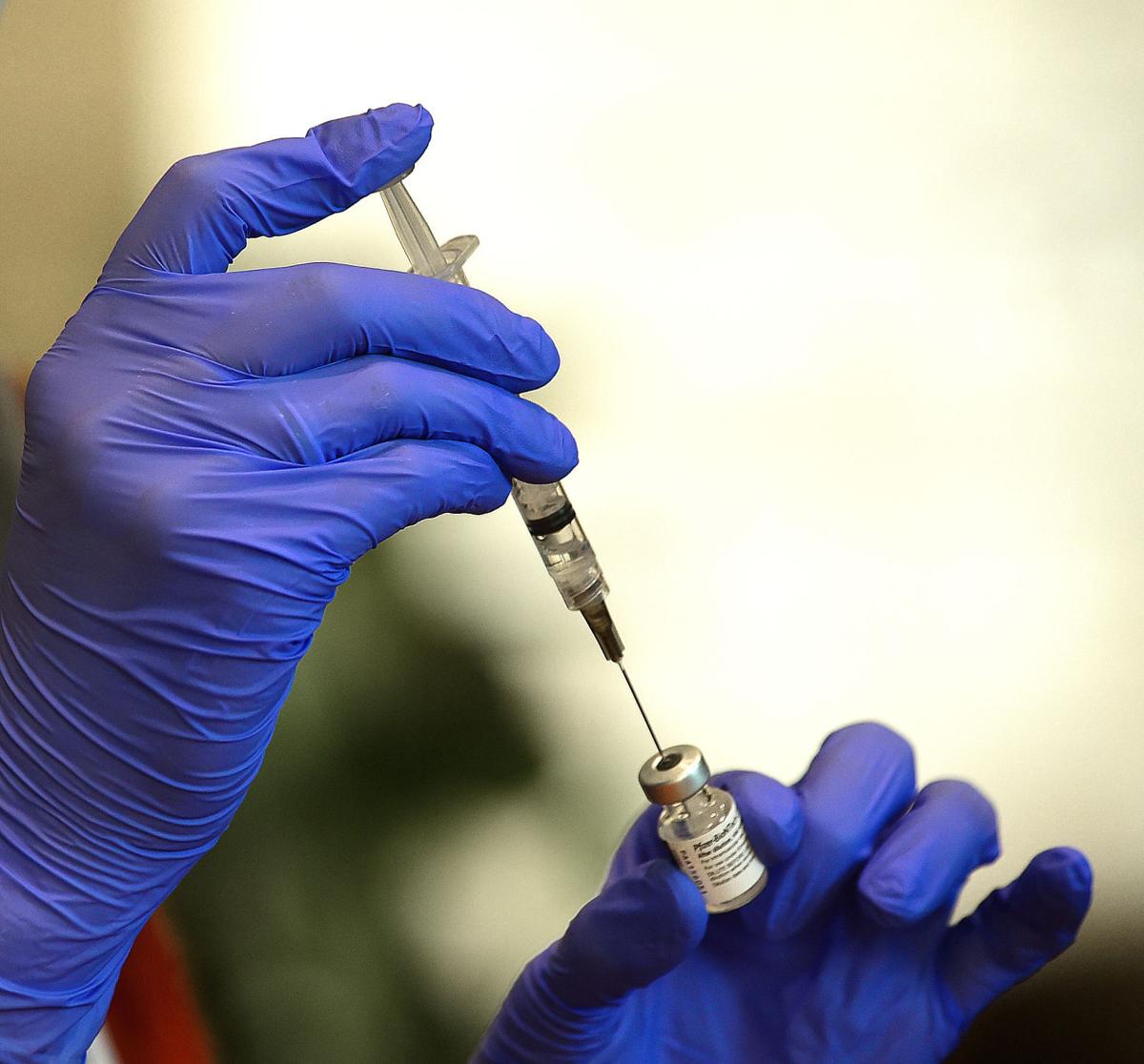 On Thursday, frontline health care workers on the Fort Belknap Reservation were the first of Montana's tribal nations to receive the Pfizer vaccine.
By Thursday afternoon, Fort Belknap had administered about 200 doses to health care workers. The tribes will be vaccinating essential Indian Health Service and tribal employees, dialysis patients and elders.
"It brought me to tears," said Angela Troutt, the Billings area Indian Health Service COVID-19 task force lead. "I had chills, it was just so amazing."
The Assiniboine and Gros Ventre Tribes received 975 doses, with about 400 of those doses being redistributed to other parts of the state and to the Wind River Reservation in Wyoming, Troutt said. 
As Montana's large hospitals began to administer the Pfizer vaccine to frontline workers, rural Montanans — including reservations — are eagerly awaiting the arrival of COVID-19 vaccines.
For tribal nations across the state a vaccine couldn't come soon enough. Although Native Americans make up just 6.7% of Montana's population, they account for about 30% of statewide deaths due to COVID-19, and 14% of the overall cases.
Native Americans are particularly vulnerable to the disease for myriad reasons that stem from unfair policy, generational trauma and racial inequities that have contributed to disparities in health and socioeconomic factors in Montana and nationally.
A lot at stake
Given a history of mistrust of the federal government in Indian Country and a historically underfunded health care system, there is some concern that tribal members may decide against getting a vaccine when it's more widely available.
That desire to protect tribal elders will likely be the greatest motivator to getting the general population vaccinated, said Chelsea Kleinmeyer, Community Health Division director for the Confederated Salish and Kootenai Tribal Health.
"Despite those hesitations, (tribal members) really want to protect elders in their circle," she said.
Troutt said IHS service units will likely use a variety of messaging, including educational materials from the CDC, to promote vaccinations once it becomes available to the wider public.
"The arrival of this vaccine to the Billings area brings indescribable happiness and hope to tribal and urban communities and our health care personnel," Troutt said. "The Billings area IHS encourages everyone to receive the COVID-19 vaccine to protect themselves, elders, friends, family and community."
Federal allocations
Five of the state's seven reservations, and five urban Indian health centers in the state chose to receive vaccine allocations from Indian Health Service.
The Confederated Salish and Kootenai Tribes and the Blackfeet Nation will be receiving vaccines through the state of Montana.
The Billings area of IHS, which has service units the seven reservations and in urban areas in Montana and parts of Wyoming, only has two ultracold freezers with the ability to store Pfizer vaccines, one in Fort Belknap and one on the Wind River Reservation.
The federal health service's plan is to store vaccines at both locations, divvying and delivering the doses to other locations across Montana and Wyoming. A third ultracold storage unit has been purchased for the Crow Service Unit, but a national demand for the storage units has delayed shipment, Troutt said.
A second rollout of 975 Pfizer doses was planned to ship to the Wind River Reservation over the weekend and will be dispersed throughout the Billings IHS area, Troutt said.
The IHS is slated to get 1,700 doses of Moderna, a second vaccine approved by the FDA for emergency use authorization Friday.
Troutt said those doses could be arriving in Montana as early as Monday.
"With our initial allocations of Pfizer and Moderna vaccines, we'll be able to offer doses to 100% of health care workers and long-term care residents," Troutt said.
For tribal and urban health centers that chose to receive vaccines through the IHS—the Billings area would need to receive approximately 57,000 doses to vaccinate 80% of the estimated population.
Kleinmeyer is unsure when the CSKT may begin to receive doses from the state. That's made it difficult to plan allocations and communicate with the community.
"Everybody has to remain flexible because we know it will be fast and furious when they do arrive," she said.
Montana initially estimated it would receive 60,000 doses through the end of the year, but that has now been revised to 48,000, the AP reported on Thursday.
CSKT will be storing Pfizer vaccines at the tribal college—which has ultracold storage—until a freezer that the tribal health department purchased arrives.
When doses arrive the tribes plan on vaccinating essential frontline workers, following CDC and the Advisory Committee on Immunization Practice (ACIP) guidelines, but tribal elders are also a priority.
The health center has about 250 health care staff, which would be the first to receive vaccinations. The Tribes employee about 1,500 workers, including about 50 health care workers who provide care for elders
The reservation has a population of about 11,000, but not all tribal members may opt to receive a vaccine through tribal health and may go to providers outside the reservation, making exact estimations difficult, Kleinmeyer said.
Challenges in Indian Country
Logistically, many tribal communities in Montana are rural and remote, making vaccine distribution harder than in the state's urban areas.
In early December the U.S. Surgeon General Jerome Adams was slated to visit with leadership of the Assiniboine and Sioux Tribes on the Fort Peck Reservation to tour a clinic and surge testing site, but bad weather brought Adams to Billings instead.
The surgeon general said his own difficulty in reaching Poplar highlighted the logistical challenge in getting vaccines to tribes.
So far, there has been no inclement weather while dispersing the vaccine throughout the state, which has been relatively easy with Pfizer shipping directly from the manufacturer to Fort Belknap, Troutt said.
One barrier that urban areas may not have to consider is transportation, especially in rural areas where the nearest clinic may be hours away.
Ensuring folks have rides or safe transportation to the vaccination sites may be a challenge, Kleinmeyer said, especially considering that both the Pfizer and Moderna vaccine require a second booster shot about three weeks later.
It will also be a challenge to educate people that they need to receive the same brand of vaccine, and at the same vaccination site.
"We do have some pretty remote communities and so we face people who don't have transportation," she said. "We'll have to be creative in how we get the vaccine to those people. It's going to be really important."
Some staff will likely be committed to reminding people of their booster shot date and figuring out ways to get them to the clinic.
"Staff that will really be dedicated to ensuring we get those people back in," Kleinmeyer said.
General assignment reporter Juliana Sukut's top five stories of 2020
Billings Gazette reporter Juliana Sukut shares her five most memorable stories of 2020.
With much of this year's news being dedicated to COVID-19 coverage, below are some of the stories I felt best illustrated the pandemic's effect on individual Montanans.
I wrote about how social isolation is affecting the elderly, one of our most vulnerable populations, and how organizations and caregivers began to find ways to connect with isolated seniors just a few months after COVID-19 arrived in Montana. 
A story of how COVID-19 swept through one Montana family, killing a father and a son, and sickening others.  The father and son were the first lives claimed by COVID-19 in Yellowstone County.
Six months after Hardin teen Selena Not Afraid went missing and was found dead near a rest stop between Hardin and Billings, her friends and family celebrated her birthday. It was the first time Selena's best friends were able to gather together since her funeral, due to COVID-19 shutdowns and social distancing mandates.
With the pandemic hitting tribal nations extra hard across the country, groups on the Crow Indian Reservation found ways to prevent the spread of the virus, educate on public health and preserve their culture.
Local public health departments take on the brunt of the COVID-19 workload, even as many are harassed for their vital work. This story follows several public health staff across rural Eastern Montana who have worked long hours, and haven't taken days off or celebrated holidays while struggling under the weight of the pandemic.