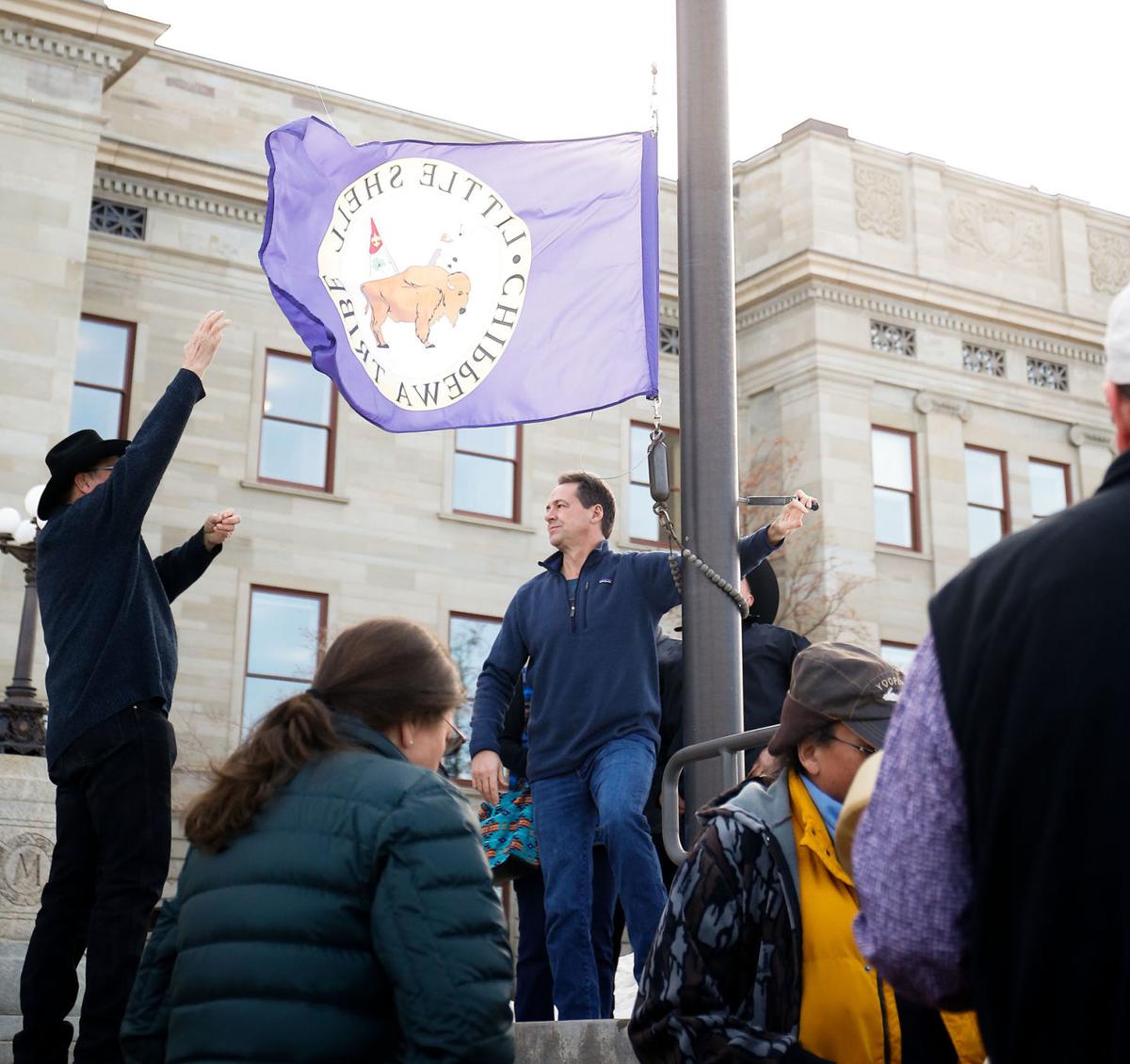 The final hurdle to federal recognition for Montana's Little Shell Tribe of Chippewa Indians was cleared Friday night when President Donald Trump signed his approval.
It signaled the end of the Great Falls-based tribe's struggle of more than a century and was hailed by tribal leaders and politicians from both sides of the aisle. The act makes some 5,400 known Little Shell members eligible for the basic treaty rights offered to other American Indian tribes such as health services, education rights and federal economic development programs.
It also commits the federal government to buy 200 acres of land in Montana to create the state's eighth Indian reservation.
"I am beyond overjoyed that we are finally at this place that so many of our ancestors, family members, and friends have fought to achieve," Little Shell tribal chairman Gerald Gray said on the tribe's Facebook page. "We have restored the dignity and respect that the Little Shell Tribe deserves."
Gray said the Tribal Council will be meeting over the next few weeks to determine initial priorities. There will also be meetings with federal partners "to determine how they can be of assistance."
"There is much work for Tribal Council to do, and I ask for patience as we build our Tribe's infrastructure, Gray said. "As they say, Rome was not built in a day, and it will take time for resources to come on board and decisions to be made."
The U.S. House voted last week to grant federal recognition. The Senate said yes on Tuesday.
All three of Montana's Congressional delegates supported the move, and they issued a joint statement late Friday.
Earlier in the day, Gov. Steve Bullock signed a proclamation at the state Capitol in anticipation of Trump's signature. Little Shell leaders raised the tribal flag outside, to fly through Saturday.
"More than 100 years of tireless advocacy by generations of Little Shell members has led to this long-overdue moment — and now, finally, the Tribe has been recognized by the United States as a sovereign nation," said U.S. Sen. Jon Tester, a Democrat. "Little Shell recognition was the first bill I introduced in the United States Senate, and I've been honored to fight alongside them for the last 12 years to get this done. This is truly a historic day for the Little Shell Tribe, for the state of Montana, and for our country."
U.S. Sen. Steve Daines, a Republican, sent a picture of a can on his desk sent to him by Little Shell tribal chairman Gerald Gray that symbolized Congress "kicking the can down the road" with federal recognition.
"To celebrate recognition becoming a reality, the Senator plans to 'shoot the can' with Chairman Gray" in Montana, the press release said.
"Today will forever be remembered by the Little Shell Tribe and all of Montana. After more than a century of perseverance, the Little Shell Tribe is finally federally recognized," Daines said. "Congratulations to Chairman Gray who has fought this fight with grace and patience. It's been an honor to work with him over the years to get this done. I thank President Trump for signing this into law, and I look forward to celebrating with the Tribe in Montana."
U.S. Rep. Greg Gianforte said Friday "marks a historic day for the Little Shell Tribe who have worked tirelessly for more than a century to receive the federal recognition they deserve."
"It's been an honor to work alongside my friend, Chairman Gray, and the Little Shell people to get their bill through the House and to make their long overdue federal recognition a reality. I look forward to celebrating with them soon."
Montana recognized the Little Shell Tribe in 2000, but federal recognition has been elusive. Tester introduced a bill seeking federal recognition for the Little Shell Tribe at every Congressional session since 2007. Daines signed on when he got to Congress, and both Senators successfully pushed to include the bill as an amendment to the National Defense Authorization Act (NDAA) passed by the Senate in June.
Last year, Gianforte, a Republican, pushed through a federal recognition bill through the U.S. House, the first time such legislation passed either the House or the Senate.
"Tester kept the pressure on with a letter to the Chairmen and Ranking Members of the House and Senate Armed Services Committees requesting that they include recognition language in any final version of the NDAA," the joint statement explained. "Last week, the House unveiled final text of NDAA, which included the Little Shell provision, and passed the bill."
Be the first to know
Get local news delivered to your inbox!