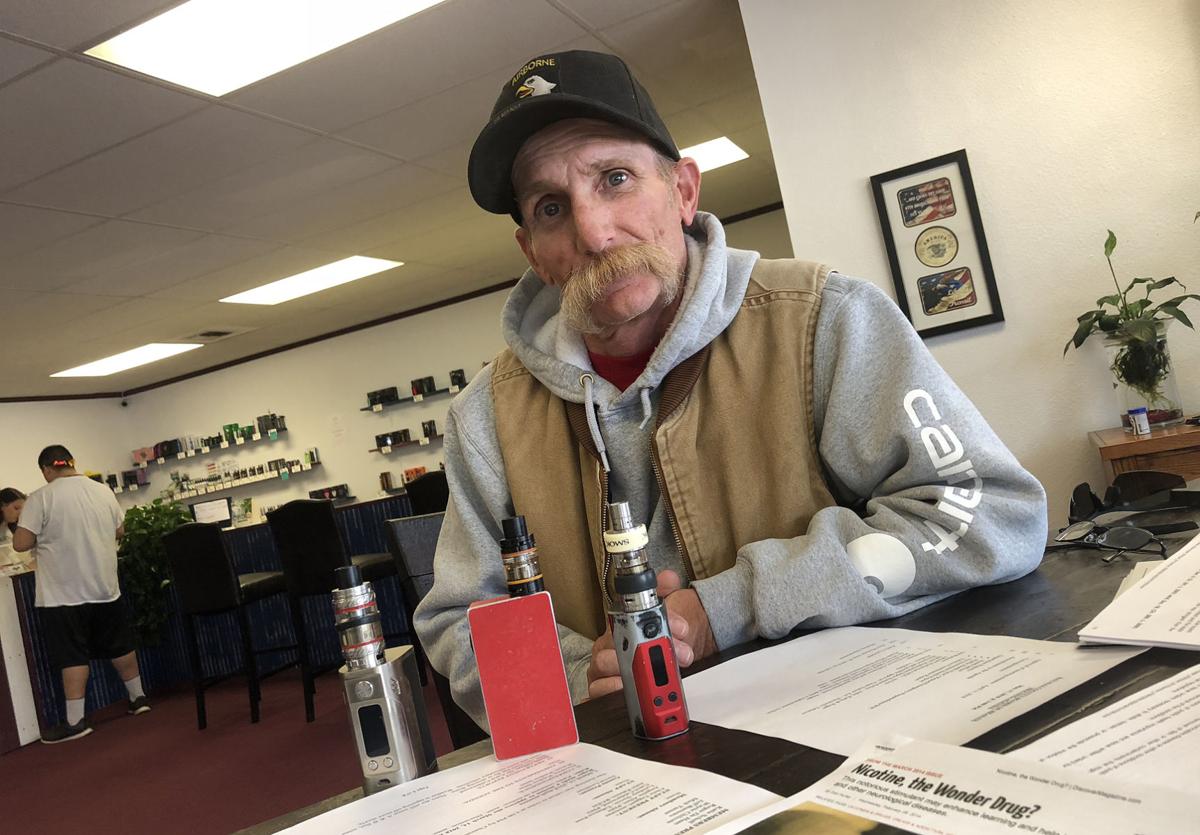 A Ravalli County District Court judge signed a temporary restraining order Friday that will stop the implementation of a statewide ban on the sale of flavored vaping products set to begin Tuesday, Oct. 22.
Directed by Gov. Steve Bullock, the Montana Department of Public Health and Human Services had planned to implement emergency administrative rules that would have prohibited the sale of flavored vaping products for 120 days. The ban would have allowed stores to sell unflavored vaping products.
Bullock said the ban sought to curb flavored e-cigarettes, which are often used by young people, while authorities investigate the cause of a rash of pulmonary illnesses nationwide. In Montana, there have been three reported cases, including one that was fatal.
The vape store owners contend the illnesses are caused by illegal black market products and that the ban would force them to close their stores and would be a hardship for consumers who use the products as a way to quit smoking combustible tobacco.
In an affidavit filed with the lawsuit, Freedom Vapes store owner Ron Marshall said flavored vape juices comprise 95% of the products sold in his three stores, in Hamilton, Belgrade and Bozeman. He said his businesses couldn't survive without those products.
Marshall said Friday the lawsuit was "all about the freedom and liberties of the people of Montana. If the governor can take away those liberties with a swipe of a pen, then what's next? If it's us today, who will it be tomorrow?"
You have free articles remaining.
Bullock's press secretary, Erin Loranger, said state officials were reviewing Friday's ruling.
"We are confident in the work of pediatricians and our public health professionals and stand by them," Loranger said. "Emergency rules exist for situations like this. We continue to urge Montanans to take recommendations by public health officials seriously and refrain from using any vaping product."
Ravalli County District Judge Jennifer Lint signed the temporary restraining order that prohibited Bullock and the Montana Department of Public Health and Human Services from enforcing the emergency rules that would prohibit the sale of flavored vapor products.
Lint set a show cause hearing for Oct. 30 to consider a preliminary injunction.
An Oregon judge placed a similar temporary stay on a statewide vaping ban tobacco-based vaping products Thursday, according to The Oregonian. The judge's order came two days after the ban went into effect.
Oregon vape shops made the same claim that their businesses would be forced to close if they weren't allowed to sell flavored vape products. Oregon Gov. Kate Brown ordered the six-month ban on Oct. 4 in response to the rash of vaping-related illnesses across the country.
The federal Centers for Disease Control reported that as of Oct. 15, a total of 1,479 lung injury cases associated with vaping have been reported in 49 states (all except Alaska), as well as the District of Columbia and an unspecified U.S. territory.
Thirty-three deaths have been reported in 23 states, according to the CDC.