Keystone XL Pipeline developer TransCanada said it remains committed to the pipeline project, despite a federal judge in Montana halting construction for further study.
The new information may indicate Keystone is no longer needed. Specifically, oil prices have fallen. Keystone's route has changed. And another pipeline, the Alberta Clipper, has been approved since Keystone was first proposed. Keystone is designed to move up to 800,000 barrels of oil a day.
The Trump administration also disregarded the government's previous assessment of how Keystone XL would affect climate change, while never explaining its about-face, Morris ruled. The Obama State Department rejected the 1,179-mile pipeline in part because of climate change.
"We have received the judge's ruling and continue to review it. We remain committed to building this important energy infrastructure project," a spokeswoman for TransCanada said in an email Friday morning.
Spokeswoman Terry Cunha said TransCanada CEO Russ Girling would not be doing interviews.
President Donald Trump called the ruling a disgrace, according to a White House transcript of a Friday morning interview with national press. Trump's approval of Keystone XL early in his presidency was a symbolic undoing of Obama climate policy.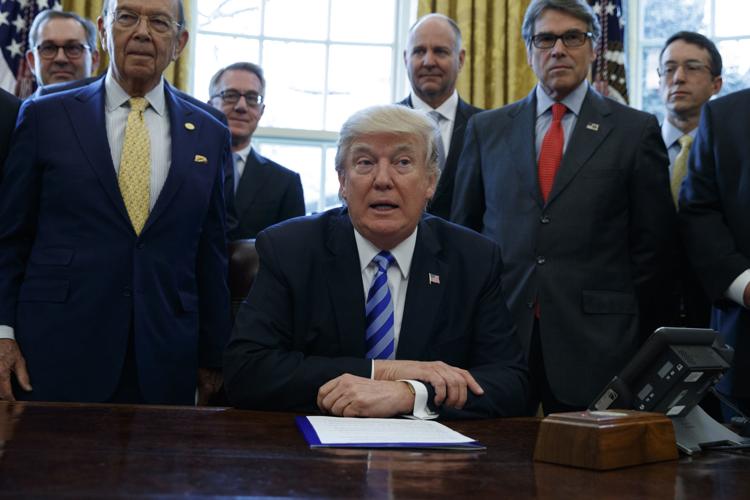 "Well, it was a political decision made by a judge. I think it's a disgrace. It's 48,000 jobs. I approved it; it's ready to start. And they went — and I guess they'll end up going to the Ninth Circuit, as usual," Trump said. "We're slowly putting new judges in the Ninth Circuit. Everything goes to the Ninth Circuit. Everything."
Trump's reference to the Ninth Circuit Court of Appeals suggests that either the State Department or TransCanada will challenge Thursday's order by Morris, a Federal District Court Judge appointed by former President Barack Obama.
The Ninth Circuit has a history of upholding rulings that favor more thorough environmental review.
It can take months, possibly more than year for new information be gathered and added to a supplemental environmental impact study.
Jenny Harbine, an environmental policy attorney for Earth Justice, said some of the information requested by the court can probably be provided fairly quickly. But, identifying the "cultural resources" along the pipeline's new Nebraska path will require summer field work and consultation with American Indian tribes. Those steps will likely keep the permitting unresolved for a year or more. 
Keeping the lawsuit alive through appeals may take even longer. This is probably where the shared priorities of TransCanada and the Trump administration fracture. 
"If I'm TransCanada, I'm thinking 'Let's not appeal, let's get the analysis together it will be faster,'" Harbine said. 
The Trump administration will most likely want to appeal because it won't want the requirements ordered by Morris to set the terms for other projects, Harbine said.
The State Department told The Gazette it was reviewing the court order, but wouldn't comment because the court case was ongoing.
Groups questioning Keystone's viability and compelling the court to order updated information include the Indigenous Environmental Network, North Coast River Alliance and Northern Plains Resource Council. Their lawsuit was filed in March 2017 against the U.S. State Department, TransCanada Corp. and the Keystone Pipeline.
https://twitter.com/Norplains/status/1060744482444869632
"We're thrilled with Judge Morris's ruling today. In essence, this decision sends TransCanada back to the drawing board. It's nearly as good a ruling as we could have hoped for — he decided in our favor on almost all of our claims. Today, we saw the results of grassroots democracy in action, winning for water and people," said Becky Mitchell, chairwoman of the Northern Plains Resource Council in a press release.
https://twitter.com/IENearth/status/1060749477349212160
Morris did not rule in favor of all of the plaintiff's claims. The environmentalists had argued that the government's environmental review needed retooling to address hazardous oil train traffic from the Alberta tar sands. Federal agencies previously ruled the pipeline would reduce oil traffic, but without Keystone, oil train traffic is already down. Morris called difference insignificant.
The judge also rejected claims that the government violated the Endangered Species Act.
Since it was first proposed, Keystone XL has divided Montanans. Democrats Sen. Jon Tester and Gov. Steve Bullock have been supporters of the project, as have Republicans Sen. Steve Daines and Greg Gianforte.
"This ruling is another example of obstruction under the guise of protection and will only hurt rural Montana communities, not help," Daines said in an emailed statement. "I strongly support the construction of the Keystone XL pipeline which will lead to more Montana jobs and lower electricity rates for Montana consumers."
https://twitter.com/SteveDaines/status/1061020302283550724
Gianforte said in an email, "Another activist court has halted another critical energy project. The Keystone XL project will create Montana jobs, make America more secure, and lower gas prices. I look forward to an appeal of the decision."
Tester was on vacation following his midterm election win. The senator's communications director, Marnee Banks, said Tester's support for Keystone continues, but it's not unconditional.
"Jon is an advocate for building the Keystone pipeline to the highest safety standards, with respect to private property, tribal land and water, and using American steel," Banks said.
Counties along the pipeline's 284 Montana miles have generally welcomed Keystone for its potential tax contributions. Montana has a longer segment of the Keystone route than any other state.

Other Montanans have opposed it. Northern Plains has persistently questioned the risk of pipeline leaks and the wisdom of the promoting tar sands oil.
American Indian tribes in Keystone's vicinity have voiced concern over water quality. In June, The Fort Peck Reservation leaders told Interior Secretary Ryan Zinke they were concerned about Keystone traveling beneath the Missouri River. The pipeline does not cross reservation land, but it does approach the intake for the Fort Peck/Dry Prairie Regional Water System, which provides potable water to thousands of Hi-Line residents.
Fort Peck Tribal Chairman Floyd Azure did not respond to The Gazette's interview request Friday.
The Assiniboine and Gros Ventre tribes of Fort Belknap issued a press release expressing concern for cultural sites along Keystone's Montana route.
"Our sacred sites are still in jeopardy. The Keystone XL, as planned, will pass directly through numerous ancient ancestral sites that are sacred to the Gros Ventre and Assiniboine Tribes," said Brandi King, of the Fort Belknap Indian Community Council.