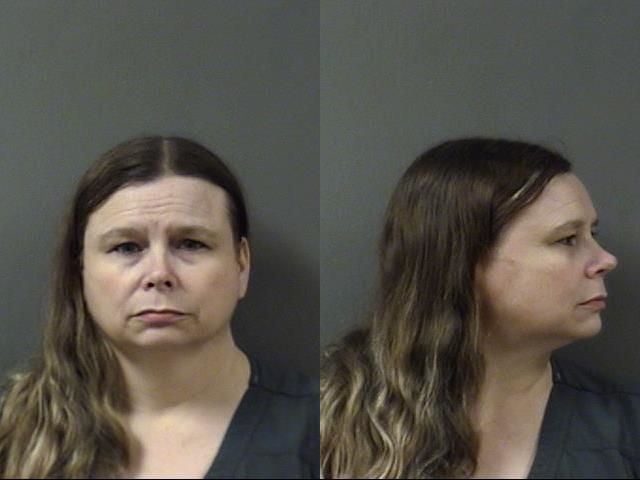 A 45-year-old Laurel woman has been charged with attempted deliberate homicide for shooting a man at her home, according to charging documents filed Monday in Yellowstone County District Court.
Lindy Dawn Lancaster called police Oct. 16 to report she shot a man and that he was probably dead, court documents say. Laurel police, along with deputies with the Yellowstone County Sheriff's Office, responded to the call. A Laurel police officer met with Lancaster, who was standing in her driveway on the 1000 block of 6th Avenue in Laurel.
Lancaster, who documents say was "very frantic," told the officer that both the man and the gun were inside her house by the front door. 
The officer found the 18-year-old survivor laying on his back in the doorway. Documents say the officer saw two gouge marks on the man's torso and four gunshot wounds across his lower back after lifting his shirt. The officer called for an ambulance to hurry as he could see the 18-year-old was going into shock and losing consciousness.
The survivor, identified as E.L.C., told a Laurel detective at the hospital that he met Lancaster on a phone app. He said the two met in person previously, but Oct. 16 was the first time he was at her home. Charging documents say that E.L.C. brought LSD with him, which Lancaster took, while she gave him pills and marijuana.
While he was smoking marijuana, E.L.C. told police that Lancaster asked him whose pot he was smoking. When he answered that it was hers, she became angry and asked him to leave. He said Lancaster eventually calmed down, but after taking her trash out and coming back into the house, she again told him to leave.
Court documents say that while he was putting on his shoes by the front door, Lancaster "started hitting him in the back and rib area." She then allegedly locked the door and left the room, returning with a gun that she pointed at E.L.C. He told police that after 30 seconds, the first round struck him in the shoulder. While trying to unlock the front door, he said he was shot several more times, with bullets striking him in his back.
A Laurel police officer spoke with Lancaster on the day of the shooting, according to court documents. She told the officer that she met E.L.C. in a group chat, and invited him over to clean her house. Lancaster picked him up from his residence in Billings, and he was at her home for several hours. She said E.L.C. put the acid under her tongue, and then "became physical with her," documents say. She shoved him back, Lancaster said, and then left to grab a .40-caliber pistol from a gun safe downstairs.
She said she was afraid that E.L.C. might have found her other gun, but went back upstairs, documents say. Lancaster then told the Laurel police officer that she found E.L.C. grabbing marijuana and prescription pills in the bathroom. She said the two fought, with E.L.C. pushing her into the walls and destroying the house, according to court filings.
When they moved toward the front door, she said she shot E.L.C. multiple times because she was afraid for her safety.
A detective with the Laurel police department spoke with Lancaster's husband, who told the detective that Lancaster drove E.L.C. to their home for him to help with cleaning, according to court documents. About 10 minutes before police responded to the shooting, he said he received a series of text messages from Lancaster saying, "Come home now, stealing of course, I nailed him on it."
A Laurel police detective and an agent with the Montana Department of Criminal Investigation searched the home later that evening. Neither could find signs of the struggle described by Lancaster, according to court filings. The DCI agent found a Springfield XD .40-caliber semi-automatic pistol, along with six fired .40-caliber casings and three slugs.
Authorities booked Lancaster into the Yellowstone County Detention Facility on Wednesday, more than six weeks after the shooting, where she is being held on a $250,000 bond. If convicted, she faces the possibility of life in prison or a term of no less than 10 years.
Her next court appearance is set for Friday.