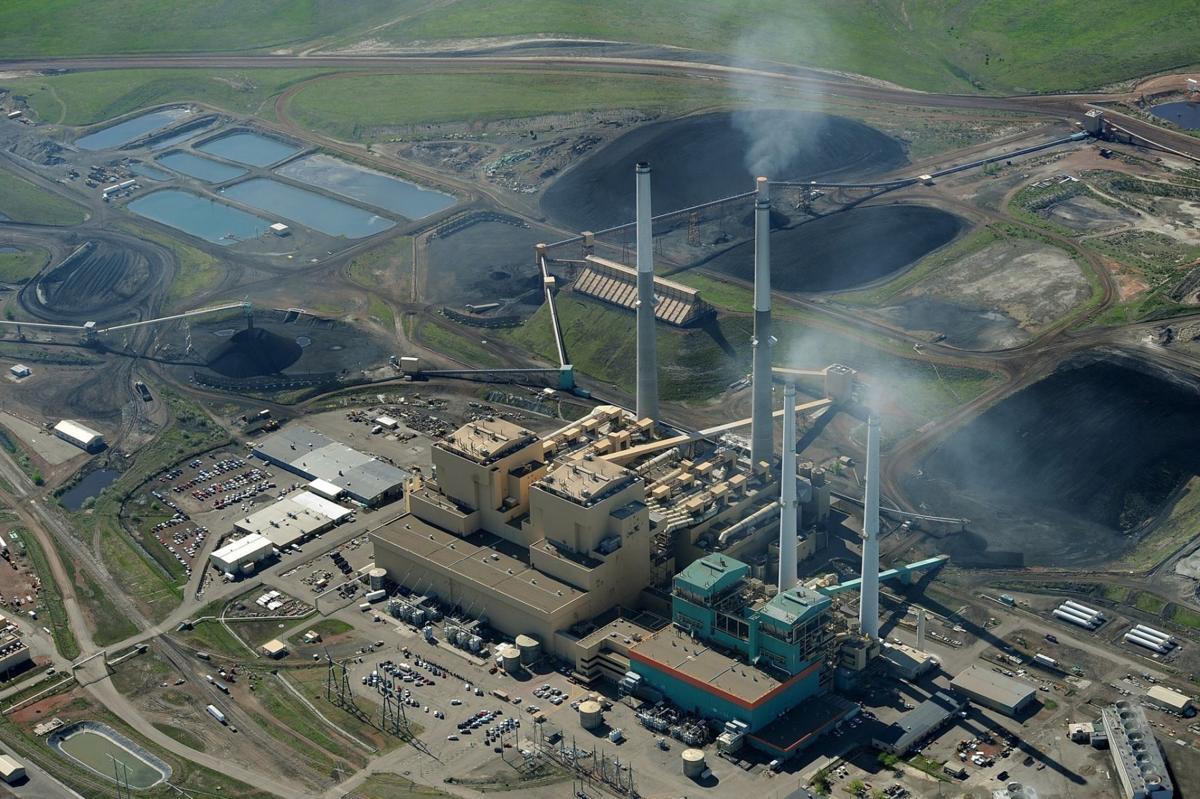 While Republican lawmakers worked to put more Colstrip liabilities on the bills of NorthWestern Energy customers, Rep. Denise Hayman was looking for an out.
The Bozeman Democrat was concerned about the existing $407 million Colstrip Power Plant debt that customers of the state's largest monopoly utility have been paying down for a decade and will continue to pay until 2042. If there was a way to get customers on a more affordable payment plan, Hayman wanted to do it.
"In 2008, the Montana Public Service Commission voted to obligate Montana ratepayers to $407 million for the purchase of Colstrip number 4," Hayman said recently. "We still have about $300 million left to pay."
The interest rate on the debt is roughly 8.25%, Hayman said. What she's proposed is a refinancing plan in which the debt would be paid off early using low-interest bonds. Customers would then pay off the bonds at an interest rate closer to 2 or 3 percent, something that's an option now in 22 other states.
Hayman's proposal, House Bill 467, passed and will become law if Gov. Steve Bullock chooses not to veto it. The two-term legislator is hopeful the proposal will lessen consumers' burden for one of the more controversial moves by NorthWestern and the Montana PSC.
The $407 million debt associated with NorthWestern's 30% ownership of Colstrip Unit 4 has never sat well with consumer advocates or regulators, who in 2008 approved adding the debt to customer rates. The utility had purchased the interest in Colstrip a year earlier for less than half that amount.
The debate reignited this year on two fronts. On one, NorthWestern and Republican lawmakers sought to commit customers to the 34-year payment plan regardless of whether Colstrip shut down early. Four of six Colstrip companies face coal power bans in Washington and Oregon, and that's making early closure seem more likely. A second front opened before the Public Service Commission where environmentalists have asked the PSC to lower customers' debt to less than $100 million, to reflect the power plant's current value.
To truly appreciate the debate over how much NorthWestern's 30% share of Colstrip Unit 4 is worth, it's necessary to understand how utilities make money, said Rep. Tom Woods, a Bozeman Democrat. Woods took to the floor in the last days of the Legislature to stress the importance of ownership to a utilities business model.
"I used to think that utilities make money by generating electricity and distributing it to you," Woods told colleagues. "That's not really the case. Actually, utilities make a ton of money by owning stuff, because they get what's called a return on equity for the stuff that they own. So, it's an incentive to own more stuff. And that return on equity they get is between 9 and 11 percent, is what they get.
"Back in 2008 was it, a certain utility went out and purchased a 30% interest in Colstrip 4," he said. "And they paid $187 million for it. And then, they went out and got a bid for that and a company said, 'Hey we're going to give you $407 million for that Colstrip 4 30%.' So, when they went before the PSC, that's what they got."
Woods was referring to 2008 when NorthWestern Energy persuaded Montana's Public Service Commission to put customers on the $407 million, 34-year payment plan that now exists. The utility had paid less than half that amount when purchasing Unit 4 in 2007.
The terms of the deal helped make NorthWestern-owned Colstrip power some of the most expensive electricity Montana customers pay for, according to analysis by the Montana Consumer Counsel, the state's constitutionally created advocate for customers of monopoly utilities.
For a 12-month period ending June 30, 2017, customers paid $76.87 a megawatt hour for NorthWestern-owned power from Colstrip Unit 4. It was more than three times the price of power purchased on the open market during that year, which was $21 per megawatt hour.
NorthWestern's cost of generating the power from Colstrip Unit 4 is apparently low. CEO Bob Rowe editorialized about the cost of generation being $21 a megawatt hour, but the cost of generation is not the only cost passed on to customers.
To understand how the price quickly escalated to $407 million, it helps to remember how committed the state had become by 2008 to returning to the days when a single utility not only owned the transmission lines to customers' homes, but also the power plant generating the electricity on the other end. In other words, the state wanted what it had before 1997 when Montana Power Company convinced legislators to deregulate the utility industry.
Before deregulation, Montana Power had served roughly half the state's electric customers. It generated its own power with dams that over the years its customers had paid off, the power was some of the lowest-cost electricity in the country. It also had coal power from the former J.E. Corrette power plant located in Billings and of course, Colstrip, which wasn't cheap because it was still being paid down. But consumers' blended price of electricity from several power sources was among the lowest in the country.
After deregulation, Montana Power sold its dams and power plants to Pennsylvania Power and Light and later its transmission infrastructure to NorthWestern. Barred from owning generation under the 1997 deregulation law, NorthWestern was buying electricity from third parties. Market conditions at the time made that electricity seem expensive and costs were expected to increase.
Montana took steps to reverse deregulation in 2007 with NorthWestern as a willing participant and the understanding that the utility was going to have to buy generation and that meant customers would be paying for those purchases for decades. Only after the new facilities were paid off would customers see pre-1997 conditions again.
That's when NorthWestern acquired a 30% interest in Colstrip Unit 4. Although Montana Power had sold its dams and power plants to PPL, it had only leased its interest in Unit 4. NorthWestern had assumed the lease payment. After the 2007 Legislature, the NorthWestern bought out the leases for $187 million and within months started looking for a buyer interested in purchasing the Colstrip share and then selling NorthWestern half the power associated with it for a decade.
The Public Service Commission objected, telling the utility it was time to get serious about reintegration. In hindsight, the regulator was probably too eager, said Ken Toole, who was on the commission at the time.
"All of us wanted them to rebuild after deregulation. That doesn't mean the staff or individual commissioners didn't have questions. Certainly the staff had a lot of questions,'" Toole said. "But I said, 'An old coal plant? Come on,'"
There was also sticker shock. Toole at the time said the $407 million price reflected historically high market prices. NorthWestern had solicited bids in the spring of 2008. Bidders based their offers on those market conditions. NorthWestern had a $407 million offer in hand from Bicent Power, an out-of-state energy company. If the PSC didn't want to agree to that price, NorthWestern said it would proceed with the sale to Bicent.
"We knew we had an opportunity either to rate base the asset or to sell the asset and we certainly wanted for our shareholders benefit and needed to make sure we were getting fair market value," said Travis Meyer, NorthWestern's director of corporate finance and investor relations.
NorthWestern had received 32 inquiries from businesses about buying the 30 percent share in Unit 4. Those offers were boiled down to three written bids and one verbal offer ranging from $360 million to $404 million. NorthWestern was not only agreeing to sell its Colstrip interest, but also buy half the power associated with the share for at least a decade.
The PSC wasn't happy with the price, but it had forced the issue. Commissioner Brad Molnar, a Republican, said at the time NorthWestern had boxed the commission in, even though it was the PSC that threatened legal action if the utility didn't consider adding the unit to the rate base.
Montana's Consumer Counsel Rob Nelson argued unsuccessfully against the deal. After the PSC made its ruling, Nelson circled back and asked the commission to reconsider. He cited Montana law prohibiting profit from a potential sale from being added to the price of anything going into customer rates.
The $407 million price was simply too high given that it was based on historically high market conditions and the cost of energy was going down as the year wore on, Nelson argued. The U.S. Energy Information Administration for 2008 shows natural gas prices ending the year at half the value of the January price. Petroleum was down 34 percent.
"If you read the order, there was a lot of debate about that because of the proposed Colstrip investment, based on market price alternatives, really depended on the date that you chose for those market price forecasts," Nelson said. "Because like I said, the market was pretty volatile. I think that was part of the concern we had was that there was a distinct likelihood that all of this was being done at a time when market prices were peaking. Our view at the time was that they were likely going to be coming down."
Nelson had a different price for adding NorthWestern's share of Unit 4 to the rate base, $225 million. That was the depreciated value of Montana Power's initial investment in the unit, $38 million, plus the $187 million NorthWestern paid for the leases the year before.
The difference between Nelson's assessment and the $407 million price NorthWestern secured were stark during the 2019 legislative session as the utility argued that its customers should be obligated to pay out the $407 million through 2042 even if Colstrip was no longer running, most likely as a result of its other utility owners departing.
Public Service Commission analysts told the legislators that if Colstrip shut down in 2029, a date splitting the difference between coal-power bans faced by Colstrip's other utility owners in Washington and Oregon, customers would still owe $260 million for NorthWestern's share of Unit 4. At Nelson's 2008 estimate, the debt would have been paid by then.
Enter Hayman's refinancing plan, allowing the customers' debt to be lowered through refinancing the Colstrip debt at a lower interest rate. Approved by the Legislature, the plan would be an option if Gov. Bullock allowed it to become law, and, if NorthWestern was interested.
"It appears this law may provide Montana utilities another financing tool. NorthWestern Energy has no plans to apply to use bonding for any electric infrastructure at this time," said Jo Dee Black, NorthWestern public relations specialist. "In the future, a full evaluation of the cost and impact on customers' rates would take place before this tool was used."