On a hot summer day outside Florence, MPG Ranch researcher Mike McTee quietly lied belly-down in the tall grass carefully sizing up a target in the scope of his .270 Winchester rifle.
Moments later a shot rang out, breaking the silence of a Bitterroot Valley morning.
"Should we take a look?" he asked as he brushed off the dust and walked toward a four-wheeler. His target set-up isn't typical of most gun ranges. He's not looking at what the bullet did to the target, as what the target did to the bullet. 
"When a lead bullet crashes into an animal, it's traveling really fast, and that lead can splinter off." McTee said. "If any of that's left in the field, a scavenger is going to eat it. It's really bad for eagles, and an easy solution is just to shoot a copper bullet."
A study conducted in the Bitterroot Valley by the Raptor View Research Institute in Missoula from 2011 to 2018 tested 91 golden eagles and found almost 95% had elevated lead levels in their blood. The study, "Widespread Lead Exposure in Golden Eagles Captured in Montana," was published in The Journal of Wildlife Management in December of 2020 by Rob Domenech, Adam Shreading, Philip Ramsey and McTee. McTee has also written a book titled "Wilted Wings" that will be released in September.
The MPG shooting practice demonstrates the problem. Across the coulee from McTee's position were three rain barrels set atop tables. Each barrel had six one-gallon jugs of water lined up inside. The goal is to shoot the water jugs with different types of bullets— some lead and some copper — and then compare what the different ammunition did. The water stops the bullets and the fragments from the bullets fall into the water in the rain barrel. McTee then uses a pressure washer to rinse the fragments out of the barrels into a coffee filter to count them.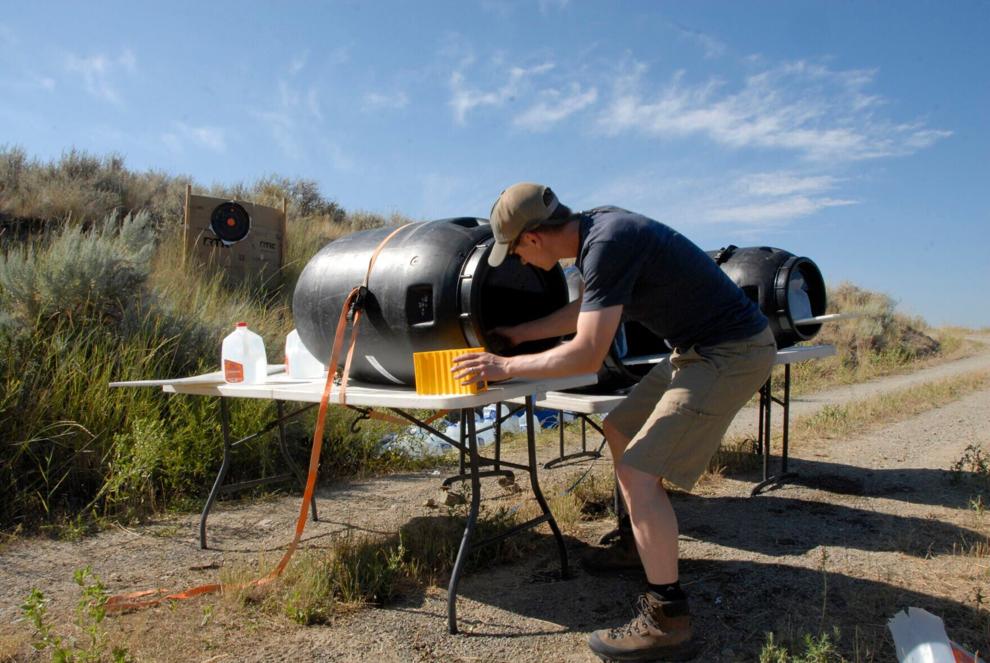 The test allows McTee to examine the bullet and see whether it did what it's supposed to — if it expands, stays intact, or falls apart — and what kind of fragments are dispersed.
"What this test does is it'll show all the different fragments that come off a lead bullet," McTee said. "And the water is really a surrogate for animal tissue. If somebody shoots a deer with a lead bullet, those particles just spray inside. A hunter, if they get that animal, can field dress it, leave behind the guts and then take home the carcass. But in that gut pile, there can be those particles."
A typical cup-and-core lead bullet leaves behind the most fragments according to McTee. Copper bullets tend to stay intact.
"Bullets that are bonded, hold together better, but even with a bonded lead bullet you're looking at about 5% to 25% weight loss," he said. "If you're shooting a cup-and-core you can lose half the bullet fragments."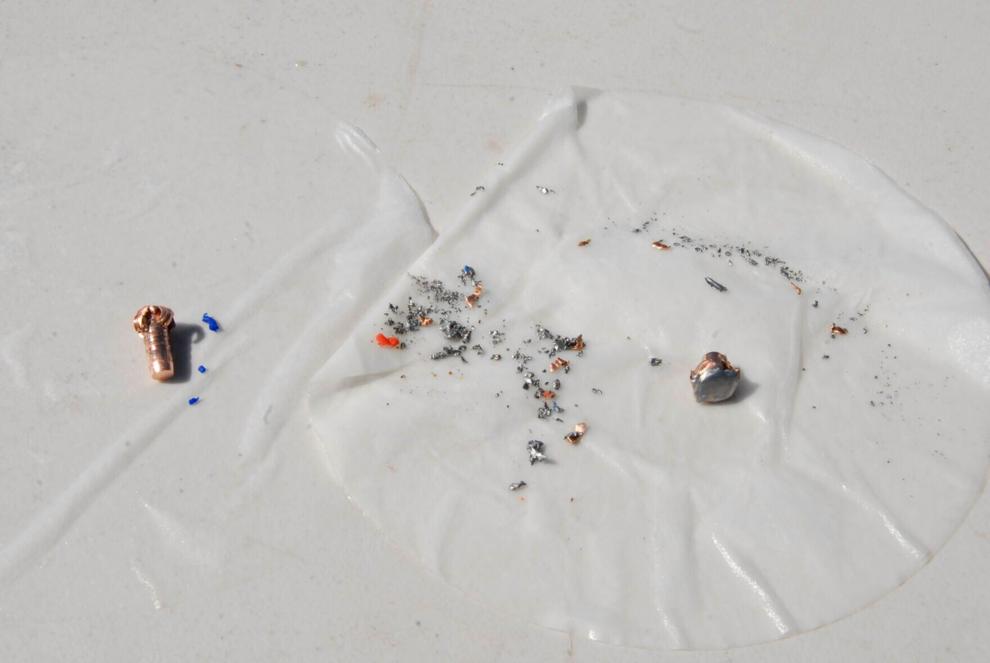 There have been multiple cases of eagle fatalities due to lead poisoning in the Bitterroot Valley over the past few years. Most recently, in January of 2022, a bald eagle named Darby died of lead poisoning despite the efforts of rehabilitators at Potomac's Wild Skies Raptor Center to save the bird.
Lead poisoning symptoms in raptors include loss of balance or inability to stand, honking due to distressed breathing or open-mouth breathing, muscle weakness, dehydration, kidney and liver damage, starvation, seizures and death.
"Rehabbers will bring them in, and these eagles, which are these regal animals that can fall from the sky at 200 miles an hour after prey, they can't even lift their wings," McTee said. "They can't stand, they might shake, their vision can be impaired. Some die in that state and the rehabilitators try their best to chelate the lead out of their system, but lead causes permanent neurological damage. So even if a rehabilitator saves that eagle, you have to wonder about the eagle's prospects in the wild."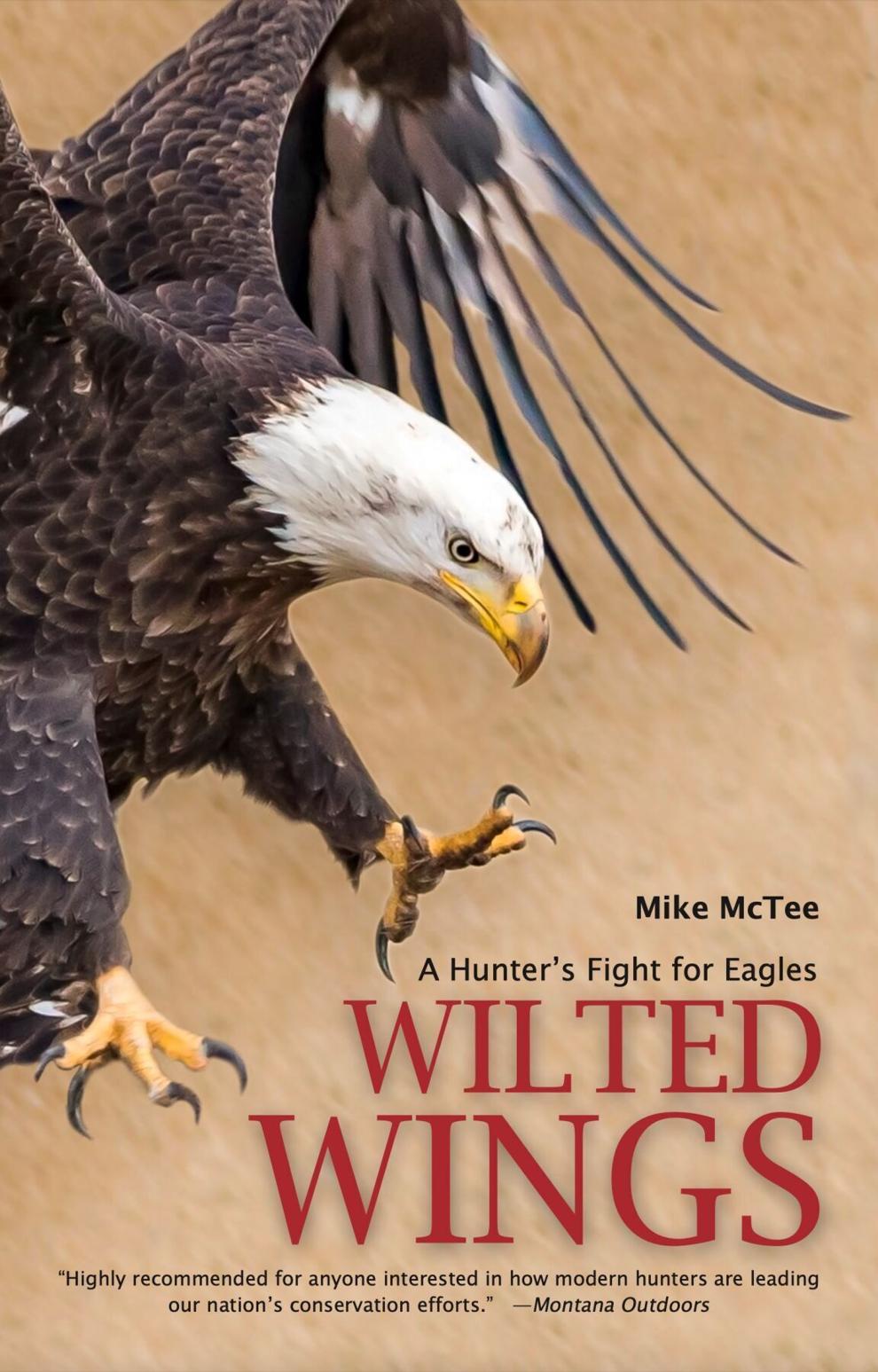 "If we consider exposure in humans, we're not worried about people dying outright from lead exposure," he said. "It's the sub-lethal effects we're freaked out about like reduced IQ and aggressive behavior, those types of things, especially with children. So when we're talking about eagles that have lead concentrations that are more than 10 times what would be elevated for a human, you have to wonder, what the consequences to that population are. They might only weigh 8 to 12 pounds, so if they swallow a big hunk of lead or something with these lead bullets, as they fragment into tiny pieces like dust, that lead can more easily assimilate into the blood," he said.
While a number of sportsmen have made the switch to copper bullets over the years, lead bullets still dominate ammunition sales with the majority of shooters.
Jon Wemple of Choice Ammunition in Victor said about 75% of his customers probably still shoot lead bullets. And while some may shoot copper for the conservation benefit, he thinks it's mostly based on personal preference.
"It's probably of 75 to 25%, the majority still shoot lead bullets," Wemple said. "It's not because of the residual effects of lead in the carcasses and things like that. I just think that the 25% of people that use the lead-free bullets just prefer that."
While some shooters may prefer the heavier weight of lead versus copper for its ability to maintain stability at high speed over a far distance, some of the choice in ammunition is based on how different bullets perform when shot from different guns.
A lead bullet, being heavier than copper, can pack more mass in a smaller-caliber rifle. So, for instance, a 6.5 PRC caliber will shoot a 156 grain lead-core bullet. The biggest copper bullet that can go in a 6.5 PRC is 130 grains.
But as technology has advanced so has ballistics innovation.
The lathe-turning process used by copper-bullet manufacturers has enabled them to become more precise than the force-mold process used in lead bullet manufacturing according to Wemple.
"Because of the formulas of the copper bullets, I think before, people really didn't think that they would have the same terminal effect as a lead-core bullet," Wemple said. "But you know, a bullet that's really popular now is called a Berger bullet. That bullet's designed to enter the wound channel and fragment into 200 pieces, and it's a good hunting bullet and it's very effective. But you shoot a (copper) Barnes bullet into an animal you're going to have 100% weight retention. You pull out that bullet out of that carcass, and it's going to be just as big as what it was when it entered the carcass."
"The bottom line is that there's no reason not to shoot copper bullets. For virtually everything you do, there's no downside. It's just as good of a performing bullet as far as killing while you're shooting, and just as accurate as what you're shooting with a lead bullet," Wemple added. "That's just some people, you know, old dogs, new tricks, and so on."