A 120-year-old bridge southwest of Augusta is closed until further notice after it was damaged by a tractor trailer that severely exceeded its weight limit. 
The decking and railing of the historic Dearborn River High Bridge were damaged Dec. 12 by a tractor trailer believed to weigh 35 tons, which exceeded the posted weight limit of seven tons. 
The Montana Department of Transportation and Lewis and Clark County are working together to inspect the bridge, which has been listed on the National Register of Historic Places since 2003.
Lewis and Clark County Chief Administrative Officer Roger Baltz said officials are unsure whether they will pursue charges against the driver of the tractor trailer, but they will "fully investigate" the incident.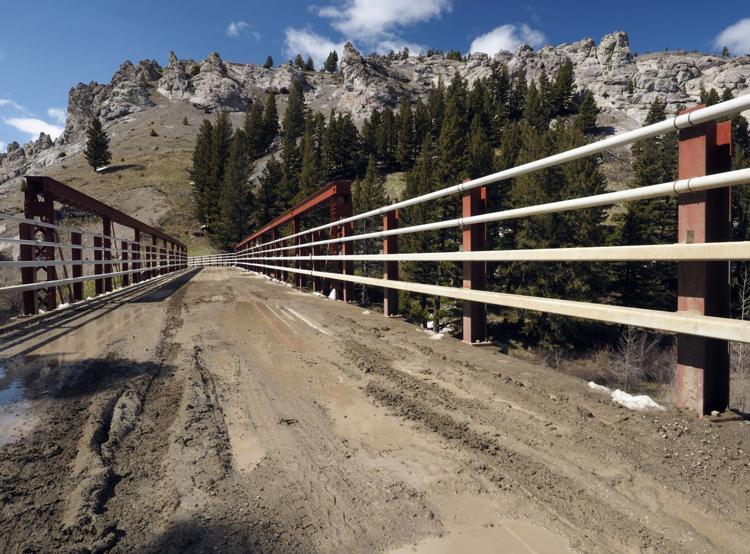 The 251-foot bridge crosses the North Fork of the Dearborn River in a canyon about 15 miles southwest of Augusta on Secondary Highway 434. Lewis and Clark County accepted a bid of $9,000 from King Bridge Company of Cleveland, Ohio for the bridge's construction, which concluded in 1897.
The stone, steel and concrete bridge is an example of Pratt truss construction, according to its National Register of Historic Places registration form.
"Few bridges in Montana have drawn as much attention and interest as the Dearborn River High Bridge," the form says. " ... The bridge may be the only surviving example of this design in the United States."
The Montana Department of Transportation completed a $1 million rehabilitation of the bridge in 2003.
Independent Record Editor Jesse Chaney contributed to this report.