LIBBY — Jeff Robertson and Tracie Barnes are the kind of men who know how to fix things, handy as a pocket on a shirt.
They have spent their lives working: driving trucks, operating machinery and keeping it running, making good, solid western lives in this Montana mountain town. Entering their 60s, they both still have the look of outdoorsmen, lean, gray, muscled. They aren't close friends, but they've known each other all their lives.
Now they've discovered that they have much more than their shared Libby experience in common, and it's a problem they can't fix: They both have Libby's disease.
And they know all too well what awaits them, as their bill for growing up in a town contaminated for decades by asbestos dust from a nearby vermiculite mine comes due. Their fathers both died of asbestos-related disease — the same disease they have been diagnosed with.
They are both patients at Libby's CARD clinic. The acronym stands for Center for Asbestos Related Disease, and that is apt, because Libby is the center of asbestos-related disease in this country. Across the globe, asbestos kills more than 15,000 people a year, every year, just like clockwork.
Some 65 countries have banned the mineral. The United States is not one of them. And now, even as Robertson and Barnes each fight for their next breath, the EPA has decided to loosen regulation of the deadly mineral.
It is a move that has left patients like Robertson and Barnes confused and irritated. For Dr. Brad Black, who runs the CARD clinic and is renowned in Libby for his gentle, compassionate care and his willingness to fight like a pit bull for the resources his patients need, it is the latest outrage among many outrages: the thousands of patients he has seen who have an entirely preventable lethal disease, the corporate decisions that made it happen, and the governmental decisions that let it keep happening.
Even now, as he helps his patients through their health nightmare, he is constantly distracted, forced to fight a rearguard battle to try to help them seek justice in court and to keep his clinic funded.
W.R. Grace is no longer a defendant in legal actions, after declaring bankruptcy, but other defendants remain: International Paper, parent company of the firm who operated a lumber mill in Libby; Maryland Casualty, Grace's insurance carrier; Burlington Northern Santa Fe, which transported the deadly ore; and even the state of Montana, which knew about the toxicity of the dust from the mine in 1956 but told no one but the mine owners, keeping silent all the rest of the years the mine operated until its closure in 1990.
As if the proof were not in the graveyards of Libby and every town where the asbestos-laden ore was shipped for use in insulation and other products, the defense attorneys are trying to make the case that Black is mistaken in his diagnoses, that the mineral is not as deadly as he claims. They have hired doctors and radiologists willing to dispute Black's findings. And so they are constantly subpoenaing documents from the clinic, which has one pro bono lawyer, who is snowed under with the work.
It is a technique not uncommon in asbestos litigation. Linda Reinstein, who founded the Asbestos Disease Awareness Organization, an anti-asbestos advocacy group, says that she, too, is being buried in discovery requests nationwide from asbestos defendants.
"The defense is running scared as juries are holding them responsible for harm and death," she says. "So scared that they are bringing me, a mesothelioma widow, into their legal cases. Try as they might through countless subpoenas, I have nothing to share that will negate the fact that they knew asbestos was deadly and allowed use and exposure to harm countless Americans."
In Libby, it is definitely adding insult to injury. Black and his colleagues at the clinic have a brutal job. The legal wrangling makes it far worse.
"We've handed over 33,000 pieces of paper," Black says wearily. "They want more."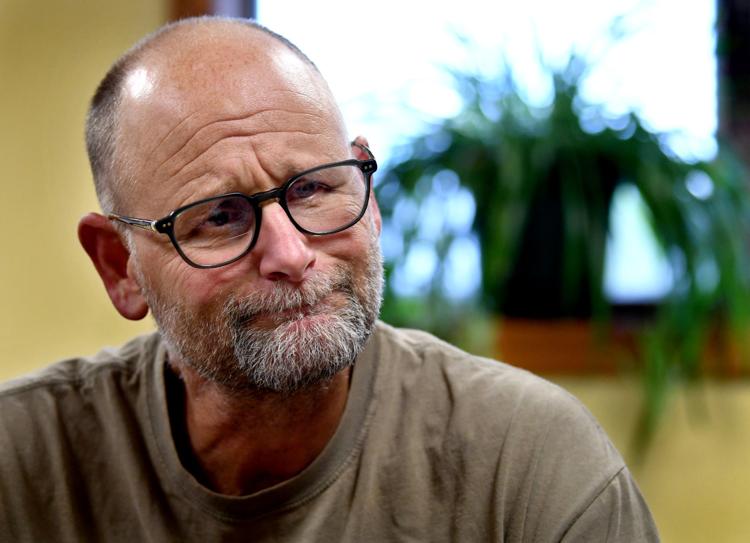 Jeff Robertson loved growing up in Libby.
Robertson's mom and dad, Mary and Roger, moved to Libby in 1954. An Air Force veteran, Roger was a life member of the Veterans of Foreign Wars and a life benefactor member of the National Rifle Association. He loved to hunt and fish. He retired at age 57 as a superintendent at the St. Regis Lumber stud mill, and Mary was a rural mail carrier.
When he was 12 or 13, Robertson helped his dad spread Zonolite loose-fill insulation in the attic of the family home.
A "single-burst" exposure, such as one got opening sacks of asbestos-tainted insulation and dumping them out in an attic, is enough to cause asbestos-related disease. But Jeff Robertson got much more exposure.
He played baseball as a kid, down on the ballfields by the Zonolite expansion plant, where ore from the mine was "popped," or expanded, into vermiculite. Some of it was bagged and shipped from there; some was stored in bulk. There were always loose piles of ore, spilled from industrial operations, as well as big bins where the ore was stored. The kids played in both, jumping into piles of ore. The feathery, fibrous material would stick to them. They would bury themselves in it.
Jeff's Dad Roger had open-heart surgery in 2010, and it went well, but the surgeon told Jeff afterwards, "Your father has advanced asbestos-related disease."
"A couple years ago, he went on oxygen," Jeff Robertson said, "and it went pretty quick after that."
Meanwhile, Mary had been diagnosed with mesothelioma, a deadly cancer caused by exposure to asbestos. "We thought we were going to lose Mom before Dad," Jeff Robertson says. "Dad wanted to be here to take care of her."
But Roger died in March of this year. Mary is still living.
Jeff can't help but think now of all the potential exposures he has had. When he was a Cub Scout, he said, his pack went on a tour of the mine and mill.
"When we went to the mill. The dust was so thick you couldn't see across the room," he said.
But what worries him the most is not his own level of exposure but his kids'.
"Before I knew how bad this stuff was, I used to go to the old Zonolite storage shed and shoot pigeons," he says. "I took my son with me."
His lung function has dropped quite a bit in recent years. He gets out of breath really easily and can't do many things he'd like to do — like going hunting with his kids.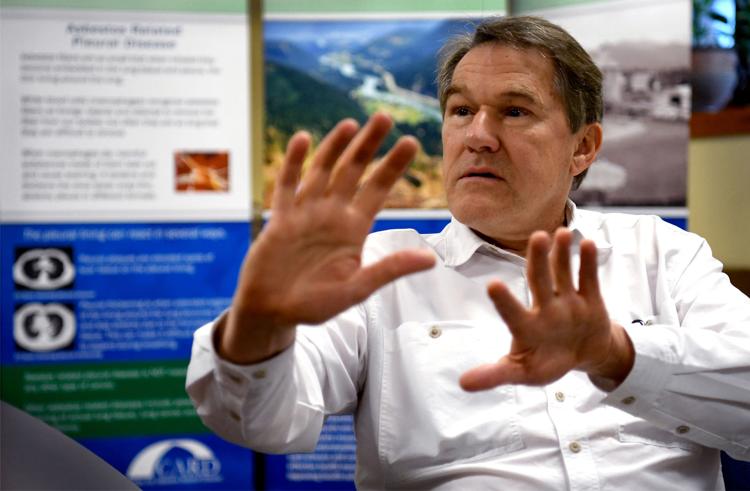 Brad Black soldiers on. The diagnoses keep on coming. He says the latency period is particularly long with Libby's particular variety of asbestos, and often symptoms don't show up for more than 40 years after exposure. So that means he's expecting the number of cases to continue to grow for years.
The legal fight is pernicious. The defendants are trying to prove that he over-diagnoses cases. On the contrary, he says, many doctors untrained in the symptoms of the disease miss the signs, misread X-rays, and misdiagnose.
One of the clinic's most important functions, he says, is research. The more they know about the Libby varieties of asbestos-related disease, the better care will be. And he's worried about related issues, like autoimmune diseases. When the body fights the asbestos fibers so hard, it weakens the immune system and makes it vulnerable to other attacks.
Research will require years of work — and funding. None of that is guaranteed in a town where life can change from active to hobbled in a very short time. All the more reason that the litigation war is sapping his spirit.
What bothers him most, other than the toll of the disease itself on his patients, are the doctors — the ones willing to take money to say that people aren't as sick as he thinks they are. "We have local people who have joined the dark side," he says.
"They say these cases aren't real."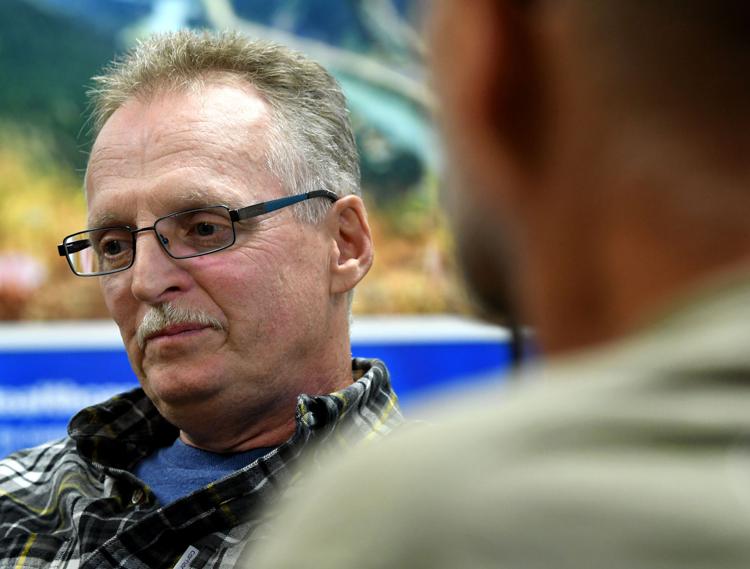 Tracie Barnes had many of the same childhood experiences as Jeff Robertson — playing baseball, playing in the piles of ore.
He was born in Libby. His Dad worked for the railroad and for St. Regis.
Tracie worked as a dump truck driver and as a motor freight driver. Sometimes he would haul pallets of Zonolite. "Somebody was always sticking a forklift through one of the bags," he says.
He would walk the railroad tracks when he went duck hunting down on Libby Creek where it runs into the river. He'd see piles of ore along the tracks.
"You never had to look far to see some of that stuff," he says. "Everybody had it in their garden. It was all over the ball fields."
Barnes also worked as a route driver and salesperson for Franz Bakery for 32 years before retiring. "It was a union job with a good pension," he said. "I worked split days off, but that was OK."
He has two kids, Julie and Justin, and Julie still lives in Libby.
Her husband just got diagnosed with asbestos-related disease. At age 37.
Barnes is soft-spoken, even-tempered. But beneath the surface calm, he admits, is anger.
"As I learned more about this stuff, I found out that there were people who knew," he says. "People who knew and did nothing." He shakes his head and looks into the distance.
"The state..." he says. "The state of Montana. The state knew."
Abruptly, he changes the subject. He and Jeff Robertson both praise the care they are receiving at the clinic. They compare lung function test results.
Then he shifts the topic again. "My dad," he says.
"They said after he died that my dad's lungs were some of the worst anyone has seen."