Montana lost more than 37,000 cattle in the deadly winter of the 2018, mostly in plains counties where snow piled deep and stayed late, according to federal data.
The recently published reports of the losses covered by the federal Livestock Indemnity Program show 37,352 reported deaths. Half the deaths were in six counties located in a belt of Montana where a blanket of snow 20 to 30 inches deep stretched nearly 300 miles west to east across the Hi-Line from Cut Bank to Glasgow and diagonally down to Billings, where the snow depth remained at 20 to 30 inches for 225 miles east to Ekalaka.
The program paid out $11.1 million for the 2018 losses in Montana, more than four times the amount paid out for in-state losses in the previous four years combined, according to the U.S. Farm Service Agency.
Still not calculated are losses from the winter just ended, which delivered historically cold temperatures in February and March 2019.
Ranchers and the FSA acknowledge that the 37,000 deaths don't represent all the weather-related deaths from 2018, but rather only those that qualified for livestock loss compensation. LIP, as the indemnity program is known, is tooled for livestock deaths related to a particular weather event. It's a round-hole program that doesn't accommodate square-peg circumstances like months of deep snow or multiple weeks of subzero temperatures, which Montana experienced in 2019. 
"I would say that number is very much on the low end," said Jay Bodner, of the Montana Stockgrowers Association. "We did hear from producers frustrated not only last year, but this year with verification process. At the end of the day, you have to wade through all that process and documentation and some people don't submit."
The Livestock Indemnity program works well when a brief weather event of three days results in animal deaths. For example, in 2013, a South Dakota blizzard killed more than 70,000 cattle. The losses occurred in a matter of days. It's the incident Montana ranchers most often cite when describing their struggles with LIP. It's hard to point to a particular three-day period that killed cattle in a winter when the snow fell for months and didn't let up.
During the first four months of 2018, Montana was deep in snow. Ranchers who cautiously scheduled calving in April were caught off guard by snow that was still deep and still posed the threat of chronic sickness and death to newborn animals. Adult livestock that suffered through more months of deep snow were exhausted. And hay supplies were short after months in which the ground never melted clear.
You have free articles remaining.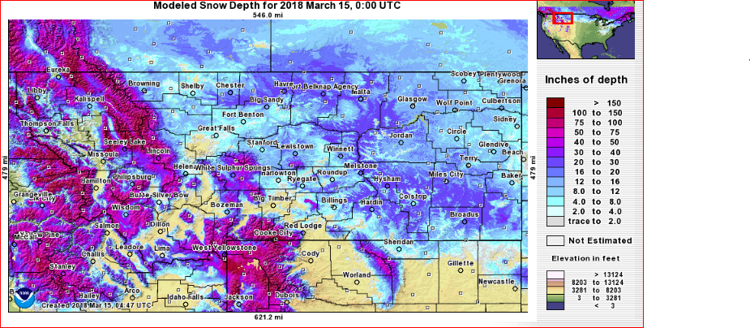 At Molly Masters' place near Busby, the only clear places cattle had to stand were the ones where ranchers cut through snow. Keeping those spaces open became an all-day, everyday job as winds drifted the openings shut again and more snow fell.
"The snow started in mid-December and it just kept snowing, and it kept snowing and kept snowing," Masters said. "The snow was easily three feet, if not taller, depending on the drifts."
The hay that Masters thought would last until the range opened up again didn't. In this region of southeast Montana, not far from the Wyoming border, some cows aborted from stress. Some didn't want their calves.
Busby is in Big Horn County, which had 4,416 losses reported to the Farm Service Agency. Those weren't the worst county losses reported. Blaine County, some 270 miles to the north, had 4,420 reported deaths. Fergus and Petroleum counties in Central Montana had 4,570 deaths combined. Phillips County had 2,743 deaths that qualified for LIP.
It was telling later in 2018 when the heiferettes still suffering the stress of Busby's brutal winter were tough to fertilize, said Masters, who is the Big Horn County Extension Agent. The damage from the deep snows of 2018 kept showing up at livestock auctions, where slaughter cattle were scarce, and bank accounts where ranching deposits were smaller.
The U.S. Department of Agriculture responded to the difficulties that ranchers had with LIP in 2018 by giving more discretion to state-level Farm Service Agents. Earlier this month, FSA Administrator Richard Fordyce announced he would leave it up to FSA county committees to decide what qualified as an adverse weather event. The conditions still have to be extreme, abnormal and damaging.
Both Montana Sens. Jon Tester, a Democrat, and Steve Daines, a Republican, have written Agriculture Secretary Sonny Perdue about changing LIP to meet Montana's extreme weather challenges. Groups like the Montana Farm Bureau Federation have lobbied hard for reform since the winter of 2018.